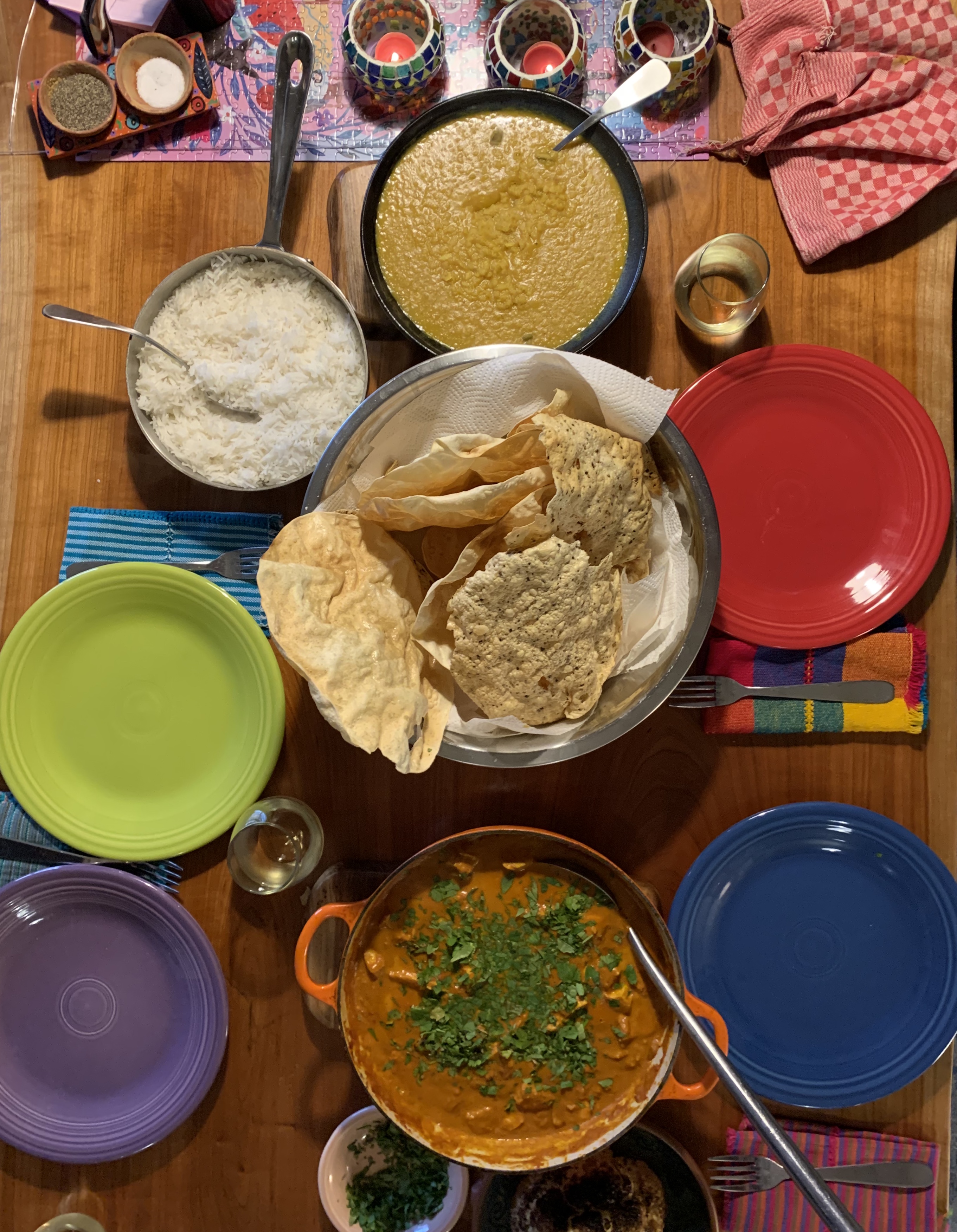 On Sunday, we decided to have an Indian meal. One of our combined favorites is Chicken Tikka Masala. I still remember Chef Heston spending days perfecting this dish. But it's super easy, as the video shows. Make a spice blend, mix half of it with yogurt and marinate the chicken (you can just cover and refrigerate; I have a sealer so used a bag). Broil the chicken to get some color on it and cook it in a sauce of onion, canned tomatoes, the rest of the spices and a goodly amount of cream.
We also made a dal. My producers at iHeartmedia and I have been putting together a series of mini podcasts called "From Home" on my From Scratch podcast page, featuring chefs and food pros who self-record to tell us what and how they're cooking durning the pandemic. One of them was Simon Majumdar, a British author and frequent food TV judge, now based in Los Angeles. The way he spoke of his dal on the show made me want to make one (or a version, I'm terrible at following recipes). Always papadums, as fun to make as they are to eat. And basmati rice. It was fantastic!
Here's how the entire meal went, thanks to videographer in quarantine Katherine Guanche.
Chicken Tikka Masala
Classic Indian beautifully spiced chicken dish
Ingredients
2

tbls

grated ginger

2

tbls

minced garlic

2

tbls

garam masala

2

tbls

coriander

2

tbls

cumin

2

tbls

turmeric

1.5

tbls

kosher salt

2

cups

yogurt

3

pounds

boneless skinless chicken breast

ghee, butter or vegetable oil as needed

1

medium

onion, thinly sliced

½

cup

tomato paste

6

cardamom pods crushed

3-4

dried red peppers

1.5

cans whole peeled tomatoes (42 ounces)

2

cups

cream

or more to taste

½

cup

cilantro, coarsely chopped
Instructions
Combine the garlic, ginger, cumin, coriander, garam masala, turmeric, and salt in a bowl and mix them well. Remove half of this mixture to another bowl and reserve.

Add the yogurt to the halved spices. Whisk till the spices and yogurt are combined. Add the chicken to the yogurt, toss, cover and refrigerate for six hours or up to two days. (I have a vacuum sealer so we put them in a bag in the video--I also forgot to show the salt being added!)

To make the sauce, add enough ghee or butter or oil to coat the bottom of a large pan over medium high heat. Add the onion and give them a hit of salt. When they're tender add the tomato paste and cook it, about a minute. Then add the cardamom, dried red peppers, and the reserved spice mixture. Stir and cook to bloom the spices.

Add the juice from the tomatoes and deglaze the bottom of the pan. Squeeze in the tomatoes—you want them good and crushed. Bring the mixture to a gentle simmer for 15 minutes or so, then stir in the cream. Keep the heat on low.

Turn your broiler to high.

Remove the chicken from the marinade to a sheet tray lined with foil. When the broiler is hot, broil the chicken to give it color and cook the marinade, a few minutes per side. Remove the chicken to a cutting board (it need not be fully cooked inside). Cut it into large, bite-sized pieces, and add them to the sauce.

Return the sauce to a gentle simmer to finish cooking the chicken.

Remove the pot from the stove, garnish with the cilantro and serve straight from the pot.
Notes
I'm by no means an expert at Indian cuisine. But we all love this dish and my wife Ann found a recipe she liked from Bon Appetit. I used that as a base butI always improvise according to our tastes (I find most recipes that are heavy on the spices, aren't nearly heavy enough.
Red Dal
A variation of Simon Majumdar's life saving dahl
Ingredients
2

cardamom pods

½

cinnamon stick

2

cloves

2

tbls

ghee or vegetable oil

1

small

onion, minced

1-½

cups

red lentils, toasted in a dry pan till hot

1

lemon

½

tsp

salt or to taste

1

tsp

cumin

1

tsp

coriander

1

tsp

turmeric

1

tsp

minced garlic

1

tsp

grated ginger

½

tsp

Indian chile powder

(or cayenne)

3

tbls

whole butter
Instructions
Combine the cardamom, cinnamon, cloves, and ghee in a 2 liter sauce pan over medium high heat and cook the seasonings for a minute or two. Add the onions, then cook for another minute or two, till they're softened.

Add the lentils and stir to coat with the oil. Add 3 cups of water, half the lemon (cut through the equator), and salt, and simmer for 20 to 30 minutes. Add more water if it goes below the level of the lentils. Remove the lemon and discard.

Combine the cumin, coriander, turmeric, garlic ginger, and chile powder in a ramekin or small bowl.

In a saute pan, over medium high heat, add the whole butter. When it begin to froth and turn brown, add the ramekin of spices. Stir to cook for 30 seconds or so. Squeeze in the other half of the lemon (1 to 2 tablespoons). Add this to the simmering dal. Cook for another ten minutes for the seasonings to develop.
Notes
This is a deeply aromatic and flavorful dal, stronger than traditional dals well suited to being a main course. Simon Majumdar stirs in spinach and adds hard cooked eggs to his version. Thanks for the inspiration, Simon!