This is my new favorite cookbook. I've long made a fuss about not liking cookbooks, because I don't. Cookbooks are too often about recipes, and that's not what cooking is about. I tried to write an anti-cookbook, Ratio, that intended to help the home cook rely on proportions and technique rather than recipes. It had a ton of recipes in it anyway (editor request). I admired books with a genuine voice, David Lebovitz's books, Judi Rodgers's Zuni Cafe Cookbook. Well-written cookbooks. I didn't dislike recipes per se. I still rely on a page torn from Saveur with a fabulous falafel recipe—too many ingredients to remember, let alone their proportions. I have to look at my own recipe for fried chicken to make the seasoned flour (included in the above book above, happily).
So what is it about this book that I find so compelling I read it half through once I turned its first pages? First, Kristen Miglore, aka @miglorious, executive ed of the gorgeous Food52.com, has a distinctive, young, inquisitive personality that comes through on the page. The photography by James Ransom is excellent. The design is clean and the prose and recipes are easy to read. But really, I know what it is and I'm almost ashamed to admit it. I know what it is that I love. It's the ... recipes.
Yep, I find the recipes FASCINATING. We'll be at the 92nd Street Y tonight at 7 p.m. exploring the idea of a "genius" recipe. But Miglorius has something with the concept and it's precisely the fact that the genius of it is so hard to isolate that makes this book so intriguing. OK, so I'm sure April Bloomfield's English Porridge is excellent, as are David Chang's Brussels sprouts—hell, even my own fried chicken is delicious. But it's not clear why any of these are "genius" recipes. On the other hand, and these are in the majority, she gives you: the one-ingredient corn butter from Whitney Wright, Michel Richard's Onion Carbonara, Roy Finamore's broccoli "confit," and they are just so interesting I couldn't stop turning pages.
What I think I love is that so many of these recipes are counterintuitive, or so obvious I wondered why I didn't already know what they had to teach. For instance, the first recipe is from the famed Michelin-starred Roger Vergé: Fried Eggs with Wine Vinegar. Yep, it's exactly what it says it is, basically three fried eggs (Vergé's preferred quantity) with browned butter and a heavy shot of vinegar. Never would have thought. First recipe in the book. LOVE!
These recipes come from old lights and new, from old cookbooks and contemporary chefs, a great big sharing. The following tomato sauce I have been making for 20 years. It was a revelation when I first made it and remains a revelation, and I was grateful to be reunited with it here, in my new favorite cookbook.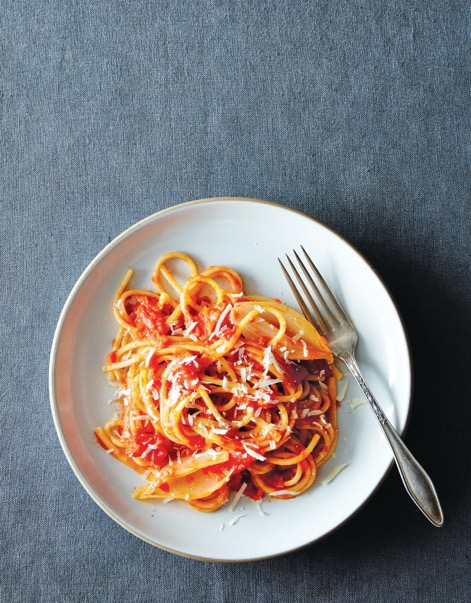 Tomato Sauce with Butter & Onion
from Marcella Hazan
"Simple doesn't mean easy," Marcella Hazan wrote in 2004, a quote widely cited to explain her cooking style and influence. "I can describe simple cooking thus: Cooking that is stripped all the way down to those procedures and those ingredients indispensable in enunciating the sincere flavor intentions of a dish."
In her famous tomato sauce, all you do is simmer tomatoes for 45 minutes with butter and a split onion. The full, true tomato flavor is a revelation, as is finding out you don't need to cook in layers of garlic and herbs to get there (and you're better off without them).
The recipe has found new life online, as bloggers have zeroed in on the fact that Hazan's recipe is well suited to a can of whole, peeled tomatoes. It does make an excellent year-round sauce that way. But fresh tomatoes are really just better—they turn into sauce that tastes like pure summer, to stock your freezer.
Unless you like a sauce with lots of texture, they'll require one extra, rather satisfying step: peeling. See the genius techniques at right for your options. You then simmer away with the swirling butter and bobbing onion, until "the fat floats free from the tomato"— which, of course, you should just stir back in. Then Hazan has you remove the onion, but it's too good not to eat—in the pasta or on its own.
Other links you may like:
Other recent posts: Taking Back Our Pasta, How to Make a Mushroom Sauce without a Recipe, and Cooked Marinades.
Food52's cooking series called Not Recipes.
Check out my award-winning cookbook Ruhlman's Twenty.
© 2015 Michael Ruhlman. Photo © 2015 Donna Turner Ruhlman. All rights reserved.
TOMATO SAUCE WITH BUTTER & ONION
Ingredients
2 pounds (900g) fresh, ripe tomatoes, prepared as described at right, or 2 cups (480g) canned imported Italian tomatoes, cut up, with their juice

5 tablespoons (70g) butter

1 medium onion, peeled and cut in half

Salt

1 to 11⁄2 pounds (450 to 680g) pasta, cooked, for serving

Freshly grated Parmigiano-Reggiano cheese, for serving
Instructions
Put either the prepared fresh tomatoes or the canned in a saucepan; add the butter, onion, and salt; and cook, uncovered, at a very slow, but steady simmer for about 45 minutes, or until it is thickened to your liking and the fat floats free from the tomato. Stir from time to time, mashing up any large pieces of tomato with the back of a wooden spoon.

Taste and correct for salt. Discard the onion before tossing with pasta. Serve with freshly grated Parmigiano-Reggiano cheese for the table.
Notes
GENIUS TECHNIQUES
There are three ways to make fresh tomatoes ready for sauce, all of which use ripe plum tomatoes (or other varieties, if they are equally ripe and truly fruity, not watery).
For the blanching method: Plunge the tomatoes in boiling water for a minute or less. Drain them and, as soon as they are cool enough to handle, skin them and cut them into coarse pieces.
The freezing method (from David Tanis via The Kitchn): Freeze the tomatoes on a baking sheet until hard. Thaw again, either on a rimmed plate on the counter or under running water. Skin them and cut them into coarse pieces.
And lastly, the food mill method: Wash the tomatoes in cold water, cut them lengthwise in half, and put them in a covered saucepan. Turn on the heat to medium and cook for 10 minutes. Set a food mill fitted with the disk with the largest holes over a bowl. Transfer the tomatoes with any of their juices to the mill and puree.