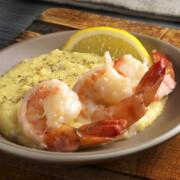 Reposting this method because, well, just the name of the dish is inspiring: butter-poached shrimp. Butter-poached shrimp and grits. Mmmm.
Butter-poached lobster, not uncommon in French haute cuisine, was popularized in America by Thomas Keller in The French Laundry Cookbook and at that restaurant. "Lobster loves gentle heat," he told me then. It's not much of a leap for the thrifty-minded cook to reason that shrimp, too, love gentle heat. That's why, in the butter chapter of my book Ruhlman's Twenty, I showed how to use butter as a cooking medium (one of the many amazing ways butter can be used as a tool). This dish is absolutely killer. The shrimp stay very tender, rich and tasty with the butter; the grits are then enriched with the shrimp butter. Leftover butter can be used to saute shrimp and garlic for a shrimp stir-fry, use it to scramble eggs and serve with cured salmon, or enrich a shellfish sauce (save your shrimp shells).
Want the recipe for butter-poached shrimp and grits? It's here, on the Splendid Table site. The awesome Lynne Rossetto Kasper interviews me about the book and about one of her favorite ingredients, butter. I adore National Public Media's Splendid Table and it's host, who is extremely knowledgable, a genuine pro. She has her own new book out now, How To Eat Weekends coauthored with Sally Swift. All of Lynne's work is first rate and I highly recommend her books. You can listen to us talk butter (and hear so much more) on your local NPR station or download Lynne's podcasts.
Scroll down for process shots. One of the best parts of the book is the photography. Our goal was to show how food is supposed to look like, can look like, in your kitchen, rather present than heavily worked over studio food photography. We couldn't do if we tried—or we could but it's just not what we do. I like to look at food porn, but not make it. We're after information, visual information in this case. But looking at that lead photo, well, it's looking pretty damn good. I think I know what I'm having for breakfast tomorrow.
Butter-Poached Shrimp and Grits
Ingredients
4

oz

bacon

cut into small dice

1

medium onion

cut into small dice

Kosher salt

1 ¼

cups

high quality stoneground grits

2

cups

milk

or homemade vegetable/chicken stock

freshly ground black pepper

1

cup

butter

cut into about 12 chunks

1

lb

shrimp/prawns

peeled and deveined

4

lemon wedges
Instructions
In a medium saucepan over medium heat, combine the bacon and water to cover. Cook until the water has cooked off, then reduce the heat to medium-low and cook until the bacon is lightly colored and enough of the fat has rendered to cook the onion. Add the onion, season with a three-finger pinch of salt, and cook until softened.

Add the grits and stir. If using milk or stock, add it along with 2 cups/480 milliliters water. If not using milk, add 4 cups/960 ml water. Raise the heat and bring to a simmer. Reduce the heat to low and cook the grits, stirring, for about 30 minutes. Give the grits several grinds of black pepper. Add more milk or water as needed (about 2 cups/480 milliliters) to keep the mixture fluid. You should use enough water so that the grits don't stick to the pan and they can absorb the moisture they need. You can cook off additional moisture, so err on the side of using too much liquid. Keep the pan covered on low heat over a heat diffuser for up to 12 hours; monitor the moisture level, adding milk or water as needed. (You can also put the grits in a slow cooker on low or in a covered pan in a low oven, 150° to 200°F/65° to 95°C, for up to 12 hours.)

When the grits are ready, put 2 tablespoons water in a saucepan that is just large enough to hold the butter and shrimp/prawns. Bring the water just to a simmer over medium-high heat. Add a chunk of butter and whisk continuously as the butter melts. When the butter has begun to melt and emulsify into the water, add three more chunks and continue to whisk. (Or you can swirl the butter in the pan; it needs to keep moving—how you do it is up to you.) When all the butter is incorporated, add the shellfish and stir. Keep the pan on medium-high heat until the butter gets hot again. Use an instant-read thermometer to maintain a temperature just below a simmer, 170° to 180°F/77° to 82°C. Don't let the butter to boil. Cook for 3 to 5 minutes. Remove a shrimp, cut it open, and check that it's just cooked through. It should be white at the center, not translucent gray, and tender and juicy.

Put the grits over medium-high heat to get them up to temperature. They should be loose but thick. Taste and add more salt if needed. Stir about a third of the poaching butter into the grits.

Spoon the grits onto plates, and arrange the shellfish on or beside the grits as desired. Garnish with more butter, freshly ground pepper, and a squeeze of lemon.
How to butter poach shrimp from Ruhlman's Twenty, photography by Donna Turner Ruhlman:
If you liked this post on shrimp and grits, check out these other links:
© 2016 Michael Ruhlman. Photo © 2016 Donna Turner Ruhlman. All rights reserved.