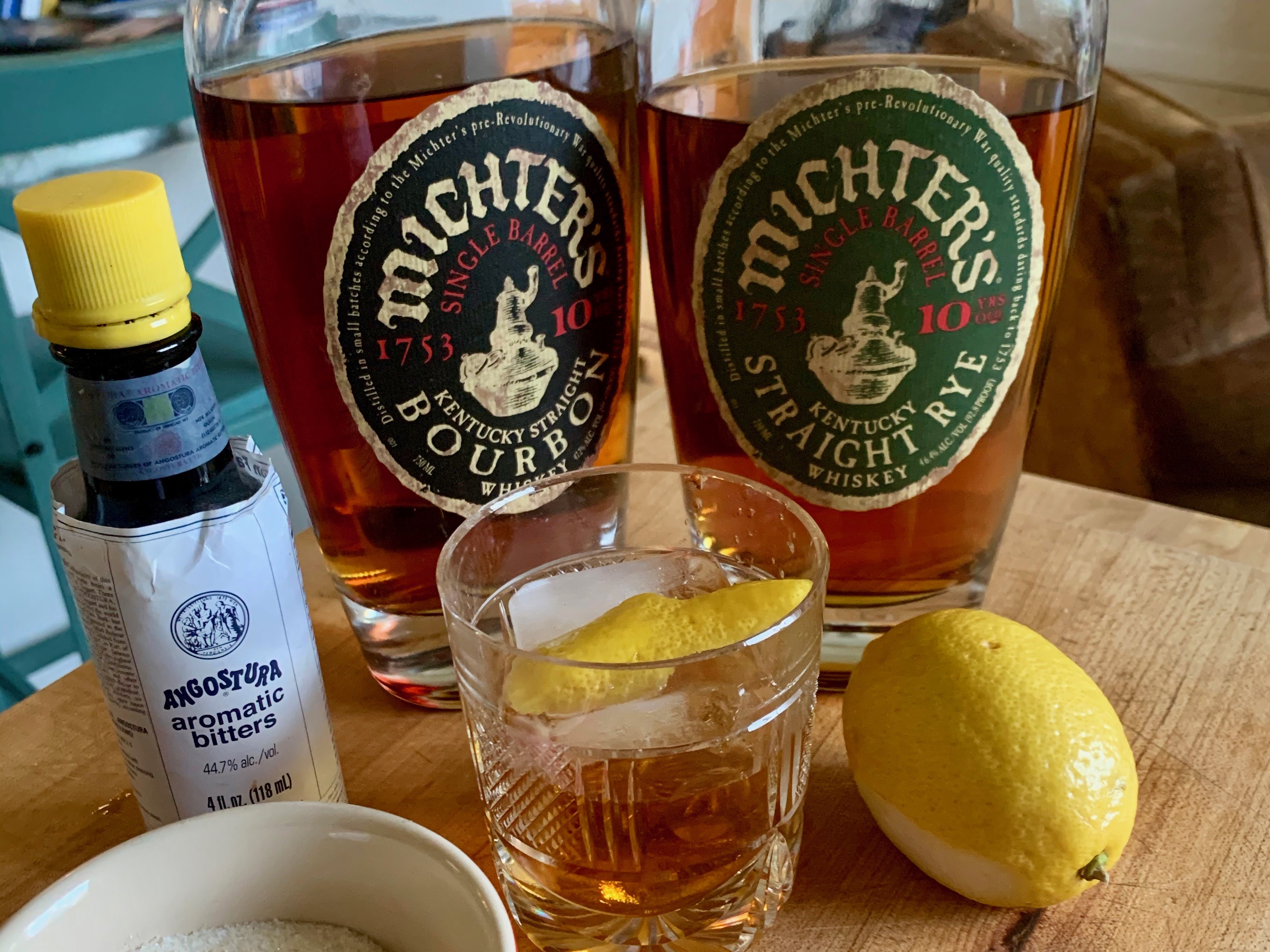 The last time I heard someone order an old-fashioned on screen was Don Draper on "Mad Men." The last time I heard it ordered in person, it was by my step-son Sam, his cocktail request for his 27th birthday-in-quarantine. A birthday deserved a commensurate bourbon, one of our very favorites, Michter's, which we'd recently picked up at Bin 312, a splendid wine and spirits shop here in Providence, RI.
Ordinarily, I'd have used a go-to bourbon, such as Maker's Mark, reasoning that you shouldn't put sugar and bitters, the only ingredients for this old cocktail, into truly fine whiskey. But Sam's Old-Fashioned was superlative. And so for this Friday Cocktail Hour I went even further afield. We had just received a most generous gift from Joe Magliocco, president of Michter's, who befriended my wife Ann after she wrote an essay on the bourbon for The Wall Street Journal. (I did the same column, and what did the WSJ send me? Pumpkin beer—blech—but they actually sent a decent one, so hope wasn't lost.) Her essay (it wasn't a review but spoke highly of the bourbon) so charmed the president of the company that he reached out to her, inviting us both to a tasting and lunch and we subsequently became friends.
And every now and then, when Michter's releases something special, such as these limited run 10-year-old bourbons and ryes, we are the recipients of Joe's generosity. So we tasted, fabulous as expected, and I decided to make an old-fashioned with his Rye, so deep and rich and close to bourbon, my preference, I thought it would make a great old-fashioned.
And oh, man was it. I now highly recommend using a fine spirit for this simplest of cocktails.
According to Robert Simonson, not in his book called The Old-Fashioned, but in his book, 3-Ingredient Cocktails, that this "three-ingredient granddaddy of the cocktail world," got its name in the late 1800s. Decades earlier, the elixir was "whiskey, bitters, and sugar that was served in a footed wine glass and often downed as a morning drink." Sounds like a good quarantine cocktail to me, but back in the early 1800s, alcoholic beverages were safer to drink than water which, in cities, could often come from contaminated wells.
But bartenders being bartenders ultimately started putting all kinds of crazy things in drinks in the search of the new. So 1890, if you didn't want Chartreuse or Curaçao in your whiskey, you would ask for, he writes, "an Old-Fashioned Whiskey Cocktail." It's name eventually shortened to what it is today.
He notes that by the 1990s there were more Old-Fashioned variations on the cocktail than the tini craze in the 1990s.
So call me old-fashioned, and bring me a proper Old-Fashioned.
Today's poem is by the estimable poet, Kevin Young, poetry editor of The New Yorker, director of the Schomburg Center for Research in Black Culture (a research division of the New York Public Library), and a swell guy I've met at a couple writer conferences. When you hear the name of the poem (under 60 seconds—all the poems I read here are fairly short), you will know why Kevin has my heart. (The splendid video was filmed by Annabelle Mei Adrain, and was made as ever by the talented Katherine Guanche--thanks Annabelle and Katherine!
Happy Friday, everyone, and wear those masks!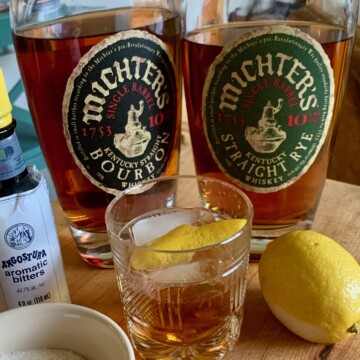 The Old-Fashioned
A centuries-old cocktail that has never been better today.
Ingredients
2

ounces

good quality rye or bourbon

1

teaspoon

sugar

(recipes often call for a sugar cube, which is about a teaspoon)

3

dashes

bitters

(I use the all-purpose Angostura)

1

orange twist

(I didn't have an orange and so used lemon)
Instructions
Combine the sugar and bitters in an old-fashioned glass. I add a teaspoon or so to help dissolve the sugar. Pound it gently with a muddler or the end of a wooden citrus reamer.

Add the bourbon, stir, add on large ice cube and garnish with a twist.