Today's Friday Cocktail Hour features a variation on a most excellent sour, thanks to the protean David Lebovitz, a poem by Matthew Dickman, how to make an infused simple syrup, and the three most important words in the English language and the Russian language. The video is by the excellent @katguanche and videographer @annabellmei218. Thank you all.
The gimlet is a classic sour and a reminder that innovative cocktails are moments away with the basic sour formula: 2 parts spirits, 1 part sour, 1 part sweet. The gimlet is gin, lime juice, simple syrup. A ginger lemon drop would be vodka, lemon juice, and ginger infused simple syrup. A margarita is a basic sour: 2 parts tequila and one part lime juice, one part orange liqueur (Cointreau or Triple Sec).
For a gimlet, do NOT use Rose's Lime Juice, which someone in the 1980s told me was how you made a gimlet and thus made me wonder why a gimlet a cocktail at all. I don't know what the hell Rose's Lime Juice is, but ain't juice that's for sure.
Everything in this video is worthy of increased attention, not least of all the excellent poet Matthew Dickman ("The Mysterious Human Heart" is from his book All-American Poem), and read this amazing New Yorker profile on Matthew and his twin bother by @Rebeccamead_NYC, and perhaps most of all, the Three Most Important Words, which this country needs more than ever.
Cheers and happy Friday everyone!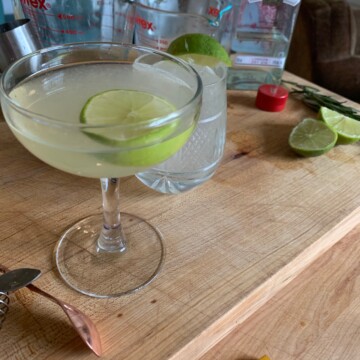 The Rosemary Gimlet
A variation the classic gin and lime gimlet, via David Lebovitz
Ingredients
2

ounces

gin

1

ounce

lime juice

1

ounce

rosemary simple syrup

(see notes, or video, for instructions)

1

lime wedge or disc for garnish
Instructions
Chill with ice and strain into a chilled glass or rocks glass.
Notes
To make rosemary simple syrup: combine ½ cup sugar and ½ cup water and ¼ cup chopped rosemary in a small sauce pan over high heat (the video says ½ cup, which will also work, but I use less). Bring it to a boil, stir and remove from the heat. Let it cool, then strain. this will keep refrigerated for 1 to 2 weeks.