ROASTED CHICKEN PROVENÇAL
Ingredients
4

chicken legs or 8 bone in, skin on chicken thighs

2

teaspoons

kosher salt

1

teaspoon

freshly ground pepper

½-3/4

cup

all-purpose flour

3

tbsp

olive oil

2

tbsp

herbes de Provence

1

lemon, quartered

8-10

cloves

garlic, peeled

4-6

medium sized shallots, peeled and halved

⅓

cup

dry vermouth

4

sprigs

thyme, for serving
Instructions
Heat oven to 400 degrees. Season the chicken with salt and pepper. Put the flour in a shallow pan, and lightly dredge the chicken in it, shaking the pieces to remove excess flour.

Swirl the oil in a large roasting pan, and place the floured chicken in it. Season the chicken with the herbes de Provence. Arrange the lemon, garlic cloves and shallots around the chicken, then add the vermouth to the pan.

Put the pan in the oven, and roast for 25 to 30 minutes, then baste it with the pan juices. Continue roasting for another 25 to 30 minutes, or until the chicken is very crisp and the meat cooked through.

Serve in the pan or on a warmed platter, garnished with the thyme.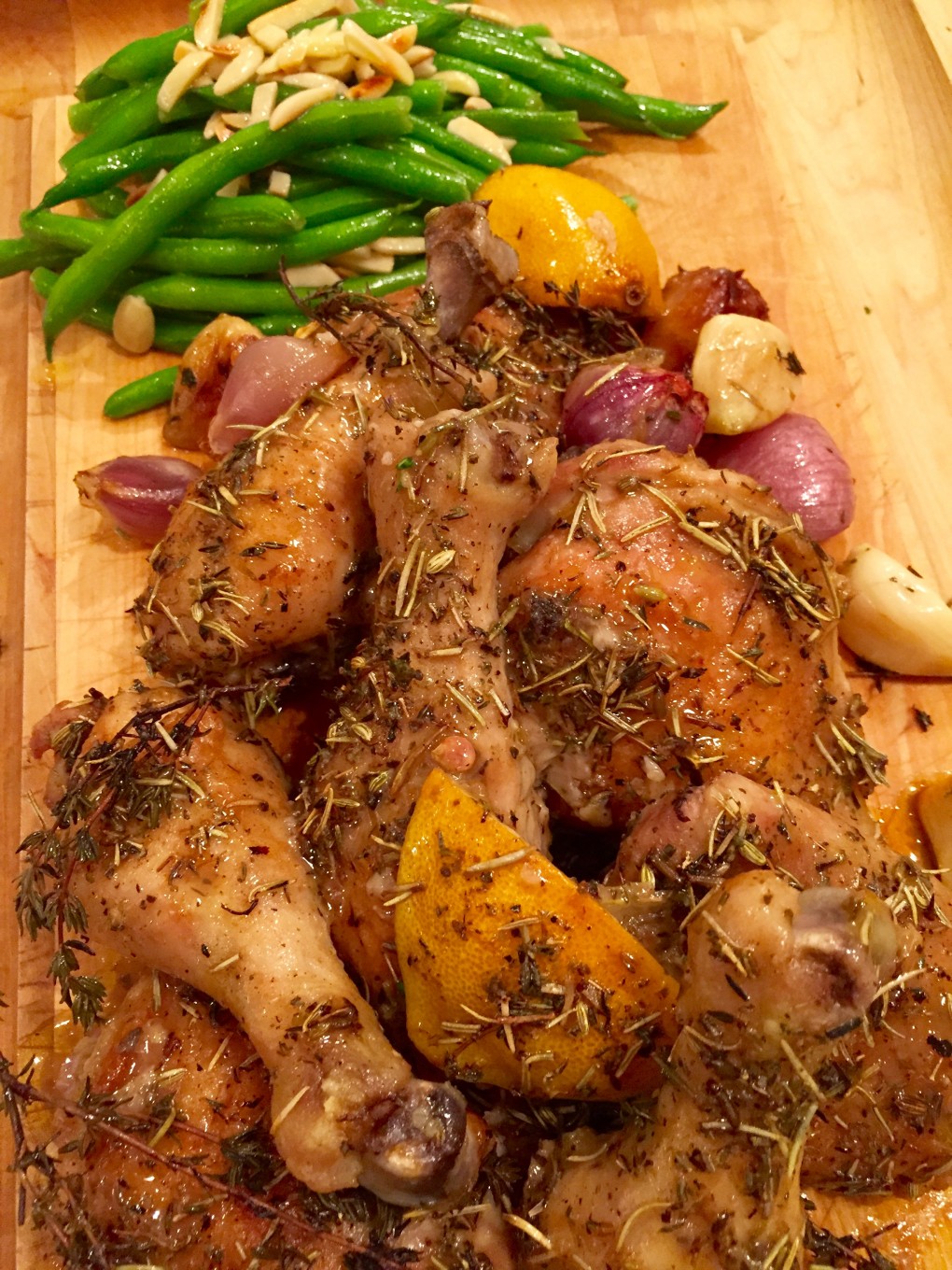 Sunday night my dear friends JD and Catherine Sullivan invited me for dinner. JD is a good cook (see the sausage making video we did together; video also feature my partner in tools, Mac Dalton, an appearance by my young son, James, who now, lean and tall, looks me straight in the eye, and JD at the end; it's a good primer on making sausage).
But when I arrived to find that JD's chicken Provençal was simply baked chicken with herbs I was prepared to be underwhelmed.
JD explained that it was a recipe from the estimable Sam Sifton who runs the excellent NYTimes cooking site. Chicken is seasoned, floured, put in a baking dish and roasted for about an hour. It turned out to be a terrific preparation, thanks to the aggressive herbage, and also, importantly, lemon, whole garlic cloves and whole shallots, all of which flavor the rendering fat and juices that JD basted the chicken with throughout. You can use any Provençal herbs that you have on hand, but to my mind the most important is plenty of whole branches of thyme.
This is a terrific meal (eating the shallots and whole garlic gloves along the chicken) that couldn't be simpler and allowed for plenty of time to talk and drink wine during the cooking process, perfect for a chilly Sunday evening or even a weeknight dinner.
If you liked this post, then you will enjoy these links:
© 2016 Michael Ruhlman. Photo © 2016 Donna Turner Ruhlman. All rights reserved.