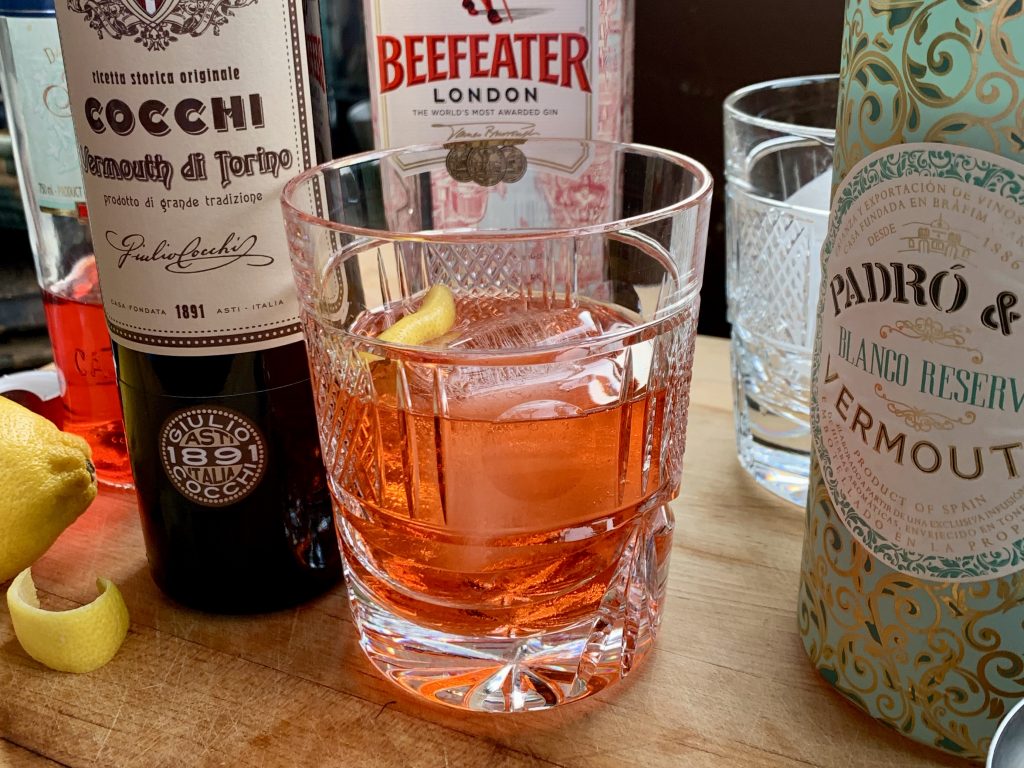 How I've missed The Friday Cocktail Hour, this excuse to imbibe fun cocktails, splurge on exotic ingredients, indulge in simple ones. Staying home because of the Covid 19 virus has given me the time and implulse to do it, and to plan for more along with at least one cooking post each week.
My life has gone through a radical change over the past four years, I'm now remarried to a fellow writer, Ann Hood, and we split our time between Providence, RI, and New York City's West Village.
And it's in this time of isolation, that I find myself wanting more than ever to reconnect with readers and home cooks and chefs, and so am hoping that a revivified website will allow for that.
Ann, her daughter Annabelle, and I are self-sheltering in Providence; my son, James, is essentially doing the same off-campus at Syracuse U., and my daughter, Addison, now lives and works in Denver, both healthy. Here in Providence, we've fallen into a lovely routine. Routine has always provided a sense of security and order, especially valuable now, within a pandemic, with tanking stock market and scores of chef friends closing shop and laying off beloved employees--it's heartbreaking).
Routine: Paper in bed, midmorning to work, usually a walk to a local co-op grocery store, and an evening cocktail as we begin a movie (chosen lottery style, 12 this past week). This Friday cocktail will be a Negroni. I had my first with Tony Bourdain—it was one of his favorites—after a 92nd St Y event with Eric Ripert and Gabrielle Hamilton, October 26, 2006, would go on to drink many happily with him, and it was what we drank, the last time we drank, more than 10 years later; I have yet to be able rewatch any of his shows.
But not just a regular negroni, a perfect negroni. Perfect in the cocktail world designates a combination of sweet and dry vermouths, rather than one or the other. I had never had a great desire to even try one of these. But on a recent trip to Cleveland (how I miss, you, Cleveland), we entertained at an Air BnB in Ohio City a gang of people, one of whom, the writer Paula McClain, brought a bottle of excellent Spanish white vermouth, Padró & Co.
It was all the push I needed to begin experimenting with "perfect" cocktails—a perfect Manhattan, a perfect Boulvardier. I've yet to dare a perfect martini, such is my love for that genuinely perfect cocktail. But the perfect negroni, I discovered, is sublime. I'd go so far as to say it bests a regular Negroni because the latter verges ever so slightly on the too-sweet side. Also, since I'm only having one of these, and prefer both the increased dryness as well as the alcohol, I typically double the gin, a 2-ounce pour per cocktail with 1 ounce each Campari and vermouth. I'll give the traditional measurements below but feel free to go heavier on the gin, to taste.
I don't know what Tony would say to The Perfect Negroni, but I hope it would be, "And keep 'em coming."
Yesterday's double feature was "Whiplash," followed by "Billy Elliot"—a coincidentally performing arts theme (highly recommend both). Hoping someone will pull Box Trolls or Ladybird out of the box tonight.
The Perfect Negroni
A classic gin cocktail using sweet and dry vermouth
Ingredients
2

ounces

gin

I'm partial to Beefeaters and Hendrix for most cocktails. If you prefer a little more dryness and alcohol—and since I would have just one, this is my preference here—double this, for 2 ounces gin per cocktail. Up to you.

1

ounce

dry vermouth

1

ounce

sweet vermouth

2

ounces

Campari

2

orange (or lemon) twists

I didn't have orange but that would be my choice.
Instructions
Combine all the ingredients in a measuring glass or divide the ingredients between two glasses.

Fill two double old-fashioned glasses with ice, preferably one large cube.

Pour the cocktail over the ice in each glass and garnish with a twist.

Alternately, fill the measuring glass with ice, stir till chilled and pour divide between two coups and garnish with a twist.