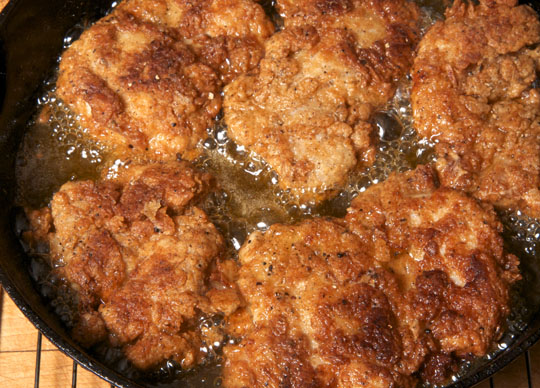 Two things of note here: the technique called pan-fry and the awesome chicken thigh.
The latter should be your go-to chicken part. How and why chicken mongers can get away with selling the boneless, skinless chicken breast is beyond me. Then again, why anyone would buy skim milk is beyond me. I love bone-in, skin-on thighs but am delighted that the boned version is available as well. I recommend slicing it thinly for stir-fries, in chunks for chicken stews (curries, fricassee). It's a well-worked muscle and therefore flavorful (and chewy); it's also got some fat and is therefore juicy.
Not long ago my son James, chewing on a fried chicken drumstick, wondered if we couldn't have boneless fried chicken, so that he could, I imagine, revel in the unalloyed pleasure of fried chicken—crispy flavorful exterior, succulent, chickeny interior.
So that's what I made last night, mixing up a big batch of seasoned flour to keep in the freezer as needed (though you can simply use flour and pepper; see link for rosemary-brined chicken below for seasoned flour mix); I brined the thighs for a few hours in a rosemary brine (not essential, but I was home and had time); for the liquid, I whisked milk into Greek yogurt till I had a thick consistency (I don't buy "buttermilk" anymore since it's not really buttermilk).
And instead of deep-frying the chicken, which uses a lot of oil, I pan-fried them, using about a quarter inch of oil in a cast iron skillet. Ideally, with the pan-fry technique, you use just enough oil so that when the meat is in the pan, the oil comes exactly halfway up the sides of the meat. It's a great technique for chicken, or anything breaded, such as pork chops. Below is the simplified version, though feel free to adapt the more in-depth rosemary-brined fried chicken here (which I first published in Ruhlman's Twenty) to the boneless skinless thigh.
If you liked this post, check out these other links:
My post on pickled green tomatoes.
Stephanie Stiavetti's guest post on gluten-free fried chicken.
Here are a few of the top fried chicken restaurants in the States: Pie-n-Thighs, Two Sisters Kitchen, and Son of a Gun.
Next time you are in Corbin, Kentucky, visit the Colonel Harland Sanders Museum.
© 2014 Michael Ruhlman. Photo © 2014 Donna Turner Ruhlman. All rights reserved.
PAN-FRIED CHICKEN THIGHS
Ingredients
4 to 6 boneless, skinless chicken thighs

salt to taste

2 cups flour

2 tablespoons black pepper

½ cup milk (or as needed)

½ cup Greek yogurt

vegetable oil as needed
Instructions
Preheat your oven to 250˚F.

Season the chicken thighs with salt.

Combine the flour and pepper in a bowl and stir to distribute the pepper.

Whisk the milk into the yogurt until you have a smooth, viscous liquid, about the consistency of the fake buttermilk sold in stores.

Dip each thigh in the flour mixture, then into the yogurt mixture, then into the flour mixture again.

Heat about a quarter inch of oil in a skillet over high heat. When the oil is very hot (just before smoking), lay the chicken pieces in. When they are nicely browned on one side, two or three minutes, flip them. When they are uniformly browned, drain the oil from the skillet (keeping the chicken pieces in the skillet), and put the skillet in the oven for up to 30 minutes while you finish the side dishes (last night, a weeknight, it was mashed potatoes and green beans for us).