Taking up part-time residence in New York City last month, I was delighted to meet a downstairs neighbor, Tobin Ludwig, who makes the lovely Hella Bitters. What good karma for our new old building!
"What is your favorite use of bitters?" I asked. For someone who makes bitters, he struggled. I pushed. He relented and said, "A rum old fashioned."
What a splendid idea, I thought.
Last night a tweet asked me for a cocktail with a good rum. And so there it was. The rum old-fashioned called. The weather has cooled, I have some most excellent rum, and the sweetness and the bitters combine for a great summer rum cocktail.
But lo—there was more, karma-wise. I returned to my original old-fashioned post and noticed that I'd used Hella bitters, long before I'd met Tobin! So this completes the circle, a cocktail destined for the Friday Cocktail Hour.
I suppose I'll need to replenish my supply of Hella bitters!
Happy Friday all!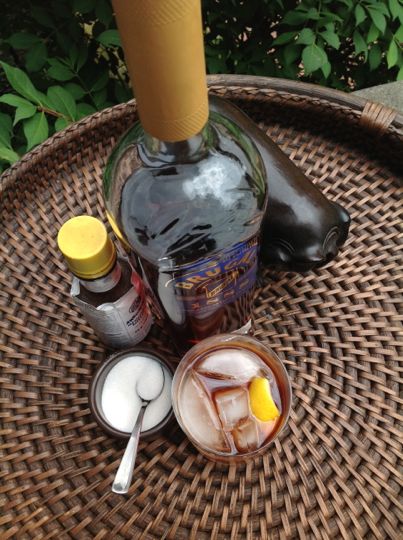 The Rum Old Fashioned
4 to 6 grams sugar (about 1 teaspoon)
4 to 6 grams bitters (about 1 teaspoon)
60 grams good rum (2 ounces)
Lemon
Place the sugar and bitters in a rocks glass and muddle and stir to get the sugar dissolving.
Add the rum and stir.
Add ice and a squeeze of lemon (or a twist or orange zest).
If you liked this post, take a look at these links:
© 2013 Michael Ruhlman. Photo © 2013 Donna Turner Ruhlman. All rights reserved.