When Donna and I stay in New York we are five blocks away from my favorite butcher in the city. And it is my favorite not simply because it's the closest. There are other butchers in the West Village, but none are quite like Dickson's Farmstand in the Chelsea Market, a food emporium that runs a full city block of West 15th Street between 9th and 10th Avenues.
One look at the meat case and you won't disagree with me. It runs the gamut from charcuterie and salumi (excellent dry cured meats, pâtés, duck confit caked in duck lard), sausage, fresh cuts of lamb, pork, and beef, and even very good frozen meat stocks, plus a few condiments (mustards, finishing salts) and several fine books devoted to meat.
But it's more than what you can see in the case.
Conversations about the costs of eating meat, whether ethical, environmental, or nutritional, have been in the air for years now. This combined with a growing awareness of the inhumane conditions of industrial meat production make eating meat more fraught than ever.
And so it was too for Jake Dickson, who formerly worked in marketing but, recognizing his deep love of eating meat, gave up a conventional white collar job to become a purveyor not just of meat, but of meat that has been properly and humanely raised.
For the past year or so, I've worked to buy only meat from farmers I know. In Cleveland, there are several I buy from. In New York, I can head to Dickson's Farmstand, because of Jake's commitment only to bring in animals from farmers he personally knows and who raise the animals in comfortable environments compatible with their nature and have not been given hormones or antibiotics (unless one becomes sick, but then only on a case-by-case basis).
There's growing evidence (supported by common sense) that eating the meat from well-raised animals is better for our bodies, for the environment, and for the animals. We know they taste better. And it makes me wish that all of the animals that we raise for food could be raised thoughtfully and humanely. I have no illusions that the dysfunctional and inhumane commodity meat system in this country will go away anytime soon.
But I do know that that change is indeed happening. I can now buy hormone-free, grass-fed beef at my grocery store in Cleveland. And we the consumer are the ones who effect that change. So we should eat smaller portions of better (and more expensive) meat. Which is why I wanted to call attention to Dickson's Farmstand.
What caught my eye immediately on entering his store was that all the butchering is done not only in house but is also on view for the people buying the meat.
I asked Donna to shoot two of the people who do the work, two of the butchers, Giancarlo Sbarbaro and Jocelyn Guest, Dickson's manager (featured in the lead photo). Jocelyn left the west coast and comedy writing to break down whole animals in Manhattan.
I also wanted to call attention to one of the great cuts of beef they offer, from a muscle that runs along the ribs behind the foreleg: the zabuton (the Japanese term). It's tough (like the short ribs it's connected to), but so well marbled you can cook it rare and it's incredibly succulent. It's the kind of cut you find only at a butcher that breaks down whole animals.
Jake brings in 4 to 5 quartered steer a week, 8 to 9 whole pigs, and 6 to 12 lambs depending on the size.
It's a great place, the kind that is popping up throughout the country and supported by people who share a hope of better animal husbandry—or who simply want better quality meat than is available at the grocery store.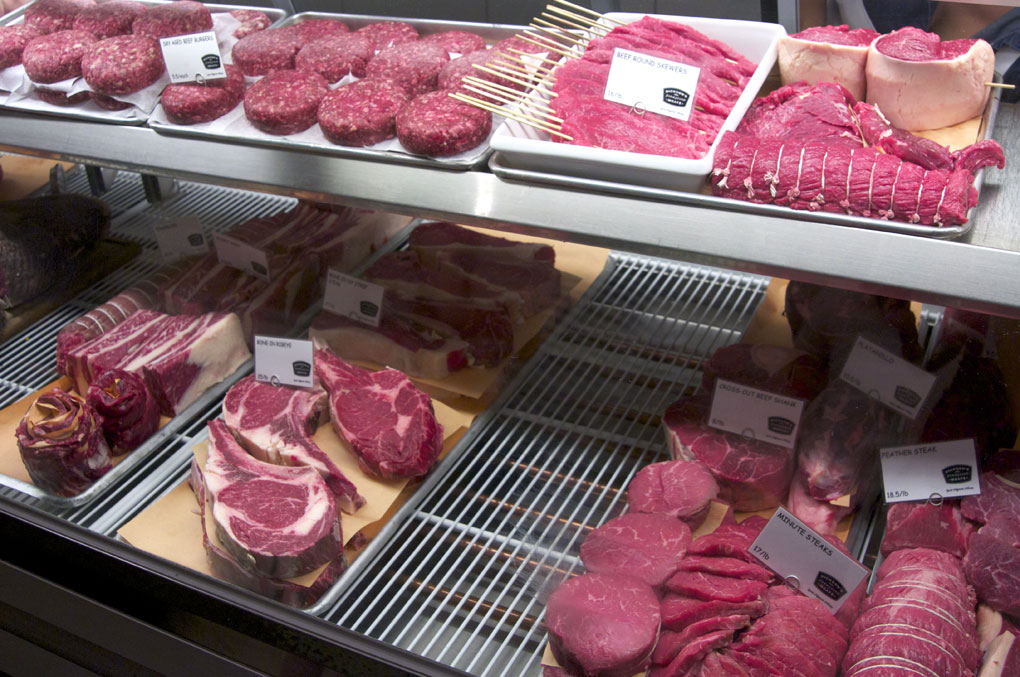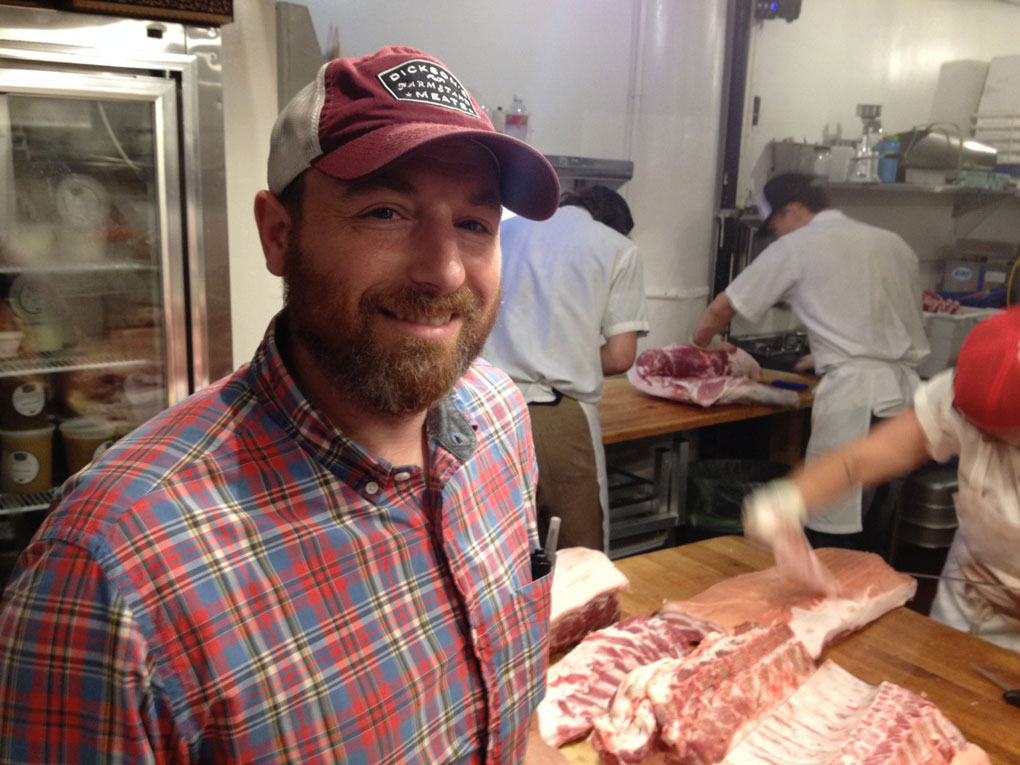 Jake Dickson, above.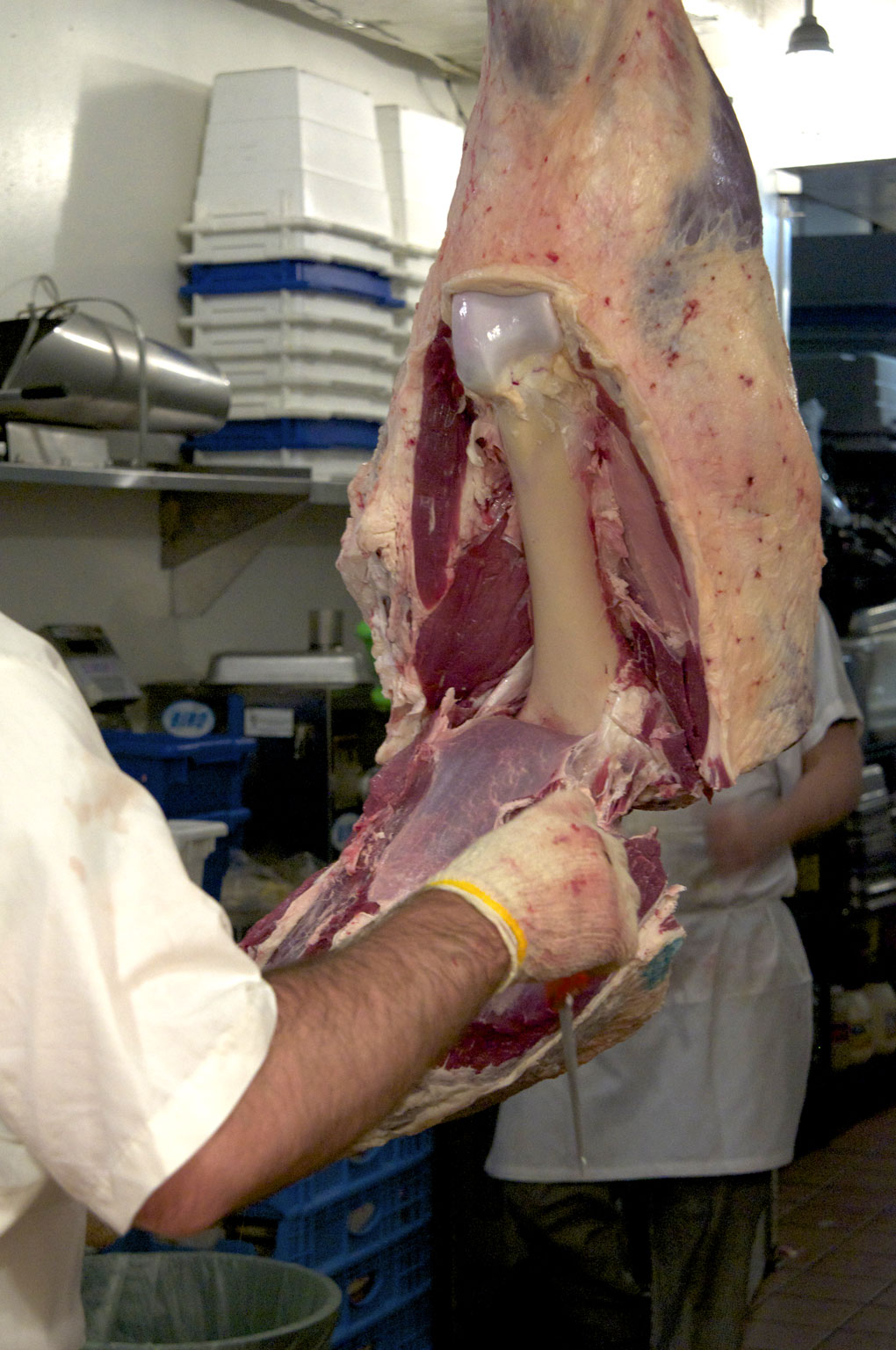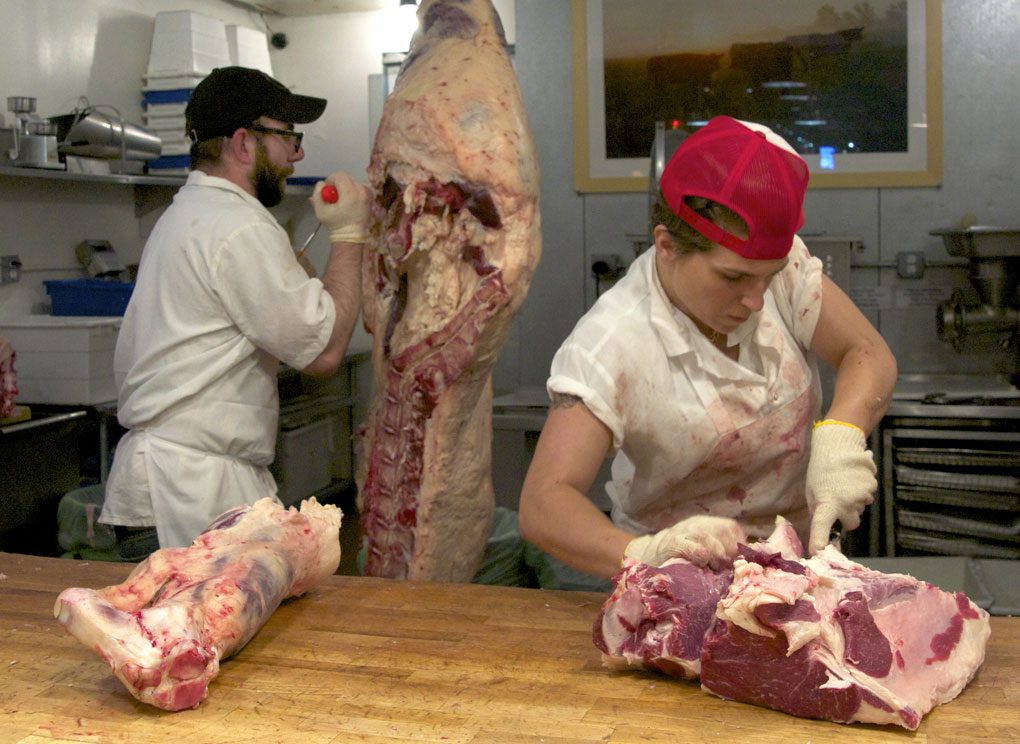 If you liked this post, take a look at these links:
My past posts featuring butchery Grill Your Burgers and Highlights from Pigstock TC.
Edible Manhattan shares the story of how Dickson's Farmstand came to be.
Watch these videos from Dickson's Farmstand on pig breakdown, beef breakdown, and lamb breakdown.
Also, this virtual tour of the shop is pretty neat. It's part of Google Street View's new initiative to go into businesses.
© 2014 Michael Ruhlman. Photo © 2014 Donna Turner Ruhlman. All rights reserved.