I'm working on a book unrelated to ratios, but midday Saturday as my over-caffeinated stomach began to rumble, I thought about the Indian dal we'd had the night before, one of our staple meals. I've published the recipe in Ruhlman's Twenty but keep meaning to publish it here because it takes about 10 minutes total prep time (an hour to simmer), and with some rice and pappadams is a great meal. The thing is we'd eaten all the rice, I didn't feel like plain dal or heating oil for pappadams, and I happened to be writing about a specific dessert crepe. And there it was—I'll make a couple of crepes.
Where on earth, though, is there a recipe for one or two crepes?
I needed only tap on my trusty Ratio app (which Will Turnage and I built, along with design from Leah McCombe, based on the book of that name) to recall the crepe ratio. (Contrary to what many think, the Ratio app IS available for Android devices.) The crepe ratio turns out to be a simple 2:2:1. This allowed me to crack an egg into a bowl that I'd set on my scale and use that as the starting weight.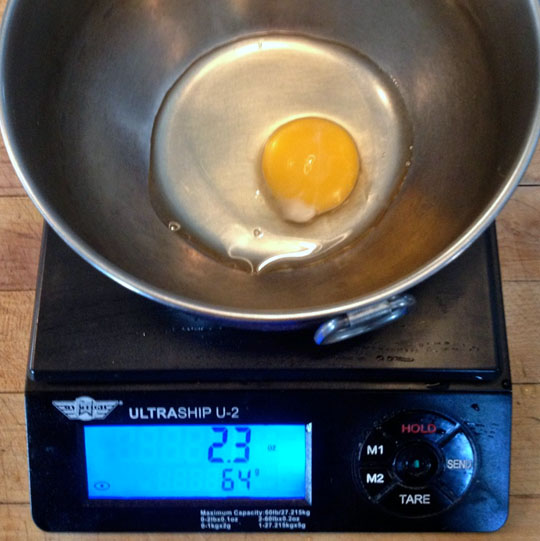 I set a crepe pan on the stove (though any pan will do, doesn't need to be nonstick; crepes peel easily away when done) over medium-low heat, then added an equal amount of milk to the bowl, then half as much flour.
I stirred it all together, reheated the dal in the microwave, made a crepe, and ate it while I cooked the second crepe, which I used to enfold the dal. And I was back at my desk with a quick lunch made from delicious leftovers, crummy photos and all, in fifteen minutes.
It reminded me of the power of ratios, and also how easy and useful simple crepes are when you want to take an amorphous nothing into an elegant something. Creamy mushrooms would be delicious inside a crepe; so would leftover pulled pork (I'd drizzle hot sauce over it); or for dessert, berries and whipped cream, with powdered sugar on top. (How to pix below recipe.)
Crepes
Basic milk, egg, flour pancakes
Ingredients
4

large eggs

(8 ounces)

1

cup

milk

(8 ounces)

1

scant cup

flour

(4 ounces, or fluff and scoop)

1

tbsp

sugar

(if making sweet crepes, optional)

½

tsp

vanilla extract

(if making sweet crepes, optional)

butter as needed
Instructions
Combine the eggs, milk and flour, and blend with a whisk until they're uniformly combined. Add a pinch of salt; it is always good no matter what you're using the crepes for, but if you're going savory, you can add ½ teaspoon (and you can replace the milk with chicken stock or water, if you wish). If you're making sweet crepes, add 1 tablespoon sugar and, if you wish, ½ teaspoon vanilla. Let the batter rest for ½ hour, uncovered at room temp (or up to 1 day, covered and refrigerated); though I rested mine only long enough to heat the pan and they were fine. 

Heat your pan over medium-low heat. Add a little butter, just enough to coat the bottom. If you're using stainless steel, you can swirl a teaspoon of butter in the pan to coat the bottom to ensure it doesn't stick. Pour in just enough batter to coat the bottom as you tip and tilt the pan, about ⅓rd cup.

Allow it to cook untouched until it's set, a minute or so. Then gently turn the crepe and briefly cook the other side if you wish (I usually just cook them on one side—you can see when they're set, and they'l keep cookin). If, after cooking the crepe, you would like it to be thinner, add ¼ cup of milk or more to the batter until you've got the consistency you like. Turn them out onto a plate and hold at room temperature, covered, for up to several hours. 
Basic Crepes
Filling the crepe.
If you liked this post, check out these other links:
I've created two other apps, one a bread recipe creator, similar to Ratio, called Bread Baking Basics (for iPhone, iPad here; it got glitchy on Kindle Fire so we're revising it for those devices); and most recently The Book of Schmaltz: A Love Song to a Forgotten Fat, a proper e-cookbook published as an app for the iPad.
David Leite rhapsodized on The Book of Schmaltz last week on Leite's Culinaria. Make a thick creamy chicken sauce, and cook your crepe in schmaltz, then wrap your chicken in the schmaltz crepe!
My recent post on keeping your knives sharp.
Martha Stewart's recipe for lemon-mascarpone crepe cake.
Try making a savory crepe filling of ricotta, spinach, and mushrooms.
© 2013 Michael Ruhlman. Photo © 2013 Donna Turner-Ruhlman. All rights reserved.