I am normally straight at you like a knife, cocktailwise. A martini is gin with vermouth you can taste, and a twist. Period. Either there is no other martini or the name doesn't mean anything. (I refuse to back down on this one, sorry. I like vodka, I own vodka, I drink vodka, but vodka and vermouth is a stupid drink with an appropriately stupid name.) I want plenty of bitters in my Manhattan. After the martini, there's no better drink than an old-fashioned.
So you'd think I'd pooh-pooh infusing decent spirits with shit from my herb garden. And I did. Until a new pal made Donna a gimlet with basil-infused gin. And he made a delicious summer cocktail with cantaloupe and basil-infused tequila. Basil is in full growth now, and it takes only a day or two to infuse a spirit with it, so I gave it a whirl, and found I love the summer mood it gives to a drink, the floral savory notes that tell you it's the middle of August, and that it's OK to relax a little.
The gimlet is also something of a neglected drink, in large part because for years it has relied on that cloying, lime-flavored sugar-water called Rose's Lime Juice. Here I'm taking it back to its Imperial roots and simply making it with gin, lime juice, and simple syrup, in effect a gin sour. Truly refreshing on a summer evening.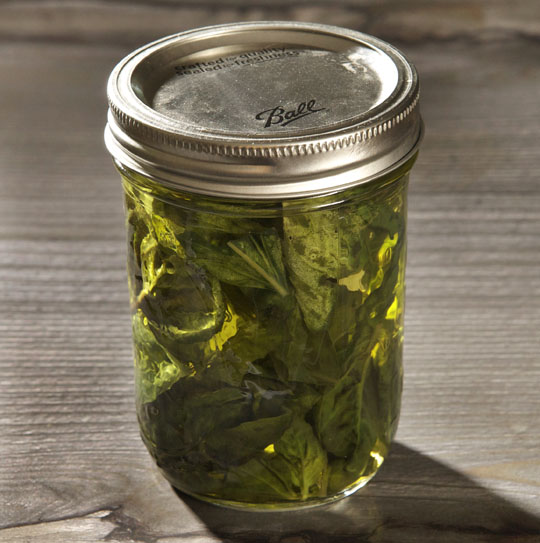 To infuse any alcohol with any herb, put plenty of herbs in a jar, fill it with the spirit of your choice, and let it infuse for 24 to 48 hours, giving the jar a shake every now and then, or until the spirit tastes as you wish. Strain through cloth.
If you don't have basil on hand or are drinking along with the Friday cocktail hour, a good gin (Tanqueray is excellent for a gimlet), sans basil, will suffice. If you want to use vodka, go ahead—it works perfectly well here (but there should be a name for it, no?). I prefer the lip-puckering proportions below. Donna thinks it's too sweet and sour. So feel free to reduce both lime and simple syrup by half or to taste.
Happy summer Friday, all!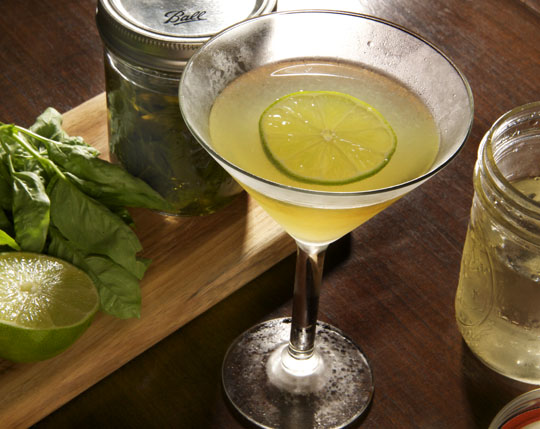 If you liked this post, take a look at these links:
My other cocktails that feature gin: Hasty Negroni, Tom Collins, and French 75.
Still my favorite watering hole: The Velvet Tango Room here in Cleveland.
A few more forgotten gin recipes you can shake up.
The Gin Blog's perspective and recipe on the gimlet.
© 2013 Michael Ruhlman. Photo © 2013 Donna Turner Ruhlman. All rights reserved.
BASIL GIMLET
Ingredients
2 ounces basil-infused gin (or gin of your choice)

1 ounce lime juice

1 ounce simple syrup

1 disc of lime (for garnish)
Instructions
Combine the fluids in a shaker and fill it with ice. Stir or swirl gently for 60 to 90 seconds and strain into a chilled martini glass.

Do absolutely nothing other than enjoy your drink and the summer air.