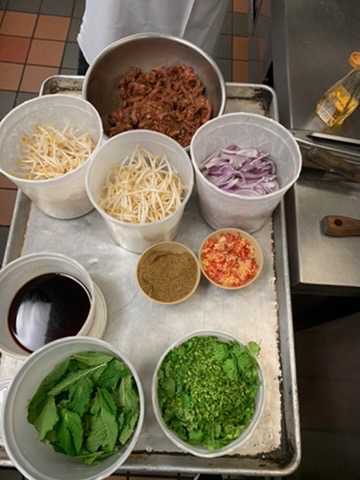 New podcast episode is up, From Scratch, today on the extraordinary power of mise en place.
And here's the recipe discussed and prepared in the episode.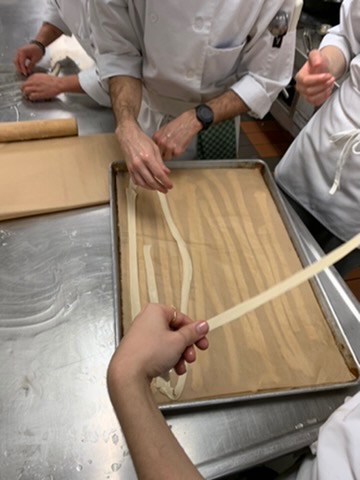 Hand pulled Cumin Lamb Noodles
For the Noodles:
15 ounces (3 cups) flour
1/2 teaspoon salt
10 ounces water
1/2 cup of oil or as needed
For the Lamb:
1 to 1-1/2 pounds lamb shoulder cut in thin strips
1 tablespoon soy sauce
1 tablespoons ground cumin
1 tablespoon corn starch
1 teaspoon dark soy sauce
1 teaspoon ground coriander
1 teaspoon Korean chili powder or 2 teaspoons chili paste such as Go Chu Jang
1 teaspoon toasted sesame oil
1 clove garlic, minced
1/2 teaspoon ground black pepper
Mise To Complete the dish:
1/2 onion, thinly slicedMedium red onion, sliced
1-1/2 cup bean sprouts
1/4 cup sesame oil for cooking the seasoning sauce
Seasoning sauce 1
2 ounces light sesame oil
3 clothes garlic, minced
1 tablespoon ginger, minced
1 red Fresno chili, cut in thin rings
2 tablespoon ground cumin,
1 tablespoon ground coriander, ground
1 teaspoon Korean chili powder or 1 tablespoon Korean chili paste
1 teaspoon black pepper, ground
Combine all ingredients and stir
Seasoning sauce 2
1/4 cup soy sauce
2 teaspoons Shao Xing wine or white wine
2 teaspoons rice vinegar
2 teaspoons light brown sugar
1 teaspoon MSG or fish sauce
1/2 teaspoon salt
Combine all ingredients and stir
Aromatic herbs:
1 bunch cilantro torn
1 bunch mint, leaves only
To prepare noodles:
Combine the flour and salt, add the water, and stir with a wood spoon till the dough comes together. Turn the dough out onto a cutting board and knead it for 5 to 7 minutes until it's a smooth supple dough. Wrap in plastic and let it rest for 30 minutes or up to a day in the fridge.
Put the oil in a ramekin. Oil a sheet tray. Roll the dough out into a half-inch thick rectangle. Cut the dough into 1/2-inch strips. Coat your hands in oil or dip one strip in oil and pull and pinch and stretch it into a long thin tagliatele like noodle and put it on the sheet tray.
Repeat with the remaining strips of dough.
You can cook the noodles and shock them or cook them while you're cooking your lamb. Boil it in salted water until tender, 3 or 4 minutes.
To finish the dish:
Get a pan or wok really hot. Give it a coating of oil and lay out the strips of lamb individually so that you get as much surface caramelization as possible. Finish stir frying the lamb.
Add the onion and bean sprouts and cook for another minute or so. Remove it all to a bowl.
Cook or reheat your noodles.
Return the pan to the heat, add a quarter cup of sesame oil, and cook seasoning sauce 2, until it's simmering. Lower the heat and add seasoning sauce 2. Add the noodles and toss them in the sauces. Add the lamb and toss. Add the fresh herbs and toss and serve.
Serves 4