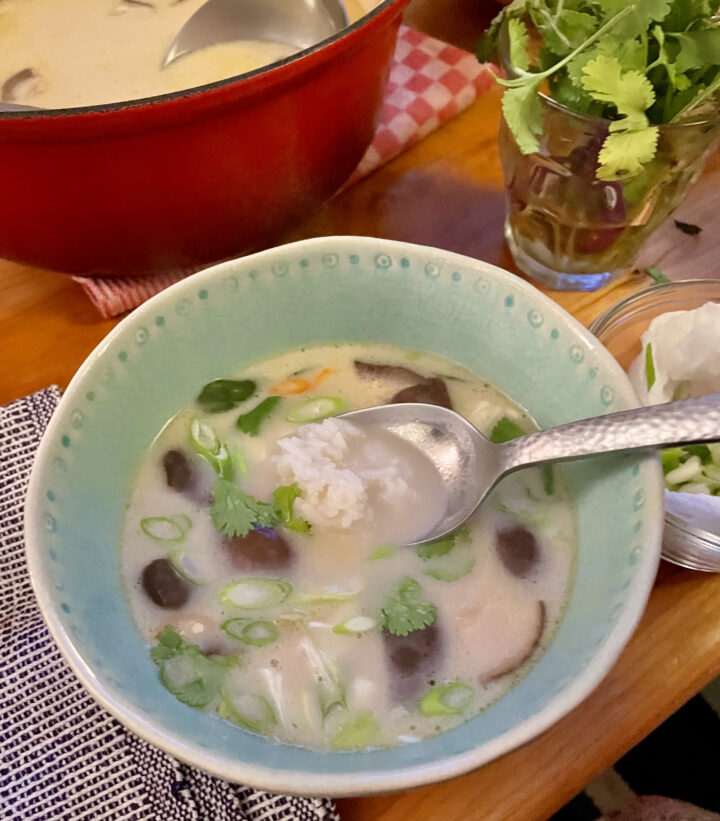 Every time I ate at the erstwhile Mercer Kitchen in Soho, I ordered the coconut soup. I could never get enough of it. When I was writing Jean-Georges's memoir, JGV: A Life In 12 Recipes, I made sure this was one of those recipes, and it's one of my favorite soups on the planet.
It's a Thai-style soup that's flavored with all kinds of aromatics, most of which are readily available but some that are not. The soup requires galangal, a woody, tough rhizome, like ginger but gentle and more floral, lemongrass, and lime leaves. They're all essential to this soup.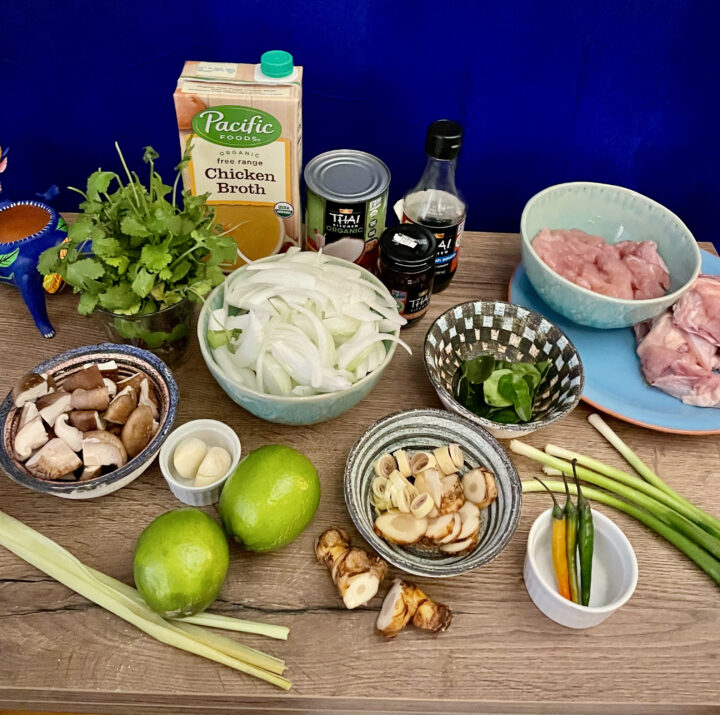 The method is simple: You simmer all the aromatics in chicken stock, then strain the broth, add coconut milk, chicken and mushrooms, lime juice and fish sauce. If you have access to galangal and lime leaves, I can't recommend this soup enough. Thank you, JG!
I've made this with homemade chix stock and with boxed broth from the store and because of the powerful aromats, I didn't notice a huge difference. JG always served this with rice on the side.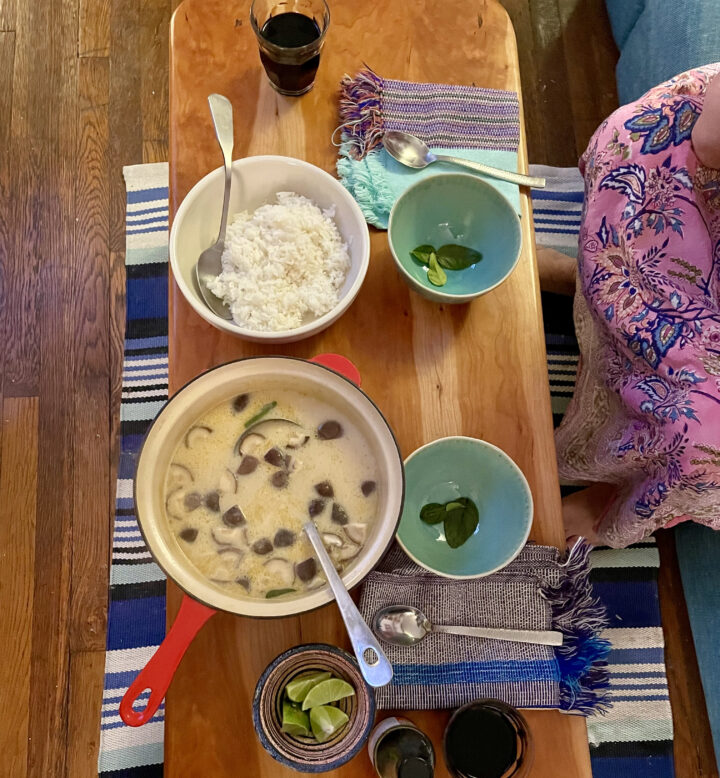 Jean-Georges's Coconut Soup with Chicken and Shiitakes
This fabulous Thai-style soup was a mainstay of the Mercer Kitchen
Ingredients
2

chicken breast halves, bone-in, skin-on

salt to taste

2

tbsp

butter

1

large onion, thinly sliced

2

inch

piece of gaglangal, thinly sliced

1

tbsp

red Thai curry paste

(2 if you like it spicy)

4

cups

chicken broth

2

cups

water

6

Kaffir lime leaves

1

bunch

cilantro

2

cloves

garlic, smashed with the flat side of a knife

4

Thai chlies, 2 chilies bruised to release their fragrance, 2 thinly sliced for garnish

1

stalk

lemongrass, sliced or severely bruised with the back of a heavy knife

1

14-oz can coconut milk

8

shiitakes, stemmed and quartered

lime juice as needed (have two on hand)

fish sauce to taste

2-4

scallions, thinly sliced
Instructions
Remove the chicken breasts from the bones. Chop the bones into more manageble pieces. Reserve the bones and the skin. Cut the meat into a medium diceseason with salt and reserve.

In a medium sized pot over medium heat, add the butter. When it's melted, add the onion, galangal, curry paste, and reserved chicken bones and skn. Stir and cook to sweat the onions and cook the chicken bones, 5 to 10 minutes.

Add the chicken stock, followed by 2 Kaffir lime leaves, half the bunch of cilantro, garlic, the 2 bruised chilies, and lemongrass. Bring to a simmer and cook gently for 30 minutes or so. Strain the mixture into a clean pot.

Return the broth to the stove over medium high heat. Add the coconut milk, mushrooms, reserved chicken breast, a tablespoon of lime juice, and a tablespoon of fish sauce. Bring to a simmer and cook until the chicken is cooked through, about five minutes or so. Taste and adjust the seasoning as desired with more lemon, fish sauce and salt if it needs it (remember that fish sauce is salty).

Divide into four bowls. Garnish with cilantro leaves, scallion, chilies, and a lime leaf.
Notes
If you have an abundance of chicken stock, use six cups of it and omit the two cups of water.
Serve with a bowl of rice on the side; pick up some rice in your spoon, then dip the spoon into the broth.