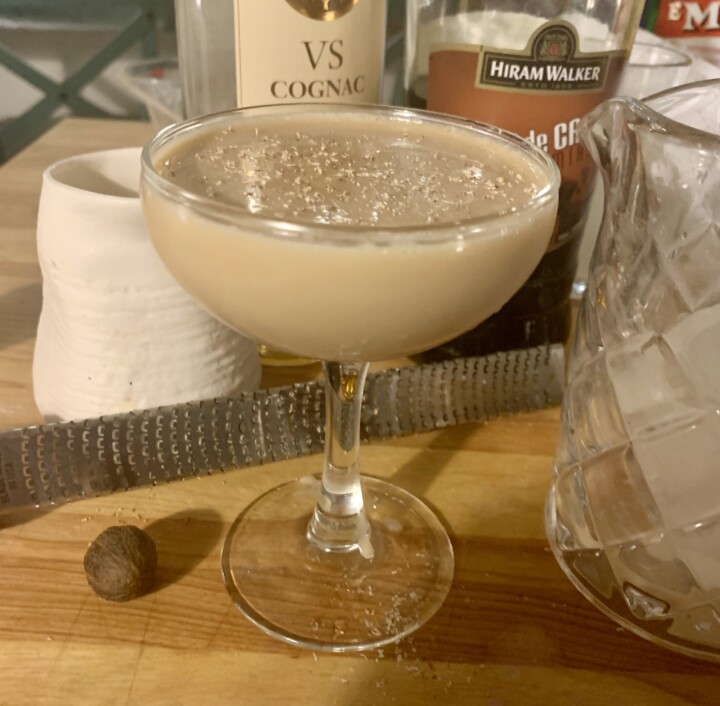 Carrying on with our cocktails-using-creme theme, this is one very much worth keeping. The Brandy Alexander, which uses brandy instead of the Alexander's gin, is more flavorful.
Proportions, again, are all over the place. Traditionally they are equal parts brandy, creme de cacao, and cream. This, though, is too desserty for me. Though if you're mixing one for a guest ask. If they are a chocolate-cake-for-dessert kind of person, I'd go with this proportion.
Another writer, Gary Regan ups the brandy by ½. Getting better. But I'm going to recommend, as does the writer Robert Simonson, a 2 to 1 to 1 ratio. And I would even give permission to halve the amount of cream.
In any case, the Brandy Alexander, which John Lennon and Harry Nilsson (what a songwriter he was; "Everybody's Talkin'," "Coconut," "Without You," "Gotta Get Up"). Poor guy died thinking everyone thought he was an asshole because he and Lennon got a bit obnoxious when too far into their Brandy Alexanders.
So, here's a toast to the memory of a worthy artist, with the very worthy Brandy Alexander.
Watch it filmed live on IGTV.
Brandy Alexander
The brandy and creme de cacao cocktail
Ingredients
2

ounces

brandy

1

ounce

creme de cacao

1

ounce

cream

(or ½ ounce/tablespoon

grated nutmeg
Instructions
Combine the fluids in a mixing glass with ice. Stir well to chill. Strain into a cold coup. Grate nutmeg over the top.
Notes
This can also be served on the rocks, but I prefer this one up. Ice just gets in the way.