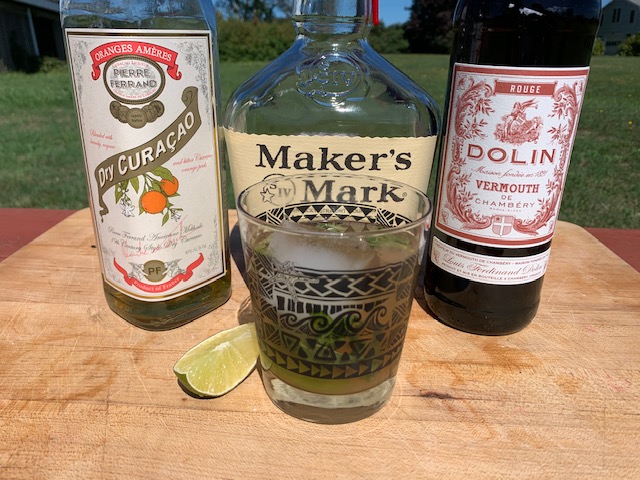 Yes, it's that time again—another eventful week has passed, and boy do we need a cocktail! Herewith, The Derby, a complex bourbon-lime sour, balanced with sweet vermouth and orange liqueur.
I've played with proportions here, adding a little more vermouth and orange to the bourbon. A half ounce of each is typically called for but having made this cocktail using those proportions, I find it too sour, in the same way I often find a side car and an aviation too sour. So, the fix was easy. Double the sweet components! The result is a much more pleasing, drinkable cocktail.
It's so complex, in fact, that you'd be hard pressed to name the ingredients beyond the whiskey, so seamlessly do they blend.
It's a bracing, complex cocktail, for bracing complex times: #Breonna #RBG. The "debate." The President who flouted masks tests positive. Can we expect more? Brace yourselves!
My wife Ann appeared mid-morning to say she was frustrated that the novel she's midway through lacks urgency, and really who cares? This is a critical question for any fiction writer, and the one asked during my first writing class by our professor, Reynolds Price. Of course, your mom is going to be interested in your story, he said, your friends, but what person who doesn't know me will be interested? Why should a stranger care about this story?
Seasoned novelist though she is (her first appeared in 1988), I sympathized. The events of today, in the Year That Won't Stop, how can any work of the imagination compete with the bizarre nature of what is looking more and more like America's Armageddon. Sixty years ago, Philip Roth described the impossibility of fiction competing with fact. It's hard to imagine any story competing with last seven months in America.
Yesterday, on a lovely fall afternoon on a Massachusetts beach, I finished Michael Cunningham's The Hours (the 1998 novel which won the Pulitzer the following year and which I found on a shelf and had always wanted to read). In his acknowledgements, he thanks a book store in Manhattan's West Village, where much of the novel takes placde. "Three Lives and Company," he writes, "a bookstore owned and operated by Jill Dunbar and Jenny Feder, is a sanctuary and, to me, the center of the civilized universe. It has for some time been the most reliable place to go when I need to remember why novels are still worth the trouble they take to write."
Or poetry for that matter—today's is "Break" by Dorianne Laux.
Indeed, we will return to a civilized place one day, and may that wonderful bookstore, now owned by Toby Cox, be alive and well when the pandemic has passed. Until then, we do have cocktails.
Happy Friday all!
The Derby
A bourbon cocktail, adapted by Ruhlman
Ingredients
2

ounces

bourbon

1

ounce

sweet vermouth

1

ounce

Curacao

(or other orange liqueur)

¾

ounce

lime juice

1

mint sprig

1

lime wedge or wheel
Instructions
Combine thee liquids in a glass. Add ice and stir. Strain into a chilled coupe or into a rocks glass fill with ice.

Garnish with lime and mint. Pray for our country.