I'll be doing a couple cocktails featuring the egg as this is the month of Egg, my new book exploring the world's most versatile ingredient. The stuff of life. Seriously. We're lucky each time we eat one (unless you're Paul Newman playing Cool Hand Luke). We're luckier still every time we drink one! They are great in cocktails. Last week I featured the whiskey sour. A favorite of my Grandma Spamer, who would have been 97 today. Though by the time I saw her drink them, they were made with frozen lime concentrate or some such, and certainly no egg white. And frankly a sour doesn't have to have an egg white.
Oh, but add an egg white and they become substantial. They are more satisfying on every level, with real body to carry that sweet-sour-whiskey wallop to its most satisfying conclusion, over the palate and into the gullet, with a nutritional finish.
One of the most esteemed cocktails known for including egg is the Ramos Gin Fizz. Have a look at the history and all the gin fizz variants on Wikipedia. I love its combination of citrus and cream, reminds me of the orange creamsicles I adored as a boy. And the orange blossom water adds a delightful, completely unique, and fragrant finish to this substantial and refreshing cocktail.
Technique: As with all cocktails including egg white, they require a dry shake—that is, one shakes before adding ice to the shaker to unwind those egg white proteins, making it smooth and not viscous. Then one adds ice and shakes to mix further and chill. I have changed my method, using a hand blender, which fits neatly in my shaker. This mixes the drink (and ensures that the sugar dissolves) far more effectively than a dry shake, though with less fanfare. I then add ice, shake, and strain into a glass over ice and finish with soda water. Using a blender for serving this drink to a group is completely acceptable.
But shaking is important. Especially if you feel like knocking off early on this spring Friday. Tell your colleagues it's time for your protein shake.
Happy Friday, all.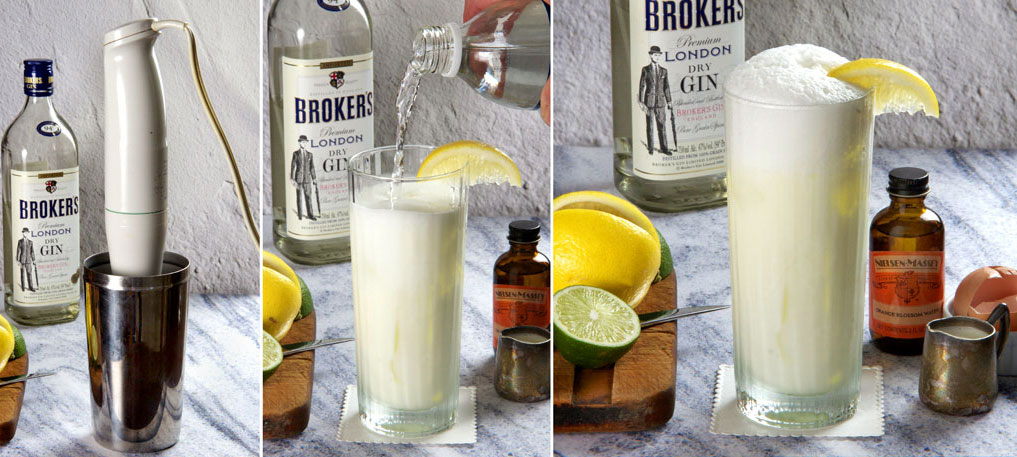 Ramos Gin Fizz
2 ½ ounces gin
1 egg white
1 ounce cream
½ ounce lemon juice
½ ounce lime juice
2 teaspoons sugar
½ teaspoon orange blossom water
Soda water (2 to 4 ounces as needed or desired)
Lemon wedge for garnish
Combine all the ingredients, except the soda and garnish, in a shaker. Dry shake or mix with an immersion blender. Add ice. Shake to chill thoroughly.
Strain over ice into a highball glass, top off with soda, and garnish with lemon. (Though Paulius, an expert, suggests poring the soda first, presumably for maximum foam.)
If you liked this post, take a look at these links:
© 2014 Michael Ruhlman. Photo © 2014 Donna Turner Ruhlman. All rights reserved.