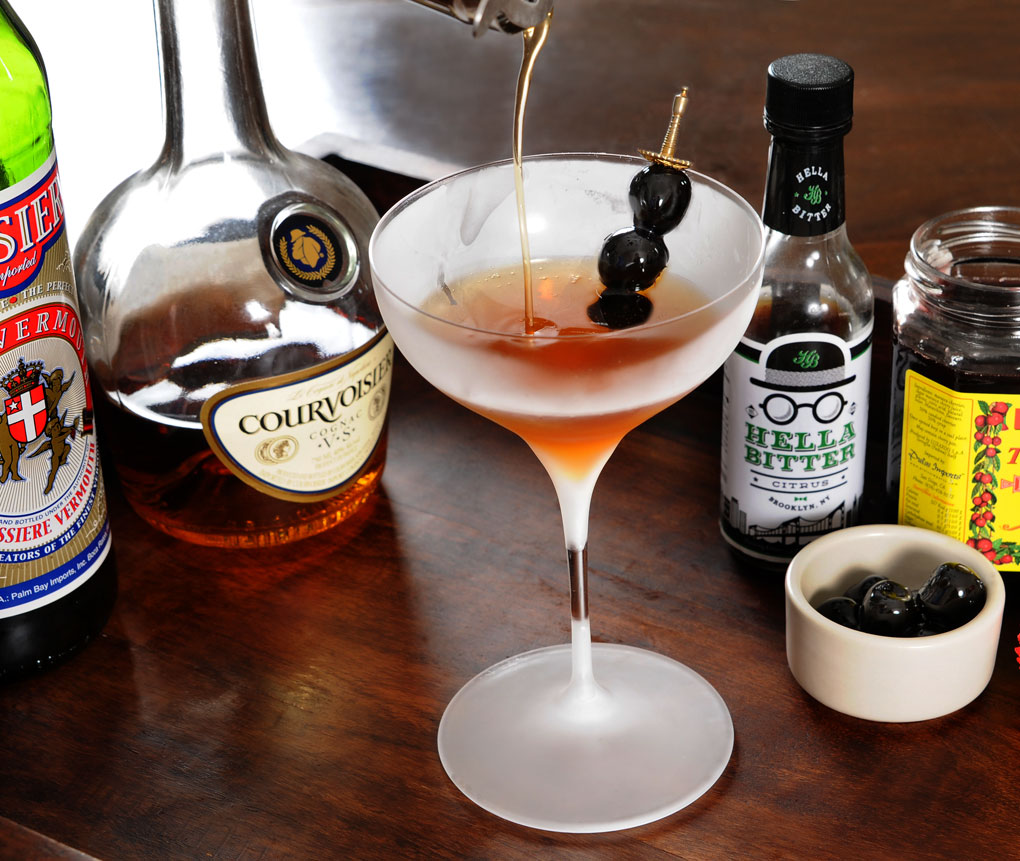 Last week's delicious Sidecar got me onto drinks featuring brandy. This, combined with my interest in how changing the spirit changes the name, brings me to today's cocktail (photo by Donna Turner Ruhlman), the Metropolitan. The Manhattan is a beloved Ruhlman family cocktail; the Metropolitan is essentially a Manhattan made with brandy. This is a delicious cocktail, made especially fine with these genuine maraschino cherries. Donna says a single one of them can be considered an entire dessert. Indeed, this is a garnish that truly completes this cocktail, which is a complex mixture of brandy, sweet vermouth, bitters, a small bit of simple syrup, and the cherries.
I'm happy again to feature Hella Bitters, from my downstairs neighbor in New York, Tobin Ludwig, currently visiting Cleveland I'm proud to note—and what a glorious day it is here! I know already no work will get done so I'm not even going to pretend; I'm going to take my wife on a date—though after my NPR Baltimore show from 1 to 2 talking about Egg, and then return home in the evening, mix a couple of Metropolitans, and enjoy them on our front porch. My preferred proportions below.
Spring is truly here. Happy Friday, all!
Metropolitan
2 ounces brandy
1 ounce sweet vermouth
½ teaspoon simple syrup
3 dashes citrus bitters
Luxardo cherries
Pour all the ingredients but the cherries into a cocktail shaker filled with ice cubes. Stir or swirl for a minute or two.
Shake well and strain into a chilled coupe and garnish with cherries.
If you liked this post on the Metropolitan, check out these other links:
© 2014 Michael Ruhlman. Photo © 2014 Donna Turner-Ruhlman. All rights reserved.