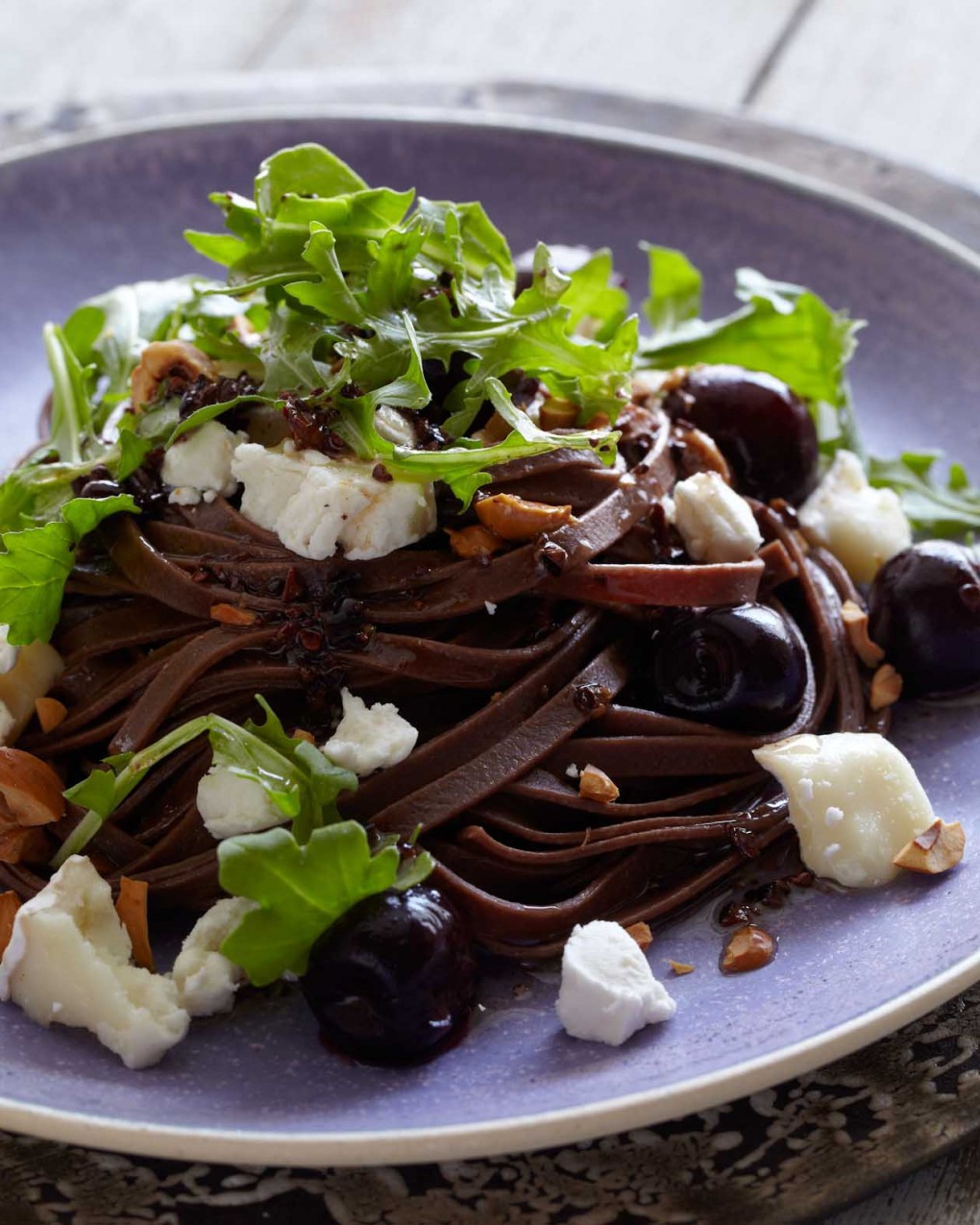 When I was in San Francisco promoting Egg, my friend Stephanie Stiavetti, who writes The Culinary Life (see current post, 5/23, on making your own ricotta from an interesting new book, One-Hour Cheese), took me for a fab meal at State Bird Provisions. [offending content removed] I wrote the introduction to the book she mentions below with gladness; I'd never thought to elevate the American classic by using great American cheeses. The below recipe takes Mac and Cheese to a new level (and for those in my neck of the woods, Ohio, feel free to substitute Mackenzie Creamery goat cheese instead of the Bucherondin).—M.R.
by Stephanie Stiavetti (photo by Matt Armendariz, courtesy Little, Brown)
And Now for Something Completely Different: Savory Chocolate Pasta with Bucherondin, Hazelnuts, and Cherries
When we were writing Melt: the Art of Macaroni and Cheese, our top priority was breaking out of the standard "mac & cheese trap" that so many cookbooks fall into. We knew from the beginning we didn't want to roll out the same tired riffs on what many folks consider America's favorite comfort food. You're likely familiar with the usual suspects: chili mac with generic cheddar, macaroni and cheese with truffle oil, Yankee Doodle lobster mac, that sort of thing. Of course we love creamy sauces and hearty, breadcrumb-topped casseroles as much as the next person—there are many such recipes in Melt, in fact—but when it came to macaroni and cheese, we wanted to think outside of the box (Ha! Pun!) and explore a new world of flavor and texture.
To bastardize a quote from Eddie Van Halen, we looked at our cheese selection each day and asked ourselves, "What ELSE can it do?'"
There are a handful of exciting ingredients we knew we wanted to include in the book, one of them being chocolate pasta. Your first thoughts might jump to dessert, but honestly, a superlative chocolate pasta is anything but. That first hit of familiar cocoa may trick your palate into thinking it's experiencing something sweet, but a little observation reveals a dark, gentle bitterness that moves these noodles straight into the savory camp.
Despite its savory leanings, chocolate pasta enjoys being paired with traditionally sweet-centric flavors, such as a cherries and hazelnuts. All this comes together around a French goat cheese called Bucherondin, which we think sounds like the name of a French superhero. Smooth and chalky at first, it sheds its mild-mannered identity and reveals an astonishing tang and spice.
If you can't find Bucherondin, you're more than welcome to use any aged, well-mannered goat cheese available to you, or even the standard log of small-production chèvre from your local grocery store if that's what you've got. The key here is balance: the pasta is bitter; the cherries are sweet; the hazelnuts are, well, nutty; so the cheese should be capriciously tart to round out the playlist. A chorus of red wine vinegar, ground mustard, and maple syrup adds even more dimension by way of an intriguing vinaigrette. Hitting every note on your palate, this dish sings like your own private showing of Die Walküre.
Chocolate pasta is available at gourmet grocery stores throughout the country, or you can make it pretty easily yourself (if you go this route, spring for the darkest, finest cocoa powder you can find). If you're willing to shop online, our personal favorite is the dark chocolate linguini sold by Seattle artisan pasta company Pappardelle's, who produce myriad interesting pastas and ship direct. If you're ever in Seattle's Pike Place Market, we highly recommend you stop in to buy a pound … or fifty.
If you liked this post, check out these other links:
My past post on making pasta from scratch.
Stephanie's past posts include the Pasta Primer and Käsespätzle.
© 2014 Michael Ruhlman. Photo © 2014 Matt Armendariz. All rights reserved.
SAVORY CHOCOLATE PASTA WITH BUCHERONDIN, HAZELNUTS, AND CHERRIES
Ingredients
¼ cup plus 2 tablespoons hazelnut oil

2 tablespoons red wine vinegar

2 tablespoons maple syrup

¼ teaspoon ground mustard

1 heaping tablespoon cocoa nibs

Pinch kosher salt

Pinch freshly ground black pepper

½ cup hazelnuts

12 ounces chocolate pasta (preferably linguini, but use what you can find)

5 ounces Bucherondin, roughly broken apart

1 cup pitted cherries (Bing, Brooks, or Rainier are all lovely varieties)

2 cups whole arugula leaves, washed and dried
Instructions
Place the hazelnut oil, red wine vinegar, maple syrup, ground mustard, cocoa nibs, salt, and pepper in a jar with a tight-fitting lid and shake vigorously to combine (a bowl and whisk will do this job just fine, too). Taste and adjust seasonings as desired. Set aside.

Preheat the oven to 350°F and bring a pot of salted water to a boil. Place the hazelnuts on a baking sheet and toast in the oven for 10 to 15 minutes, or until the skins darken and blister and the nuts are hauntingly fragrant. Wrap the hazelnuts in a clean dish towel and leave them to steam for 1 minute. Rub the nuts in the dish towel to scrub the skins off. Don't worry if some of the skin stays; we just want the bulk of it removed. Roughly chop the nuts and set aside.

Cook the pasta until al dente (you can do this while the hazelnuts are toasting). Drain the pasta through a colander and set aside.

Plate the hot pasta in bowls. Scatter the Bucherondin over the top of the pasta, followed by the cherries and hazelnuts. Top each bowl with a handful of arugula, dress with the vinaigrette, and serve.