Emilia Juocys has been my assistant for several years, first from Chicago now from her home town in Michigan. She has recently, at the age of 35, made a major transition in her life. Major transitions require reflection, reevaluation; curiosity and fear about the future are also inevitable consequences. When you are a cook you turn to food for some of the understanding and grace you need. - R
By Emilia Juocys
Summer is nearly over, and the fall is closing in, and the bounty of the summer is entering our kitchen in droves. I devour the sweet summer corn and beautiful heirloom tomatoes, but for me summer would not be summer unless I had a specific summer treat. I'm also stuck in a great period of reflection, wondering where I will end up next in my life's adventures. What I have learned so far is that there are some attributes in you that never leave. They may hide, but they come back. My love of food and sharing it with others has not disappeared—in fact it has grown stronger. This past week I stood in my parents' kitchen preparing lunch for my 99-year-old dziadzia (grandfather) and found myself musing over my summers I had with him, my babcia (grandmother), and my sister.
As small girls growing up in a Polish household, my sister and I would eagerly wait for Babcia to make blueberry pierogi. We would wait for the blueberries to arrive at the house and we both knew it was time. A few ingredients would pop out on the table and then work to assemble them began. Oh, and the rules about who could do what.
Babcia was the only person allowed to make the dough when we were younger. She had her own measuring system of nonsensical cups, but I knew that most of the measurement was done by feel. We were allowed to gather the flour in the middle of the table, add the salt, crack the eggs into the well, and slowly add water as she began to mix my hand. Babcia would knead the dough and my sister and I would stand in awe. One of the things I miss most about her was her hands. They were worker's hands that had lived a full life of cooking, cleaning, scrubbing walls, yard work, and sewing. When she was done kneading the dough, it had to rest beneath a moist towel. My sister and I always wanted to roll out the dough, but we could not. Babcia wanted good-looking pierogi, which meant that little girls can't do that, although we both had our own rolling pins and kid dough to play with and practice. The only job that my sister and I were permitted to do was to cut the circles out of the dough and hand them to Babcia as she filled them.
Blueberry pierogi were our summer treats. When you are six years old and it is 95° and humid outside, all you could dream about was a cold blueberry pierog to hold in your hand and eat as you ran around outside. Who knew the number of times I watched her make various types of pierogi over the years. That each time I learned something that was then squirreled away in my head for use later in my life. That what I learned from her is part of my family and my heritage.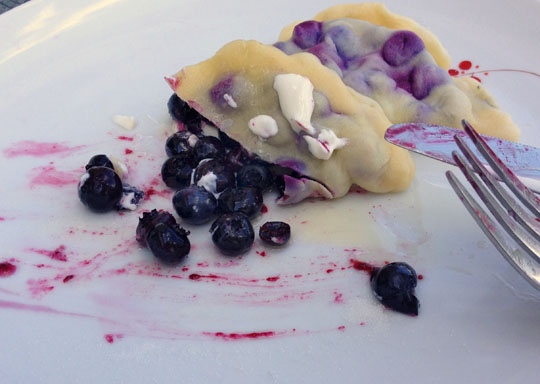 If you liked this post, read:
My recent post: the Le Creuset Cast Iron Pizza.
Emilia's past posts on holiday cookies and biscotti.
An interesting look at the past and the future of pierogi.
© 2013 Michael Ruhlman. Photo © 2013 Donna Turner Ruhlman. All rights reserved.
BLUEBERRY PIEROGI
Ingredients
2.5 cups all-purpose flour

2 eggs, room temperature

Pinch of salt

1 cup water (nearly)

2 tablespoons unsalted butter, room temperature (our family used butter, others use lard or cream cheese)

3 cups fresh blueberries

Flour for dusting
Instructions
Using a 5-quart standing mixer with a dough hook, add the flour, eggs, salt, and some of the water to the bowl. Mix for 1 minute on medium speed until the dough begins to come together. Then add the butter. If the dough is still dry, add more water; if it is too wet, add a bit more flour. Increase the speed to high for 3 minutes. The dough should now be formed; it should not be sticky to the touch.

Rest the dough for 30 to 45 minutes, covered with a moist towel or plastic wrap. You can also wrap the dough and refrigerate it until the next day; just remember to bring the dough to room temperature before you use it.

Place a large stockpot filled with water on the stove and bring it to a boil.

Cut the dough in half. On a dusted countertop, begin to roll out your pierogi dough. Roll it fairly thin, to about ⅛" thick, and cut circles out with a 4" round cutter. Be sure to keep the circles close together to get the most yield out of the dough. Babcia would never reuse the dough (poor form). Repeat with the other half of the dough.

Hold the circle in your hand and fill it with as many blueberries as the dough can comfortably hold. Then cup the pierog (singular) like a taco and begin to pinch the edges to seal. Continue until you have them all filled.

To cook the pierogi, carefully drop them one at a time into the boiling water (you can probably cook 4 to 6 at a time). Cook for 2 minutes per side. Once they are done shock them in an ice bath. Drain and set aside.

You can either enjoy the goodness now or you can refrigerate them. They last about 5 days, but they are delicious, quick portable snacks.

Serve the pierogi with sugar, hot butter, and sour cream. Or just eat them as they are.