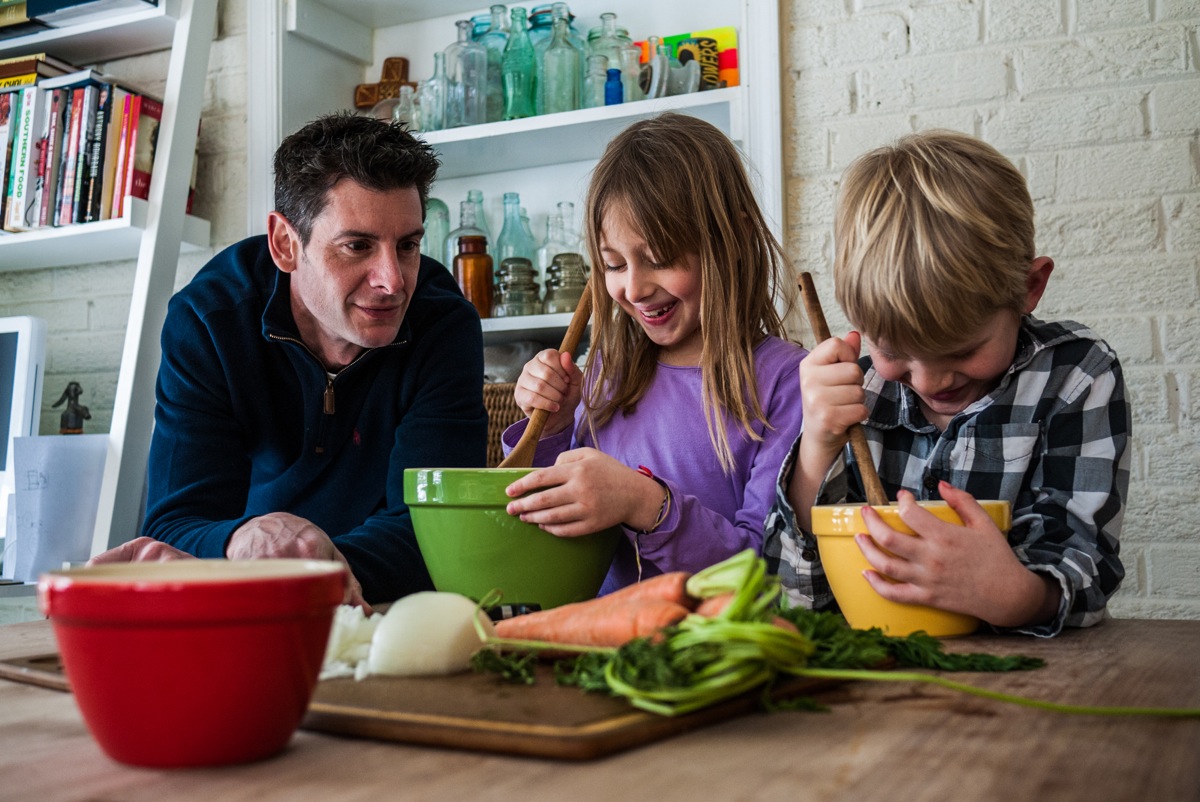 Christopher Freeman began his adult life, as I did, aspiring to be a novelist, and was exactly as successful at it as I was. For money work, he was an academic book editor, a job he found so personally soul-killing, he turned to his love of food. He's now not just a cook and caterer in D.C., he's security-cleared to work in the White House and at other State venues, including all the dinners at our Vice President's residence. (The Washington Post wrote about him a few years ago.)  I was in our capital last month talking schmaltz, and Freeman, in the audience, raised his hand to ask a question not about schmaltz, but rather about Ruhlman's Twenty. His praise was so genuine and effusive I asked if I could use it to tell others. What I got in return was a guest post that, while it's extraordinarily self-serving (for me), it increases my pride in the book in thinking that it might encourage or help other parents to teach their kids to cook. I've said it often: we change the way America eats by teaching our kids to cook. I believe that our country is a better place when we cook our own food. This is how we do it. —M.R.
by Christopher Freeman
I know how to cook. In my thirteen years as a food industry careerist, caterer, and writer, I've come to know an awful lot about gastronomy. I have served the culinary pleasures of two American vice presidents. I have eaten on camera for CNN  When it comes to food and cooking, I'm pretty confident in saying I know my stuff.
But when it came to teaching my own two small children (ages 6 and 8) how to cook, I was flummoxed. Talking about cooking with them was simple. We discussed the importance of hand washing. Proper mise en place. The importance of a correctly sharpened knife. But when it came to actually teaching them how to cook, I didn't know where to begin. Which of my own vast collection of recipes were simple enough for them to master, I wondered. Which flavor profiles suited their young palates? Which ingredients would both reward and forgive?
I was overwhelmed. I didn't have a clue.
But what I did have, however, was Ruhlman's Twenty. As far as cookbooks go, it was an epiphany, a revelation. Because Ruhlman's Twenty not only teaches us what to cook, it teaches us how. Its recipes teach the twenty foundational techniques of cooking that every cook should master. My kids and I started with something simple. We started with French onion soup:  four hours of sweating and caramelizing onions. Four hours of being together, as a family, in our own kitchen. It was profound. From there, the following weekend, it was on to braising. We braised brisket. We braised lamb. Egg cookery came next. Culinary horizons were broadened. Triumphs abounded. And with every new recipe they tried, with every new technique now under their little belts, I saw that my two children were "getting" cooking in ways all-too-rare these days. I saw that they were not simply learning how to cook, but that they were forming a relationship with food that will likely inform their culinary choices—as cooks, as eaters—their entire lives.
To my knowledge, there is no other cookbook quite like Ruhlman's Twenty.
It's genius.
And it pisses me off.
Because Ruhlman thought of it before I did.
Christopher Freeman writes the food blog Manifesto and is active on Twitter as @proletariateats. Many thanks, Christopher, for offering the kind words about my book, but most of all for teaching your kids to cook. —M.R.
Other links you may like:
© 2014 Michael Ruhlman. Photo © 2014 Donna Turner Ruhlman. All rights reserved.