I'm finally home for a spell, long enough to plan out meals from my farmers' market or, more precisely, growers' market, and I was eager to see what was available this early in the season and after an uncommonly long, cold winter.
Thanks to greenhouses there were plenty of greens, all kinds of them—kale, tatsoi, pea shoots, spinach, beet greens, basil. We have good local cheese makers so I picked up some sheep's milk cheese and chèvre. Two dozen eggs, of course. Jason from Tea Hill Farms said, "Been so cold the chickens just don't want to grow." His chickens were just over two pounds and I bought a couple of them. They are so pristine, with firm, taut skin, they seem a different species from the ones in the grocery store.
I bought oats and grits and quinoa and wheat berries and butter and carrots from the Stutzman farm.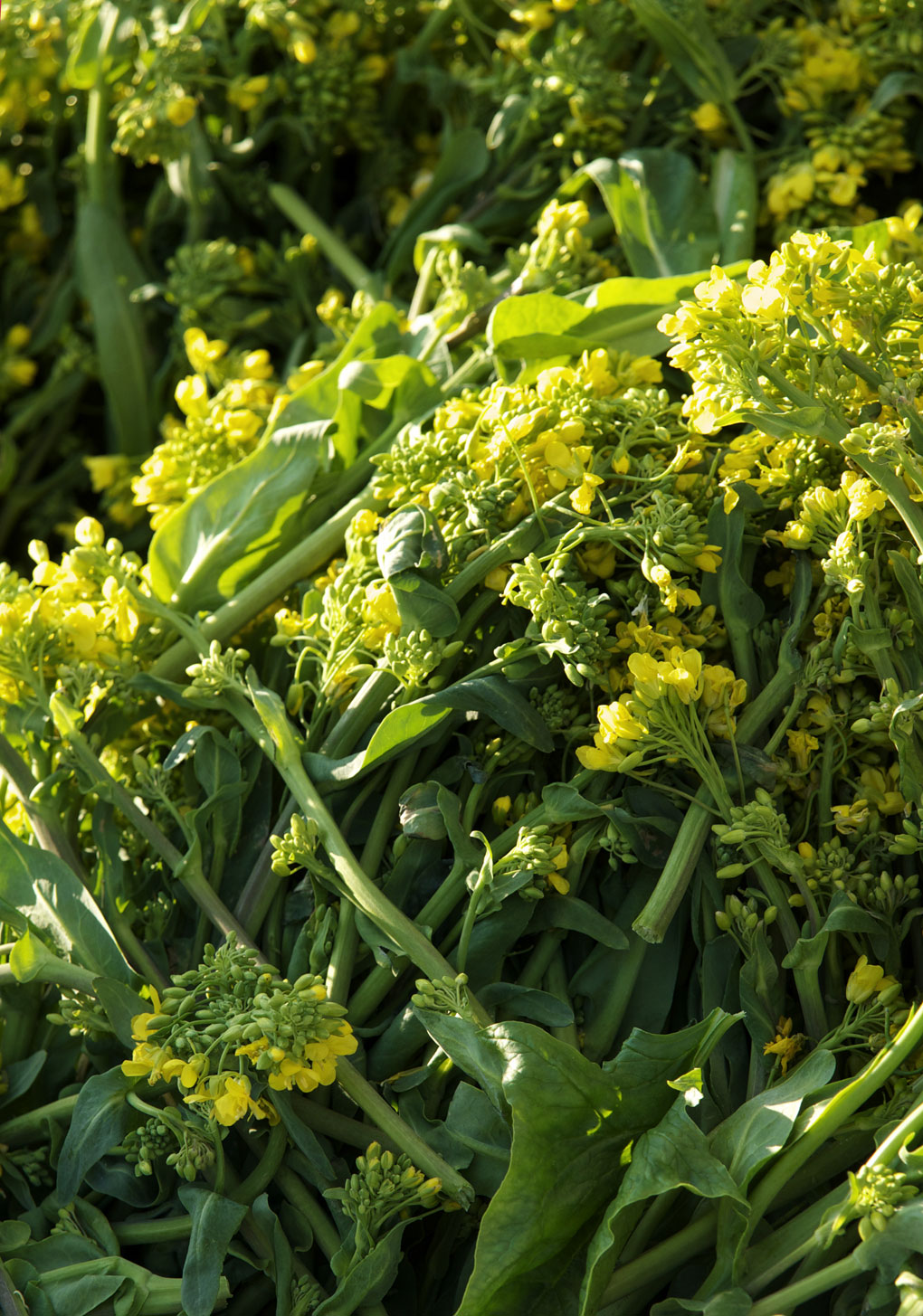 And something new, what the arugula and spinach guy called Japanese broccoli—above, similar to broccoli rabe—but with gorgeous springlike flowers, delicious raw or I'll probably sauté with garlic, serve it with the grilled chicken and some roasted Yukon potatoes I bought (more on cooking it below).
I've just been informed that the above plant is nanohana—thank you, Bethia Wolff of Columbus Food Adventures, for the link!
There were even apples, picked last year and held at 32°F in a near oxygen-less storehouse (this is how even the big operations do it, and is the reason you can buy apples every day of the year at your grocery store). But no asparagus yet! Too cold!
So many meals I can make from just this market alone. I wrote most of this post on a Saturday morning while breakfast cooked: the Stutzman grits enriched with the Hartzler butter; I'm sautéing some Mexican chorizo that I made from last winter's pig, and I'll gently fry a couple of the eggs I bought from Jason in the sausage fat.
My biggest goal is to rely on local farmers for all our meat. Not always easy and it gets expensive, so I go along with those who preach "Pay more, eat less."
Earlier in the week I splurged on a leg of lamb (for Easter dinner), four rib steaks (all 100% grass fed), and a rack of pork spare ribs from Aaron Miller. Along with two chickens from today, a skirt steak, two fat pork chops, and five pounds of belly I'll be turning into bacon will more than cover us for the week and beyond.
Truly grateful to be living in a time and place where such good food is available.
How I Cooked the Japanese Broccoli:
I sautéed 3 cloves of sliced garlic in 3 tablespoons of olive oil till tender. I added the Japanese broccoli and tossed it in the oil on high heat, then added ¼ cup of water and covered it to pan-steam till tender, 3 or 4 minutes.
The stems were a bit too tough. I'd cut them off higher up and I'd also cut the veg into more bite-sized pieces. In any case, an excellent find.
If you liked this post, check out these other links:
© 2014 Michael Ruhlman. Photo © 2014 Donna Turner Ruhlman. All rights reserved.