Martha actually laughs! I was on The Martha Stewart Show, taped Monday in front of a crazily exuberant audience, on behalf of the new book, Twenty, and I saw it myself. Lord knows what we were laughing about. I haven't a clue. You go kind of senseless when you're not in front of Martha every day and there she is—felt exactly like jumping out of an airplane for the first time. But one of the things I've always admired about her show is there's none of that forced cheer and goofy laughter. So when she laughs it's real and affecting.
I've done my share of TV but have never, ever been nervous. I was so nervous that morning. I brought three shirts and a valium. When I walked into the studio, Martha was in her office with a trainer doing stretching exercises or yoga. She'd already taped one show and it was not yet noon. I was shown to one of a few green rooms, given some water and a fruit plate. I posted some tweets. There's a sign on the wall asking you to do so. I had a handler named Kyle who told me to relax, and did nothing but smile at me. My shirts were returned pressed. Courtney Knapp, a former manhattan cook (for Mario and others I believe she said) was the producer of my segments. She brought me into the kitchen to check progress of my dishes. Nikki Elkins had onions in all stages, for the onion soup, sliced, partially cooked, and two batches of fully caramelized onions.
She had issues with the quantities in my book. I told her the onions in the Midwest were bigger than their wimpy Manhattan onions. She begged to differ. She said they'd used 65 pounds of onions for all the swap outs. I didn't argue with her cooking—it was perfect. Sarah Mastracco, who cured my salmon and readied the mise for it for the show, had also nailed it. They are seriously good cooks in that kitchen. I confessed to everyone I saw that I was incredibly nervous. Courtney said she's been on the show and that she sometimes has a glass of champagne before she goes on. Damned sporting and civilized that idea, but I confessed to requiring something stronger.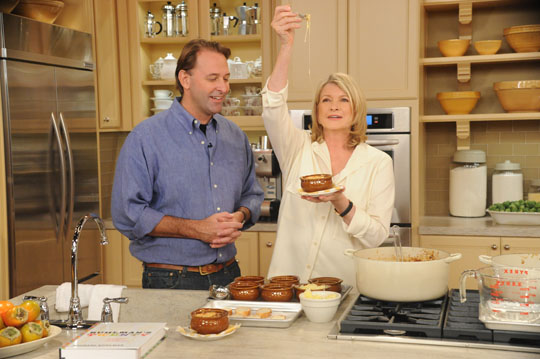 Courtney lead me through all the blocking for each dish, what would happen, what I was going to say about each dish, how we would move, what Martha would do. I was told to talk with Martha, not to the audience (which is hard because how do you tell Martha anything about cooking?). We moved on to the second key ingredient, onion. Did the same thing.
I got hair and makeup done. I met the other guest, the formidable Grace Bonney of the Design Sponge blog. At least I think it was her. I was too nervous to absorb information.
What struck me most about all this? How incredibly organized and professional everyone was. Everyone was just so on their game. Thank you, all.
But I was still nervous. Kyle brought me back to the green room. We passed Martha's office; she appeared to speaking into a microphone with two other people (radio?). How does she do it? And look at her, the woman looks good. She's Martha. And I'm here to tell you, she's a genuine badass business woman and television educator.
We arrived at the green room where three fingers of straight bourbon waited. It was ten minutes before show time. Kyle suggested I step in and "refresh" myself. Which I did.
And before I knew it, there I was, talking salt with Martha Stewart, curing salmon, making onion soup. She said, "I love this book," when she introduced my book. But she didn't just say it like that. She said, "I luuuv this book."  The heart leaps. "It's really helpful." Leaps. She loves our wooden spoons and offset spoons!
Here's another cool thing about doing a show with Martha. You learn things. She showed me a way to zest fruit I hadn't thought of. She showed me a cool way to slice the salmon Sarah had cured. I ended up having a really good time, though I still have no recollection of what I said. Courtney assured me I hadn't made an ass of myself.
And I walked out of the studio into the gorgeous autumn New York City day.
Ok, I'm going to say something now that never, not in a million years, would I ever, ever have thought I'd say, never in my life, but it's true:
I have a serious crush on Martha Stewart.
If you liked this post on Martha Stewart Show, check out these other links:
© 2011 Michael Ruhlman. All rights reserved.