I want to call attention today to Dan Barber's New York Times opinion piece from a week and a half ago, "What Farm-to-Table Got Wrong," and his new book The Third Plate: Field Notes on the Future of Food. Both address the "odd duality" of our country's embrace of sustainable agriculture, local food, organic food, farmers' markets, and the farm-to-table movement with the fact that Big Food is getting bigger.
Corn and soy account for 50% of the farmed land in this country (mainly a variety of corn that's not edible until processed, I'm guessing).
The current agricultural situation seems untenable in the long haul. In the short term, it's created a population so sick we currently rack up a billion dollars a day in health care costs. On the other hand, do I really want my local grocery store to shut down so that I'm forced to rely on whatever I can find locally? Not given this past winter, that's for sure.
Barber, chef of the Blue Hill restaurants in New York, tries to reimagine a meal of the future, and it would be dictated by what grows best, where, when, and how. His editorial recognizes that in order for him to have a strain of wheat that creates astonishing bread, the soil has to be replenished with rotation crops, such as buckwheat or millet or mustard greens. Therefore, when those crops are growing, that's what we should eat, and chefs need to lead the way.
(Barber's comments, and his NPR interview, reminded me of a meal Donna and I had at a little B&B outside Rome. We were served zucchini blossoms, then zucchini soup, followed by a zucchini pasta. Allesandra shrugged, serving the third course, and said, "It's what's growing now." She had traded some firewood for a goose, which finished the meal.)
Barber also urges us to eat not what we feel like, but what the land is offering, noting that good nutrition and a healthy environment go hand in hand; the reverse seems also to be true.
Caring for the soil begins with understanding how incredibly complex it is. In another recent book, The Soil Will Save Us, journalist Kristin Ohlson likens the soil to a coral reef; it's that alive, and also that vulnerable if we don't appreciate it and care for it. Thousands of years of bad farming and ranching practices worldwide have led to the soil's losing 80% of its carbon, she writes, which is now in the atmosphere.
Both authors try to imagine ways toward a better future. With famine in some parts of the globe, industrial agriculture abundance in others, and speckles of hope in the United States (whether it be home cooks preserving food and raising backyard chickens to the farm Barber describes that truly understands good farming practices), it's an incredibly complex picture with no easily attainable solutions. But at least the conversation is underway and continuous.
(I'll be interviewing Dan in Cleveland at the Museum of Contemporary Art, Tuesday, June 10; I'll have a lot of questions. Photos by Donna at our North Union Farmer's Market.)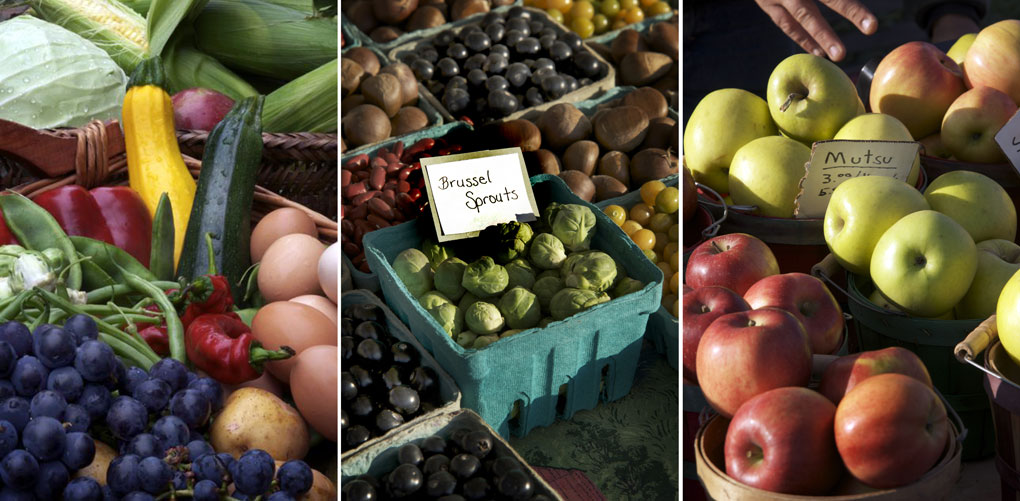 Other links you may like:
© 2014 Michael Ruhlman. Photo © 2014 Donna Turner Ruhlman. All rights reserved.