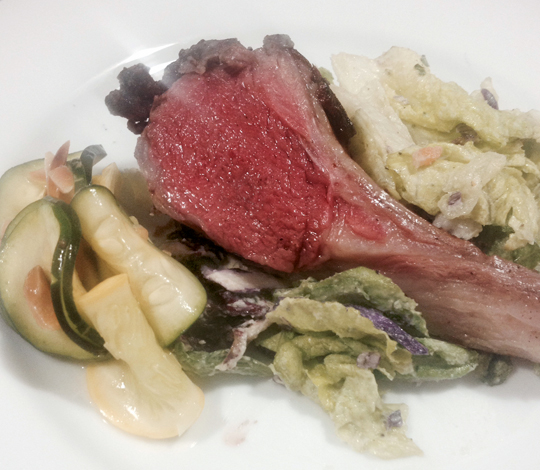 A post-dinner reenactment of the crime now known as the "Rack of Lamb with Lettuce-Butter Sauce" debacle. Photo by iPhone.
For the past several years my cousin Rob has brought me and his band of merry sailors to race in the Key West Regatta. I cook dinner for about 20 every night—sailors, spouses, itinerant friends, and other marauders who haunt the waterfront by day.
What I do, basically, is what one cook or another at restaurants throughout the country has to do daily: Feed the staff with what's on hand. Happily, I don't have to then work the line all night, and then clean my station, and then store the leftover food. As if by magic, a half hour after dinner, someone has made the kitchen spotless. But it did get me thinking about family meal (I'll get to the lamb later).
It was partly on my mind after I read the superb chef-writer Gabrielle Hamilton's essay on her ordering takeout for the staff at Prune and the abject humiliation she felt as a result. It's a great story any cook will understand.
But it also brought me back to the long days I spent with Thomas Keller, talking about his career. He started as a family meal cook. He was hanging out on the beach in Narragansett, Rhode Island, an itinerant cook at the time who didn't know much about cooking. A properly trained master chef from France, Roland Henin, asked young Tom if he wanted a job. "I need somebody to cook staff meal, interested?"
He was. And so he began cooking for the brigade of roughly fifty chefs who cooked at The Dunes Club resort. "It's where I learned how to cook a green vegetable," he told me long ago. And it's also, partly, where he developed his love of French classics, as Henin was French and taught him those things as well—big braises like Lamb Navarin that one could do for a lot of people.
And that's what I do here. Nothing fancy, just simple dishes that are easy to do for a lot of people. Plus, a lot of these guys (although none of the women, interestingly) love to cook, and so they help. Jim and Doug and Jeff are happy to be out on the grill taking care of the strip steaks or racks of lamb while I finish the veg, starch, and salad.
Too much help, though, can be frustrating. Russ Kellythorne had been fixated on a tater tot recipe he saw at Food52.com, talking about it on the plane, talking about it every day, When could he do his tater tots? I said he could do it for steak night. "But," I said, "Are you sure? You do realize this is the potato course for 20 people, so that means you have to make about 100 good-sized tots, minimum." He thought about it and, the morning in question, said, "I can do it."
And at 6 pm that night we had a bucket of shredded undercooked potatoes. Russ had failed to evaluate not the quantity of potatoes but the oven power required to get this job done. (I needed the oven too, so part of his failure was due to my being cranky and wanting his fucking tater tots out of my fucking oven so I could reheat the twice-baked potatoes I had made earlier in case the tater tots didn't happen.) Russ fried up his failure the next day with eggs and said they were delicious, but as any cook who has failed miserably knows, specific defeats will never be forgotten. Russ will take the memory to his grave. We've all been there.
And last night, Jim Sminchak, who is an ace in the kitchen, a really good cook, captain of the grill, and who also makes a killer habanero salsa for our snacks … well, I was finishing my gorgeous lamb racks in the oven and immersed in the last-minute hustle to get it all spread out, the rice pilaf, the raw zucchini salad, etc. As I was pulling the lamb from the oven, for which I had lovingly made a garlic-rosemary butter sauce, Jim took it upon himself to dress the green salad. But that stuff in the blender that looked to him like Caesar dressing was, in fact, my butter sauce for the lamb.
Doug Moose, watching, said, "I don't think you should do that, Jim." Which is pretty much daring Jim to do it—that's how they work. "Why not?" he asked, just as I turned to see him pouring the last drops of my garlic-rosemary butter sauce onto the salad. All I could say was, "You are kidding me!"
So, there it was, Rack of Lamb with Lettuce-Butter sauce. We all have our tater tot moments.
But it made me think of family, and what a delight it is cook with a band of great people and share a meal together night after night. At least for me, it is the anchor of the day—and often the very best part of the day.
And it made me think of what Keller said about the importance of family meal for an aspiring chef. It's staff meal. It doesn't have to be perfect, it just has to get everyone fed. But, if a young cook can be passionate about family meal, can have intense desire to serve a really great meal to staff, "then," Keller said, "he can be a chef." Pause. "Maybe." Staff meal. That's where Tom Keller started being Thomas Keller.
Other links you may like:
© 2014 Michael Ruhlman. Photo © 2014 Donna Turner Ruhlman. All rights reserved.