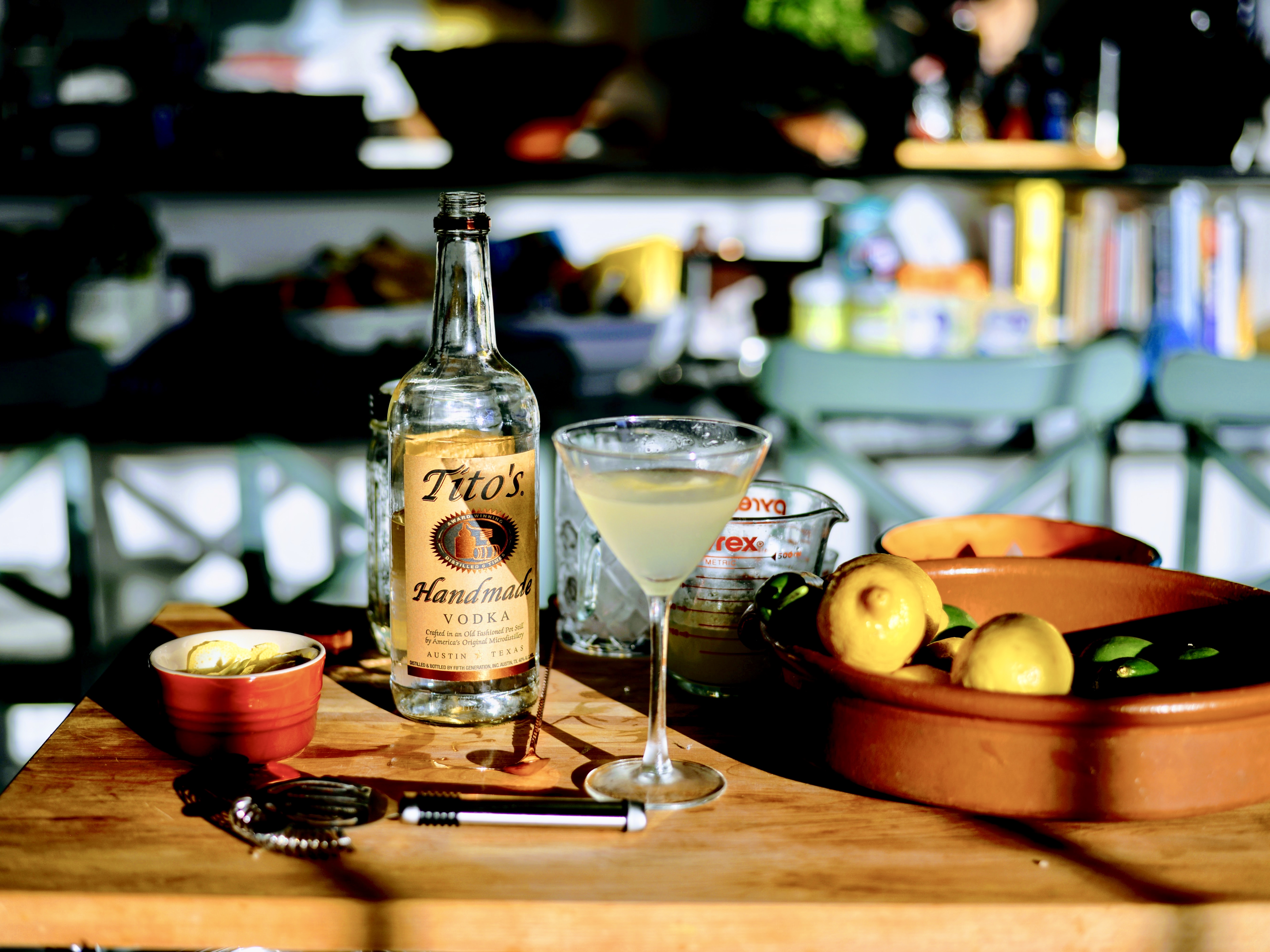 The Power of the Sour!
It takes a lot to get me to post a vodka drink. But this definitely one worth making, especially if your spirit of choice is Vodka.
Don't misunderstand me. I drink vodka not infrequently, in a bloody Mary for instance, or a screwdriver (or its superior variation of my own devising, The Roberston).
But I find it hard to get behind a spirit that is defined by its lack of flavor. And one, moreover, that was embraced in this country because of a fantastically successful marketing campaign. Its whole story is laid out in a fascinating book by journalist Victorino Matus in his Vodka: How a Colorless, Odorless, Flavorless Spirit Conquered America.
"The strange thing about vodka's dominance is how it transformed so suddenly," he writes. "For two centuries America drank brown spirits—from the colonial rum trade and the Whiskey Rebellion to the Bourbon Trail and Prohibition. But in 1934, just after Prohibition ended, the first vodka distillery opened ... and then almost closed down for lake of popularity."
By 1967, however, vodka was the most popular clear spirit, and by 1970 was the most-consumed spirit in America. A fascinating story, from Smirnoff in the 1950s (Moscow Mule) to the Absolut bottle design and ad campaign to Sex and the City and its Grey Goose cosmos.
One of THE best vodka drinks in my opinion is the Lemon Drop, essentially a lemon sour, one favored by the novelist Charles Jackson, who wrote the most famous novel about alcoholism ever, the harrowing The Lost Weekend, about a colossal bender. Our pal Les Standiford makes what he refers to as a Lemon Drop Martini, and if I am not mistaken, includes both vodka and gin. Some people add a bit of Cointreau, or perhaps some orange bitters, both of which would be lovely.
But I like the simplicity of it, because what this cocktail is to me is a small miracle. How a dose of lemon juice and simple syrup turns a flavorless spirit into moan-aloud good. It is the power of the sour. And I urge you to give it a try on what is (for us at least) Day 55 in quarantine. This can be served up or on the rocks, but I should note that my wife Ann, who always orders drinks on the rocks, and won't drink them when served up by mistake at a bar, always requesting ice...well I handed the glass in the photo, up, for a taste and she said, "I'll take this one."
That's how good this cocktail. Video by the outstanding Kat Guanche will follow the recipe.
The Lemon Drop
Essentially a vodka sour, with lemon juice and simple syrup.
Ingredients
2

ounces

vodka

1

ounce

lemon juice

1

ounce

simple syrup

1

lemon twist
Instructions
Combine the liquid ingredients in a glass. Add ice and chill. Pour into a frosty coup or martini glass and garnish with a twist.
Notes
Some people prefer reducing the sweet sour components by ¼. If it were me of course, I would simply raise the spirit part for a 3:1:1 ratio. It's a matter of taste.
(And simple syrup is simply equal part sugar dissolved in an equal part of water. Make a batch and keep it in the fridge.)