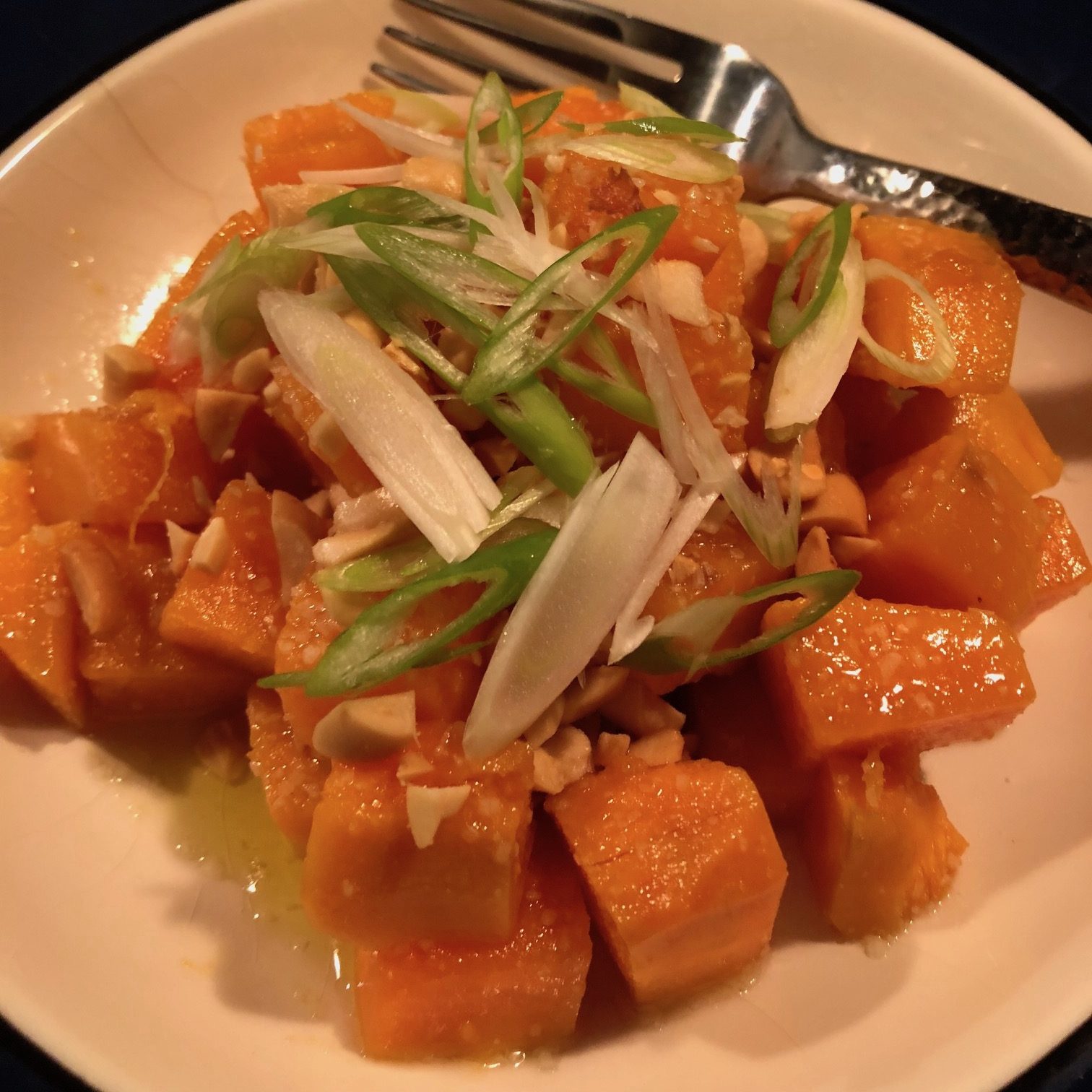 I need your help. I bought a sweet potato to force myself to cook it in a way that was exciting to me. I'm not a sweet potato fan unless they're fried. Too mushy, too sweet. And yet, because I've come to appreciate how intensely nutritious they are, thanks Dr. Health Is On Your Plate, I wanted to cook it and like it, but .... It sat in the fridge for weeks.
Until this morning. I was working on the new book, on Pâtés Confits and Rillettes, on some confit recipes. My partner in Charcuterie, Chef Brian, sent me a recipes for tasty morsels cooked slowly in fat, one of them a butternut squash. Of course! This would work beautifully with that neglected sweet potato I have to keep looking at every time I open the fridge.
And a new dish was born (at least to me). Sweet potato confit, poached in olive oil, seasoned with lime and heat, garnished with chopped peanuts and scallions. A fabulous dish. It could be a main course for those of the vegetarian persuasion (that and a salad will be a deeply satisfying dinner) or a great side dish for roast chicken or roast pork. I'll continue to work on it, but for now the recipe below outlines the basics.
Why I need your help: I have to find more ideas for sweet potatoes during peak sweet potato season. Any ideas for great ways to prepare sweet potatoes? LMK! (But, please, no marshmallows.)
Sweet Potato Confit
1 sweet potato, peeled, cut in a large dice
olive oil to cover
4 cloves garlic
2 dried red chili peppers
1 bay leaf
salt to taste
2 big lime wedges
Espelette powder to taste (or cayenne)
½ cup peanuts, coarsely chopped
4 scallions, thinly sliced
Put the sweet potato in an appropriate pan (the smaller the base the less oil you'll need) and cover it with olive oil. Add the garlic, chili peppers, and bay leaf, and put it over low heat (use a heat diffuser if you have one—try not to let it simmer, 180˚F. is optimal). Cook until tender, about 40 to 60 minutes. Serve immediately or cool and refrigerate.
To serve bring the pot back up to heat (180˚F. ish). Using a perforated spoon, preferably a Badass Spoon, split the potato between two plates or bowls. Sprinkle generously with kosher salt. Squeeze some lime over each. Sprinkle them with Espelette powder. Sprinkle them both with the peanuts, and top with scallions.
This will serve two, but feel free to double or quadruple; leftovers will keep submerged in olive oil for weeks, ready for a last minute reheat. Save the seasoned oil for more cooking or seasoning.
If you liked this post, take a look at these links:
© 2017 Michael Ruhlman. All rights reserved.