A year ago, my neighbor, Lois Baron, said she had to leave a party early to make schmaltz, as the High Holy days of the Jewish year approached and she was the cook in the family. Long having wanted to explore this oft-maligned fat, I asked for Lois's help in understanding its history and use. (Almost everyone refers to it as "heart attack food," but it's not. It's good for you! In moderation. Lois is in her 70s and cooks like a banshee, her husband Russell is in his 80s and still practices law, and Lois's mom cooked schmaltz well into her 90s, though she wouldn't admit it.)
Schmaltz, rendered chicken fat flavored with onion, was such an odd topic, and so focused, it didn't seem like a big-book idea, so Donna encouraged me to write a short cookbook that we could publish ourselves. Working with a local designer, digital consultant, recipe testers, and copy editor, this is just what we've done.
We're proud and thrilled to introduce it here!

The Book of Schmaltz: A Love Song to a Forgotten Fat, by Michael and Donna Ruhlman (Ruhlman Enterprises Inc., 205 iPad pages, illustrated with finished-dish and process photography, $7.99).
The Book of Schmaltz is a single-subject cookbook devoted to a neglected wonder. It includes an essay on schmaltz and other cooking words of wisdom from me, Michael Ruhlman (best-selling food author, cook, and cooking evangelist), and more than 20 recipes. There are traditional recipes, such as the best chopped liver you've ever had (schmaltz is the key!), chicken soup with matzo balls, kreplach, knishes, and cholent (an ingenious and delicious method observant Jews can use on the Sabbath, and a great make-ahead meal for anyone). But it also includes contemporary recipes for today's cooks: vichyssoise with gribenes and chives, chicken confit, and Parisienne gnocchi made with schmaltz. Every finished dish is photographed and, where we felt it was important, we've also included process photography—for instance, how to make schmaltz and how to make and shape knishes. This cookbook is currently available as an app for iPads and iPad minis, at the iTunes App store.
I realize it may be presumptuous for a goy to be writing about the fat of Ashkenazi Jews, but it's just too wonderful a flavor and substance to be relegated to a relative handful of houses during Jewish holidays. It deserves to be lifted high for all to see and to use. According to Lois, schmaltz has long been "a secret handshake among Jews who love to cook"; I hope to respect schmaltz here as a fabulous cooking tool for all to appreciate.
As Lois says, there is nothing like schmaltz!
Here are a few screen shots from the app: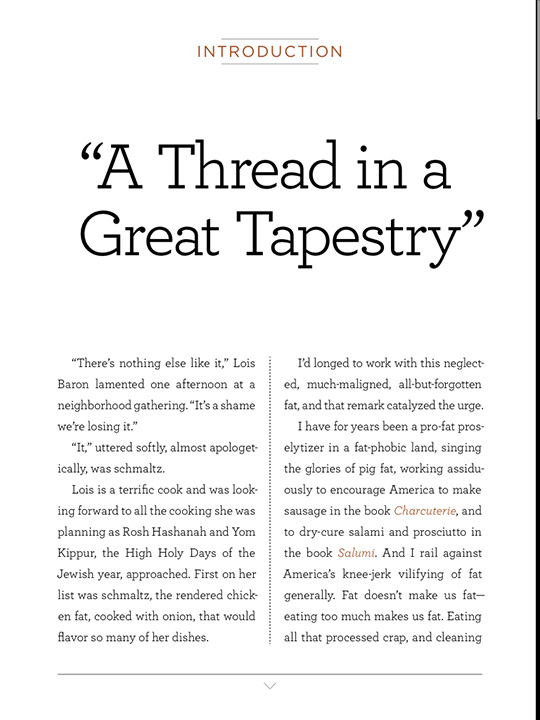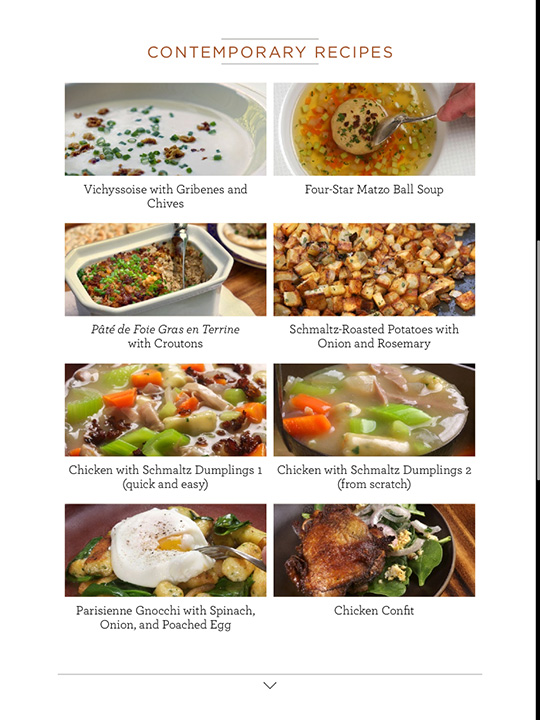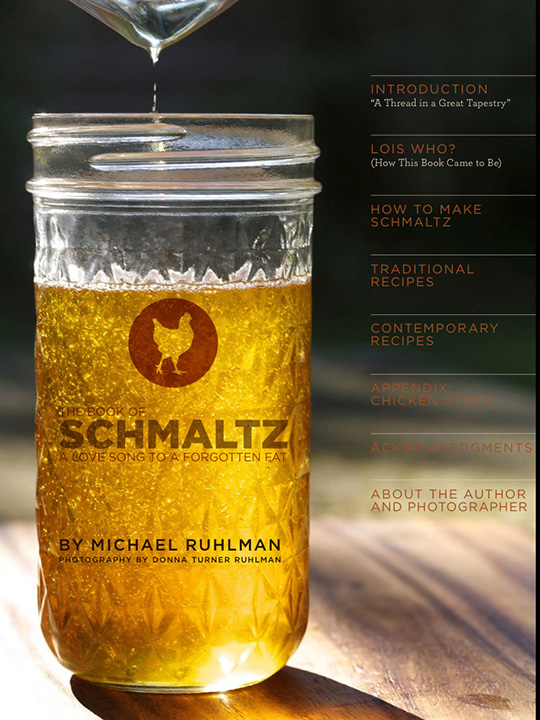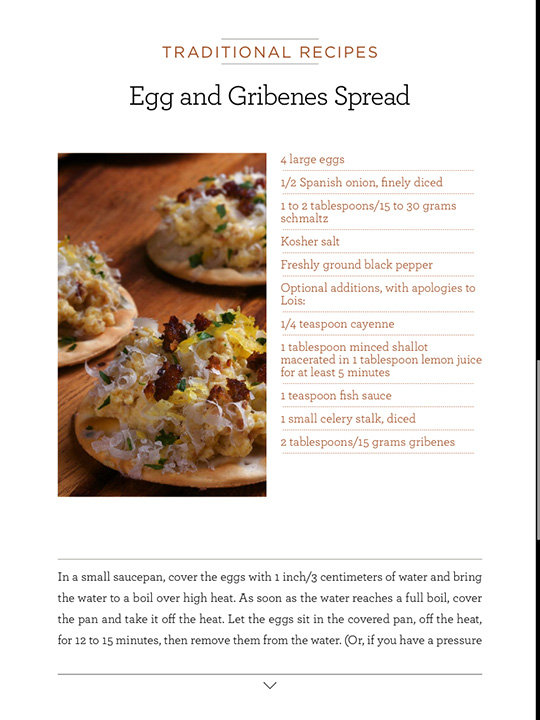 The book is dedicated to Lois Waxman Baron, and Donna and I would like to thank in addition digital consultant April Clark and graphic designer Phong Nguyen, of Cleveland; lead recipe tester Marlene Newell, currently in Calgary; Boston-based copyeditor Karen Wise; and my wonderful assistant Emilia Juocys.
All thoughts from you readers and fellow cooks are encouraged—on the app itself or on schmaltz generally!