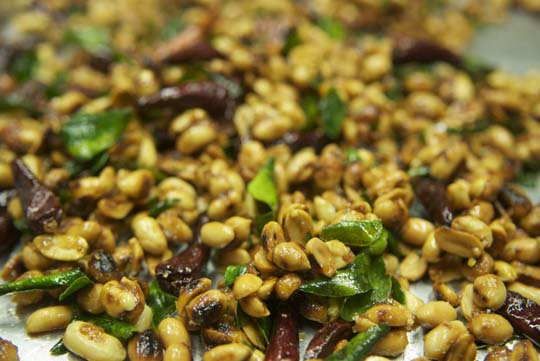 I first heard of  Robert Danhi from my friend Michael Pardus, who teaches Asian cuisines at the Culinary Institute of America, who said I should check out his book Southeast Asian Flavors: Adventures in Cooking the Foods of Thailand, Vietnam, Malaysia & Singapore. Dahni, a long time chef currently in southern California, had self-published it, which used to mean not good enough for traditional publishers to take a gamble on (but not necessarily any more). This book went on to get a Beard nomination, and Pardus, an expert in the subject, said the information was solid. What I like about the book—as much a travel book as cookbook—is that Danhi goes out of his way to talk about technique and the hows and whys of cooking.
Here, he talks about peanuts and how they differ depending on how you cook them, deep fry, pan roast, and oven roast.  The above is of his Tom Yum Krob, peanuts fried with long red chillis and kaffir lime leaves (recipes below). And there's more info at it his site, www.southeastasianflavors.com.
*********
The Power of the Peanut
by Robert Dahni
Peanuts, often called groundnuts in Asia, are an essential ingredient in the Southeast Asian Pantry and used in cuisines around the globe. Most traditional Asian kitchens that would be preparing these dishes do not have ovens and hence a non-oven roasted technique, however other cuisines can benefit from pan roasting or deep-frying nuts as opposed to the "Western" oven roasting tradition.
Southeast Asian cooks often roast peanuts over low heat, pushing them around the wok as they develop a more complex flavor with dark spots and lighter areas.  Chinese cooks have a penchant for deep frying nuts and this yields a very deep and rich flavor and color. Some cooks (not me) buy pre-roasted nuts, hopefully at least they make sure they are not coated with a seasoning mixture.
So that said, how do I determine how to roast...let's use a few recipes to illustrate my thought process.  If I am making a snack, like the Sweet-sour-spicy Tom Yum Krob of Thailand I deep-fry the nuts. The deep rich flavor with an especially crunchy texture is perfect for out of hand snacking.  If I am going to garnish a salad such as the Pummelo Salad of Vietnam (pummelos are coming into season now) then I opt for pan-roasting over a low heat. This yields a attractive charred look, smoky flavor and raw taste all at one go.  For some recipes either is fine, such as the Malaysian Peanut Sauce. Some cooks like the deep, dark flavor of deep-frying (plus when you ned lots of them, they are quicker to cook this way), pan roasted peanuts will result in a more charred flavor sauce.
Pan-roasted—Uneven brown color yields rich, sweet, raw nut flavor. Constant attention necessary.
Deep-fried—Even, deep flavor, very rich and crunchy. Constant attention necessary.
Oven-roasted—Even color, no additional fat, and easy cleanup. Hands-off approach.
Fried Peanut Snack with Kaffir Lime, Lemongrass, and Chilies
Tom Yum Krob
Only a few years ago, you could only find these spiced nuts in Thailand. The familiar name Tom Yum infers that the flavor is hot and sour with an edge of sweet, similar to the Hot and Sour Shrimp soup (pg. 144). Keeping with that theme mini shrimp with their thin shell still in tact are fried and added or small fish like the ones used in the Malaysian Coconut rice (pg. 332).
Now a version is even sold at non-Asian markets in the U.S., but homemade are much better. Don't be shy about personalizing recipe, especially during the last stage of stir-frying. I sometimes customize them with minced ginger or ground coriander. Save the leftover cooking oil for use in other dishes. Oh yeah: go get a beer and go at it!
Makes 2-1/2 cups
1 cup Vegetable oil for frying
¼ cup Dried Long red chilies or other hot red chilies
½ cup Kaffir lime leaves, fold back and pull out veins, ripped into 1-inch (2.5 cm.) pieces
2 cups Raw peanuts, skinned
2 stalks Lemongrass, trimmed and minced
2 Tablespoons Tamarind pulp
½ teaspoons. Kosher salt, ground extra fine (in mortar or spice grinder)
1 ½ teaspoons Granulated sugar
In a small sauté pan or wok, heat oil over medium heat to about 350°F (a piece of lemongrass should sizzle immediately when added).
Add chilies; cook briefly, 5 to 10 seconds, stirring to ensure even cooking. The chilies should lighten in color, and may puff slightly. Drain on towels. Blanch the lime leaves in the frying oil the same way, cooking until they stop sizzling (15 seconds at most, uneven lighter appearance is normal); drain on towels. Add the peanuts to the oil. These will take considerably longer to cook, up to 5 minutes until they are golden brown. Scoop or strain out peanuts.
Drain oil from pan, leaving just one tablespoon. Set the pan over high heat. Stir-fry lemongrass for 10 seconds, it should not brown. Add the fried peanuts and stir-fry 10 seconds. Add sugar, salt and tamarind and mix rapidly coating the peanuts evening. Continue to stir-fry until the excess moisture has evaporated and mixture has coated peanuts. (the audible sizzle will subside)
Add whole fried chilies and lime leaves; toss well. Transfer to towel-lined pan, sprinkle evenly with salt and sugar. Cool to room temperature before serving.
How and Why
Remove veins from the lime leave before frying. The veins become tough when fried.
Test the oil temperature with a lemongrass stalk before frying. This ensures the oil is hot enough, preventing too much oil absorption.
Pummelo and Shrimp Salad
Pummelo, a giant citrus fruit now available in the U.S., has an enticing sweet and sour flavor. The flesh, unlike an orange or grapefruit, is easily separated into individual juice-filled sacs. Piles of these fruits populate markets all over Vietnam, especially during at peak of their season from September through November. Dipped in the spicy chili salt (pg. 251), they are a typical Vietnamese snack. To access the fruit inside these thick-skinned orbs, use a knife to cut through the fragrant peel down to the translucent yellow or pink flesh. For a detailed method how to peel and segment the cherished citrus see page 107. This salad is simple to make and refreshing to eat. Try pairing it with Chicken Stir-fry with Lemongrass, Chilies and Tamarind (pg.248) and steamed rice.
Makes 4 to 6 servings as part of multi-dish meal
¼ pound Lean pork, such as loin or leg, one piece, about 1 inch (2.5 cm.) thick and 3 inches (7.5 cm.) long
¼ pound Small shrimp, deveined with shell still on
2 Tablespoons. Granulated sugar
¼ teaspoon Kosher salt
1 Tablespoon Fish sauce
1 large Pummelo or 2 large grapefruits
½ cup Very fine julienne carrots, 1/16-inch (.1 cm.) thickness, about 2 inches long (5 cm.)
½ cup Mint leaves, sliced about ¼ inch (0.6 cm.) thick
¼ cup Cilantro, roughly chopped (leaves and stems)
2 Long red chilies, cut into thin rings or fine julienne ⅛ inch (0.3 cm.) thick
¼ cup Peanuts, roasted in dry pan, roughly chopped
12 to 24 pieces Shrimp chips deep-fried (optional)
Cook the pork and shrimp: In small saucepan, submerge pork in simmering water and gently cook until done through, 140°F. Plunge meat into ice water for 10 minutes. Drain and julienne, about ⅛ inch (0.3 cm.) thick. Cook the shrimp in simmering salted water until cooked, about 3 to 5 minutes. Cool in ice water for 5 minutes. Shell, de-vein, and halve lengthwise.
Make dressing: Combine sugar, salt and fish sauce in small pan. Simmer until sugar and salt dissolve; cool.
Prepare the Salad: Peel pummelo. Peel off the membranes that encase each segment. Separate the pulp pods into individual or small bunches of pods, about ¼-inch (0.6 cm.) pieces. Gently combine the pummelo with the pork, shrimp, carrots, mint, cilantro, and chilies. Drizzle with dressing and toss gently. Taste and adjust seasoning with sugar, salt and fish sauce. Transfer to serving bowl, garnish with peanuts.
Serve with shrimp chips on the side. The chips are used to scoop up the salad.
How and Why
Cook the shrimp with the shell on for the best color, taste and texture. The shell protects the shrimp's flavor.
When cutting herbs, use a long stroke with your sharp knife. This helps reduce the bruising of the leaves, and prevent oxidation, which is unsightly and changes the flavor of the fresh herbs.
Malaysian Spicy Peanut Sauce
Sos Kacang
This is one of the first authentic Malaysian sauces I learned, It was back in the late 1980s and my then- Malaysian-food-guru, Mr. Lajis, had come to my mother-in-laws house to show me some of the secrets that made his six street food stands in Kuala Lumpur such booming successes. This sauce can be served after it's simmered only an hour, but full flavor is achieved only after a slow cook of several hours. Add small splashes of water as it simmers to maintain a medium-thick consistency. The flavorful oil that the spice paste was fried in will eventually rise to the surface, resist your temptation to skim this off. The oil is very flavorful and is not discarded.
Makes 3 cups
½ cup (½ oz. / 14 g.) Dried red hot chilies, stems and seeds removed
1 teaspoon Dried shrimp
½ cup Vegetable oil
2 medium Shallots, roughly chopped
2 stalks Lemongrass, trimmed and sliced very thin, about 1/16 inch (.1 cm.)
2 teaspoons. Finely grated galangal
2 cloves Garlic, roughly chopped
1 ½ cups Peanuts, roasted in dry pan or deep-fried, ground finely
3 cups Water
¾ cup Granulated sugar
2 teaspoons Kosher salt
Cover chilies and shrimp with 1 cup room temperature water; soak 30 minutes. Drain well.
Make a semi-smooth spice paste (rempah) by pureeing the oil, shallots, garlic, lemongrass, galangal, drained dried shrimp, and chilies in a blender.
Heat a 2-quart saucepan over medium heat. Add pureed rempah; cook on medium heat until mixture is fragrant and oil begins to separate out from it, about 5 to 10 minutes.
Add water and peanuts; stir well. Bring back to a boil, lower heat, and simmer 1 hour, stirring often. Add sugar and salt. Continue to simmer until "raw" flavor has dissipated, up to 2 hours, adding water as needed to compensate for evaporation.
How and Why
Oil will rise to the top of this sauce. Do not discard this oil. The oil is packed with flavor and it is traditional to have some oil floating on top.
Vietnamese Peanut Sauce
A harmonious balance of sweet and salty, this sauce takes only minutes to make. It's the best complement to Vietnamese Salad Rolls (pg. 206), and is also delicious slathered on barbecued meats. The traditional version of this sauce is made fermented soybean sauce (pg. 53), yet contemporary use of hoisin sauce in place of that rare ingredient, illustrates the close link between Chinese and Vietnamese cuisine. Compared to the long-cooked Malaysian peanut sauce, this is a snap to whip up and much less rich than the Thai coconut-enriched version.
Makes 11/2 cups
1 Tablespoon Vegetable oil
2 teaspoons. Minced garlic
1 small Thai bird chili, minced
1 cup Hoisin sauce
¼ cup Water
2 Tablespoons Rice vinegar (unseasoned)
1 Tablespoon. Minced shallot
1 stalk Lemongrass, trimmed and minced
¼ cup Canned coconut milk
½ cup Peanuts, roasted in dry pan
2 Tablespoons Vietnamese Chili Sauce
Over a medium-low heat cook garlic in oil until aromatic—about 2 minutes. Add chilies, hoisin sauce, water, rice vinegar, shallots, and lemongrass; bring to a boil. Reduce heat; simmer 5 minutes.
Remove from heat, stir in coconut milk and half of peanuts. Cool to room temperature.
Transfer sauce to dish(s); garnish with remaining chopped peanuts and chili sauce.
How and Why
The sauce is cooked for a short time, so a quick, separate cooking of the garlic is needed to mellow its flavor, which softly pervades this condiment.
Thai Peanut Sauce
Nahm Jim Thua
Peanut sauce is a recent addition to the Thai cook's repertoire. Satay originated further south in Indonesia. However as Thai food has become popularized in the U.S., satay and peanut sauce have been associated with Thai Food. Thai Style peanut sauce uses aromatics such as lemongrass, galangal, chilies, coriander, cumin, and turmeric. Tamarind balances rich coconut milk and sweet palm sugar (tamarind pulp technique pg.109). It cooks for only 10 minutes, very quick when compared with over an hour with Malaysian peanut sauce.
Makes 31/2 cups
3 cups Canned coconut milk, stirred (divided use)
¼ cup Red curry paste (add 1 more tablespoon if paste was made in blender) or store bought
¼ teaspoon Ground turmeric
1 cup Water
½ cup Light brown palm sugar
1 Tablespoon Fish sauce (nahm pla)
½ teaspoon Kosher salt
1 cup Peanuts, roasted in dry pan, finely ground
¼ cup Tamarind pulp
Heat 1 cup of coconut milk in a wok or 4 qt. (4 L.) saucepan over medium heat. Cook, stirring often until it thickens substantially and oil begins to separate out of creamy milk, about 5 minutes. Stir in curry paste and turmeric well, cook, stirring constantly for 2 minutes "roasting" the paste to develop the flavors.
Add 2 cups of coconut milk, water, palm sugar, fish sauce, salt, and peanuts; bring to a boil while stirring constantly. Lower heat; simmer for 10 minutes. Stir in remaining coconut milk and tamarind and bring back up to a simmer.
Taste and adjust seasoning to taste with fish sauce, palm sugar, and tamarind.
How and Why
Adding the coconut milk in stages keeps its flavor fresh. While the coconut milk serves important cooking roles with the curry paste, the final addition later in the cooking process helps it infuse a sweet, fresh taste into the sauce.