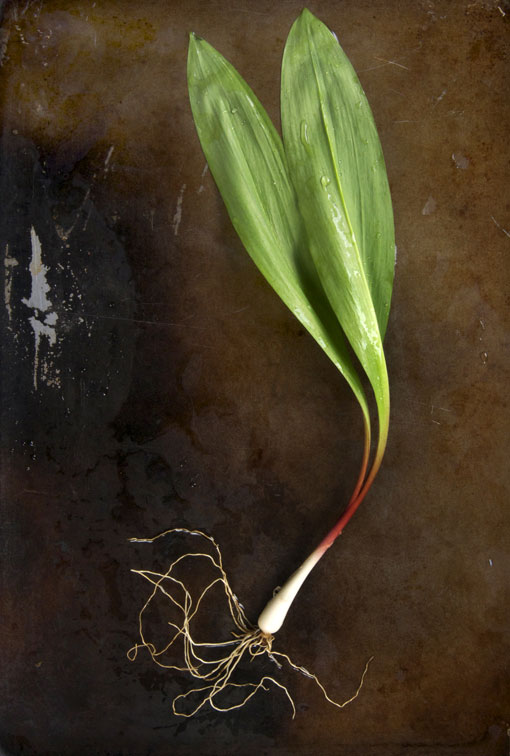 "Ramp" by Donna Turner Ruhlman.
Because I love this photo and because they're here.
If it weren't already apparent at your local Farmer's Market, Kim Severson spells it out in her story about weather and food in today's Times. Specifically, the long winter we've had, the late spring, and what it means for what we have to eat that's grown nearby. I'm doing a special private dinner tomorrow at Spice on Cleveland's West Side, whose chef, Ben Bebenroth, is one of the city's most outspoken chef-locavores. He had been planning to put the season's first asparagus on the menu, but they simply haven't grown yet. So rather than buy asparagus grown in California or wherever, he's amending his courses for an all-Ohio late spring menu. Here at our house, we're roasting young chickens, lots of eggs, and sautéing sunchokes.
And of course cooking with ramps, which grow wild and abundantly here (thanks, Donna!). Chop them up and sauté them in a little butter, then pour in beaten eggs for scrambled eggs with ramp bottoms, folding in the greens at the last minute (add some goat cheese if you have it). Sauté mushrooms hard to brown them, then add the ramps, deglaze with white wine, and finish with butter. Grill or braise them as a side course. Make use of what's plentiful around you.
(A reminder: Mac is running a Mother's Day special, 40% off all Dalton-Ruhlman tools. Use the discount code "mothers" until noon on Friday.)
If you liked this post, take a look at these links:
© 2014 Michael Ruhlman. Photo © 2014 Donna Turner Ruhlman. All rights reserved.