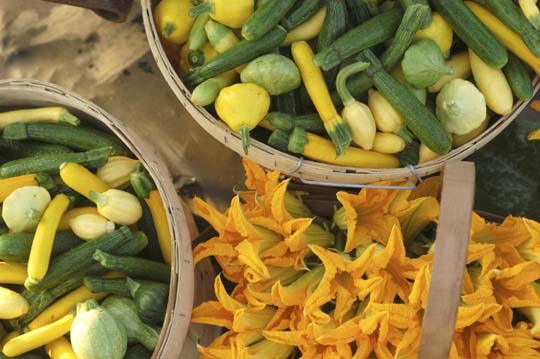 One of Ohio's treasures is a farm called Chef's Garden, run by the Jones family. Long-time commercial farmers, their crops were obliterated by hail in 1980. They had to decide to try to rebuild or find another line of work. They would keep farming but had to start small. They began selling at farmers' markets in Cleveland and often got special requests from chefs. Within four years they took a gamble and decided to grow only for chefs, with a focus on special edible plants. Good at growing and uncanny promoters of their produce, they soon enticed some of the best known chefs in America. Charlie Trotter was one of their first and biggest promoters, Alain Ducasse another. Amanda Hesser wrote about them in The New York Times in 2000.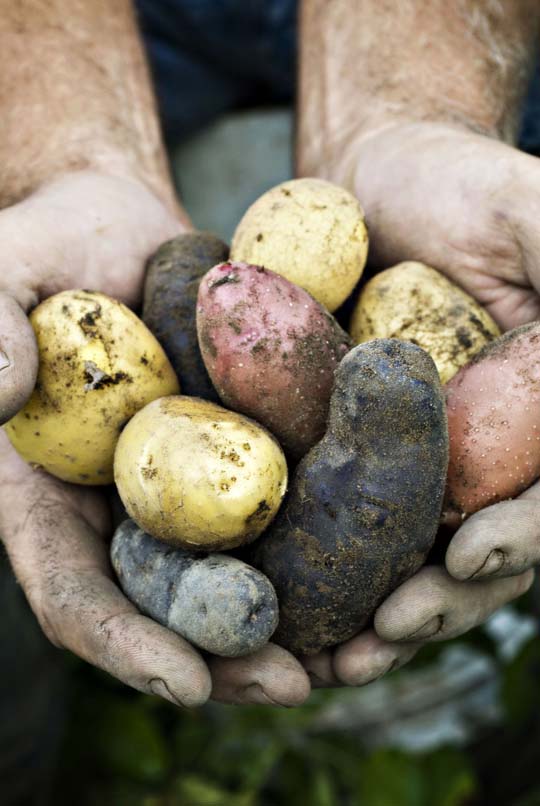 They continue to sell great produce to the country's finest restaurants, but they also engage in another activity. Teaching fourth graders where their food comes from, how it grows, and what it means to grow food and to eat well.
They call their program Veggie U., and each summer they have a big party—famous chefs and food pros congregate to raise money for the program. Summer travel conspires against me again, and I cannot be there, Saturday July 16th, but chefs like Jonathon Sawyer and Aaron Sanchez will be there as will the formidable Ruth Reichl. The event draws about 1,000 people, it's a lot of fun, and the food is awesome. I highly recommend supporting this event and the Jones's efforts to educate our children about food. See below for more info. And all best wishes to the Jones family and their continuing great work!
About Veggie U Food & Wine Celebration
This 9th annual fundraiser will support the placement of Veggie U "Earth to Table" Science kits in 4th grade and special needs classrooms nationwide.  This event is Veggie U's only major fundraiser of the year.
The nation's best chefs and celebrities donate their time and talent to draw a crowd of nearly 1,000 people.  The event takes place on the grounds of The Culinary Vegetable Institute (Milan, Ohio) and is hosted by The Chef's Garden (located in Huron, Ohio.)  The event generates revenue from sponsorship, an auction (live and silent) and by ticket sales. Additional donations are made directly to Veggie U by participating vendors.  Guest speakers and chefs include Steve Ells, Ruth Reichl, Jonathon Sawyer, Farmer Lee Jones, Aaron Sanchez, Amanda Freitag, Jeni Britton Bauer and Govind Armstrong.
About Veggie U
The mission of Veggie U is to promote the well-being of children through a healthy lifestyle. Veggie U is dedicated to the creation and distribution of curricula nationally, with a focus on making wise food choices, combating adolescent and juvenile disease, and attaining an understanding of sustainable agriculture. Veggie U has placed over 1800 Earth to Table classroom kits across 26 states. Their goal is to reach every fourth grade and special needs classroom nationwide.  More information is available at www.veggieu.org.
What: 9th Annual Veggie U Food & Wine Celebration
Where: The Culinary Vegetable Institute, 12304 State Rte 13, Milan Ohio 44846
When: Saturday, July 16th, 5pm-9pm (VIP 4:00 pm)
How: www.veggieufoodandwine.com, 419-499-7500
WHY: To support Veggie U, our children's education program
BUY TICKETS: Grand Tasting tickets $145  (6 or more tickets, $125 each)
Exclusive VIP Pre-Party (Celebrity Mingling) tickets $500 each, and includes entry to the Grand Tasting event (4 or more tickets, $400 each)
(Photos courtesy of The Chef's Garden: Michelle Demuth-Bibb.)
More links:
© 2011 Michael Ruhlman. Photo © 2011 Donna Turner-Ruhlman. All rights reserved