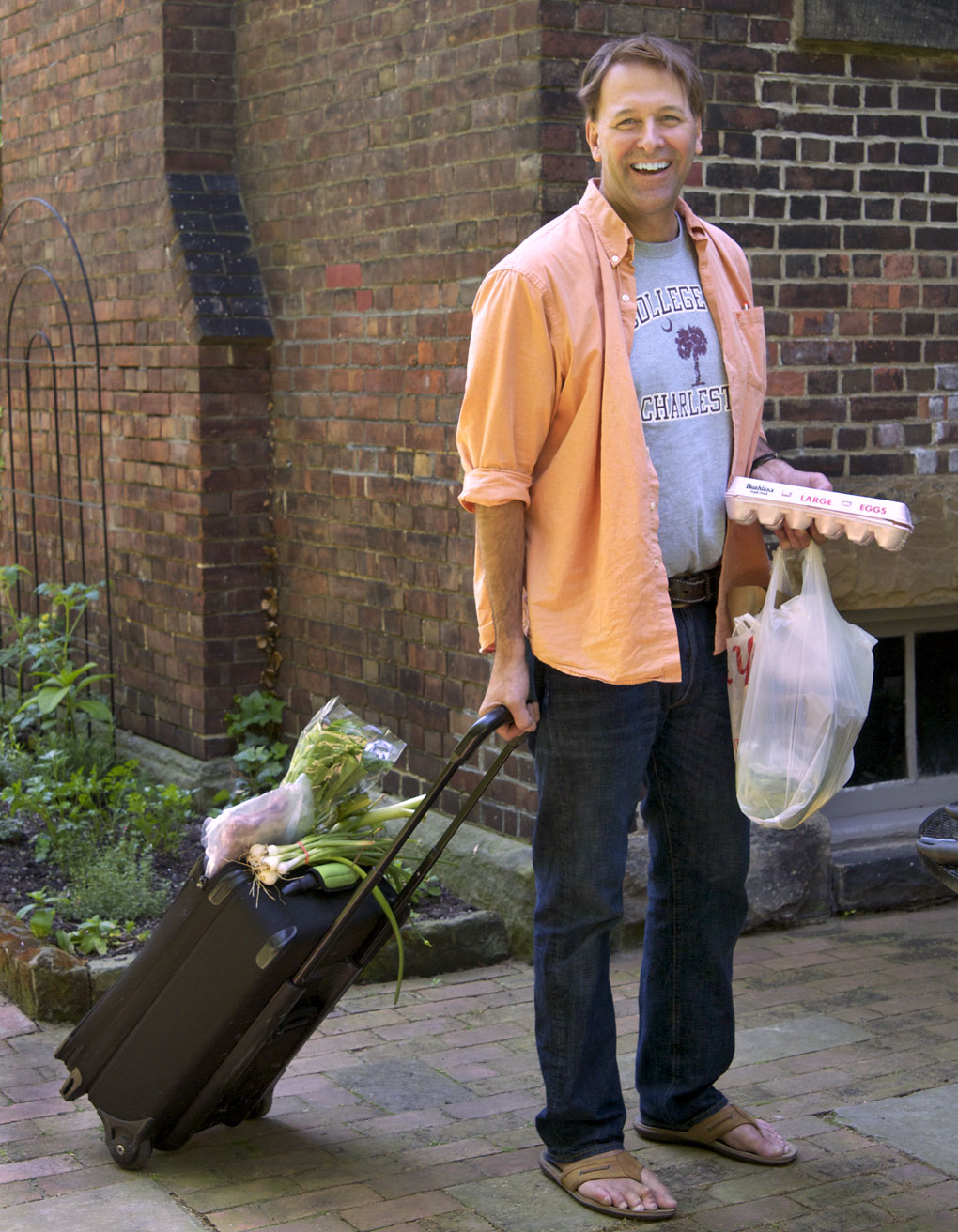 Treat your farmers' market like your grocery store. That's my motto (when I'm not on the road).
My problem, though, is I can no more carry all the goods in two arms than I can the goods from my actual grocery store. We used to have a red wagon and toted a two-year-old daughter along with dozens of ears of corn and other veg. But the wagon is long gone, and we don't own a shopping cart or any kind of cart. Given how I'm always traveling, it was not a far stretch to put my bag to better use.
That's what I did ten days ago when I needed a lot of food for the week. Packed everything in a suitcase. Made everything so much easier. Takes up less room than a cart or a wagon (or a baby stroller, for that matter). Highly recommend.
Now that I'm thinking about it, can I suggest to those who run farmers' or better, growers', markets that you find ways to make purchasing the goods easier. For instance, there ought to be a way to pay more efficiently. I wish each vendor could simply give me a slip of what I owed and I could pay at the end, like at a grocery store. The manager of the market would then pay all the vendors at the end of the day. When I buy a carton of milk at the grocery store, I don't put money in a slot, and then move on to purchase a chicken, stop and pay again. Couldn't a farmers' market operate more like a grocery store?
Someone (calling Will Turnage) should write an app that would allow all vendors to simply put in a price and send it to the market checkout counter. People who used the market regularly would have an account. Each vendor would enter the amount owed. The shopper would swipe their card, or do PayPal or whatever, on their way out and be on their way. The app would tabulate all vendors' sales for the day and direct-deposit the cash the next business day. The efficiency of purchase would increase sales enormously and more than pay for the costs of what such an app would cost for the 8,000-odd markets in the U.S.
Until then, I'll trudge along, roller bag following me like an obedient pup on a leash, stopping and paying, stopping and paying.
The haul, FYI, was this, and how lucky am I to be able to buy and cook this wonderful food:
Spring Onions, Gouda-style cheese, a variety of lettuces, tomatoes, ½ pound shiitakes, 2 pounds spareribs, 1 quart of spectacular milk, 12 bangers, rhubarb, white spelt, whole wheat flour, oats, 4 pork chops, 2 pounds chicken feet, 2 ducks, 2 chickens, 1 pound chicken livers. Cost: $146.05. Or: 50 pounds of food @ $3/pound. More than reasonable. Those ribs, for instance, were $12, and served three people with leftovers. Special thanks to Donita Anderson for starting the North Union Farmers' Market more than 20 years ago. And now it's far from alone. Debbi Snook lays out the dozens of markets in Northern Ohio. Happily this kind of thing is happening all over the country.
Summer's here.
If you liked this post, check out these other links:
© 2014 Michael Ruhlman. Photo © 2014 Donna Turner Ruhlman. All rights reserved.