I spent the first week of March in Manhattan digging into the work of writing The Bouchon Bakery Cookbook with Thomas Keller and executive chef Sebastien Rouxel, whom Keller calls "easily one of the 10 best pastry chefs in the country." This project is especially exciting to me because I've spent my whole culinary career on the savory side and in hot kitchens and my knowledge of pastry is rudimentary. It's very exciting to be able to explore a whole knew culinary world, and to do it with someone as knowledgeable as Sebastien and his team.
Get ready for the opening of their stand alone bakery next month at Rockefeller Center—it's frigging gorgeous, design of course by Tihany.
In addition to the interviews and discussions with I had about the book with chefs Keller and Rouxel, I was able to explore two items I'm a passionate consumer of but know very little about: the croissant, an emblem of excellence for any French baker, and a magical cookie called the macaron.  You'll have to wait till the book is out Fall 2012 for the recipes (they're only in first draft form as they're scaled down to home kitchen quantities; but, chefs, happily all recipes will lead with grams and our hope is also to include bakers percentages as well).  In the meantime I wanted to share ishots from the kitchen on the second floor of the Time Warner Center, where all Bouchon croissants and macarons are begun.
Croissants are made with what's called a laminated dough; that is, a block of butter is wrapped in a yeast dough, and through a series of rolling and folding, hundreds and hundreds of layers of dough are separated by hundreds and hundreds of layers of butter, resulting in a light puffy rich croissant (or my actual favorite, pain au chocolate—croissant dough with chocolate inside—how can you not love a food culture that encourages eating chocolate for breakfast?! #francophile!).
Macarons are basically the fanciest form of Oreo cookie imaginable. Two baked meringue discs sandwich a creamy filling.  They should have uniform glossy fantastically fragile, chewy center and sweet filling. They're made in all kinds of flavors and are usually displayed in an array of pastel colors.  Macorons are all put elbowing out cupcakes as the trendiest sweet around, but they're classic and so when the next trend nudges them out, they will still remain supreme.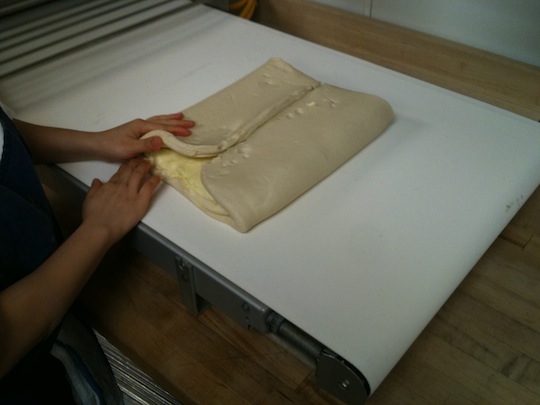 The first step toward croissant dough, locking in the butter.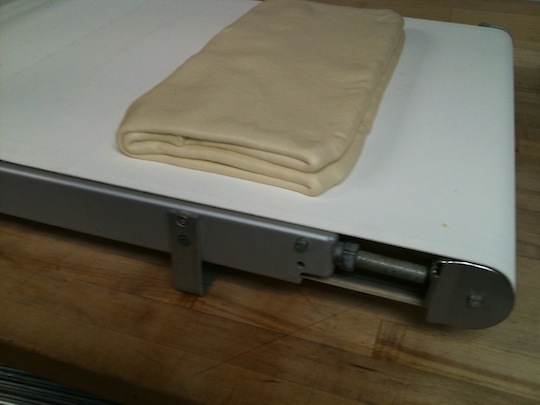 It's been rolled or rather sent through the sheeter, then given here a double fold.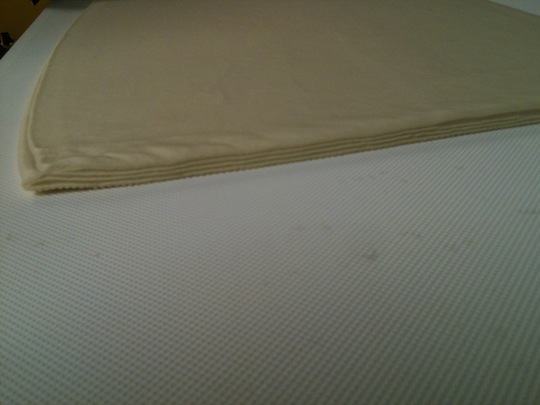 The cross section of some dough that's been cut; you can see the layers of dough and butter beginning to multiply.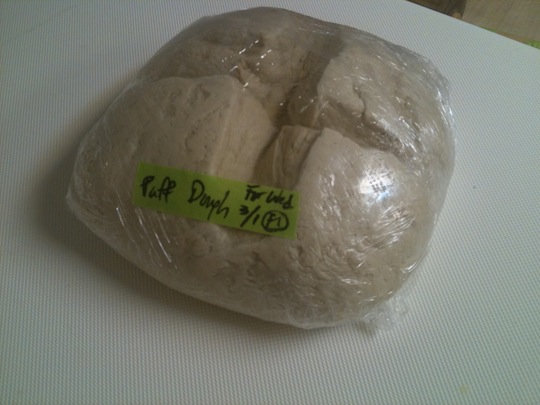 Puff dough is similar to croissant dough, but it has no yeast, relying solely on the layering for its rise.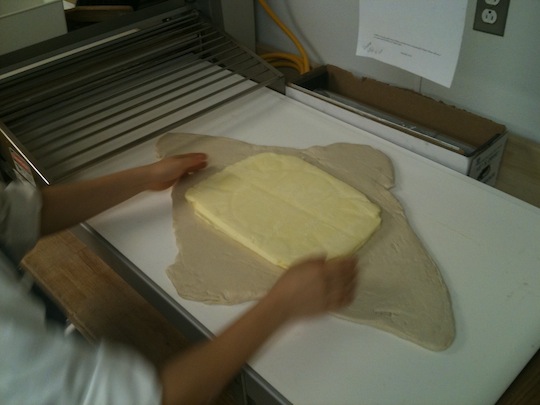 Bouchon Bakery locks the butter for puff pastry different from croissant dough.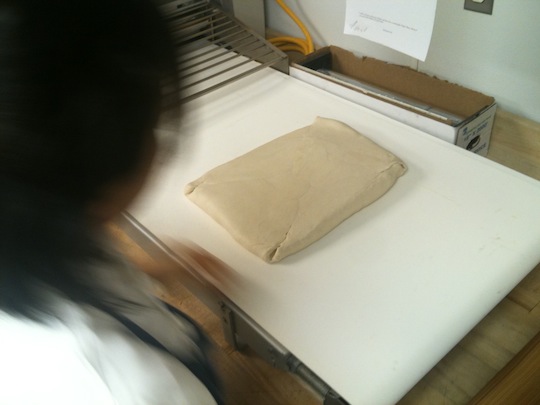 A completely enclosed block of butter ready to be rolled out.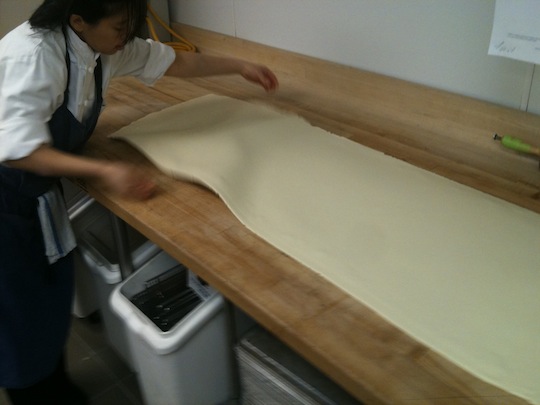 This is the croissant dough after all it's many folds have been rolled out. Pastry chef Francoise Ip fluffs the dough a little before cutting it.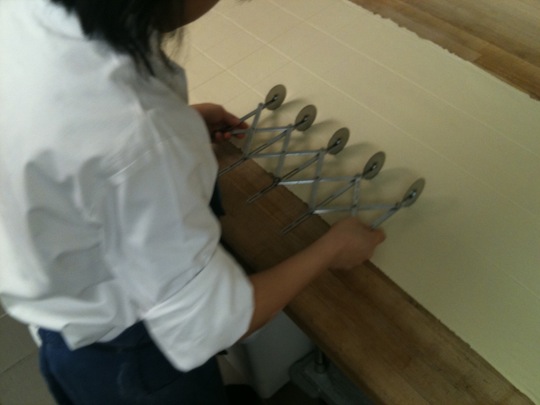 She uses a special adjustable accordion cutter to create uniform rectangles for the pain au chocolate.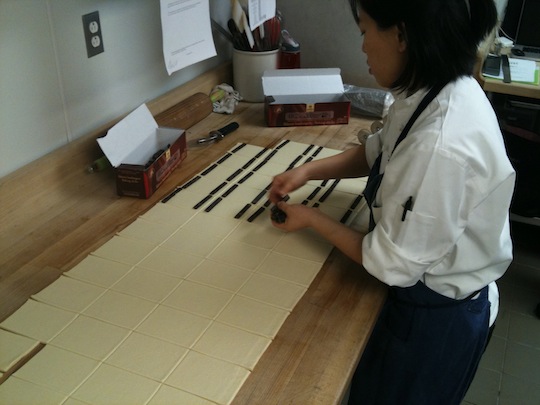 Francoise puts two bars of chocolate on each rectangle.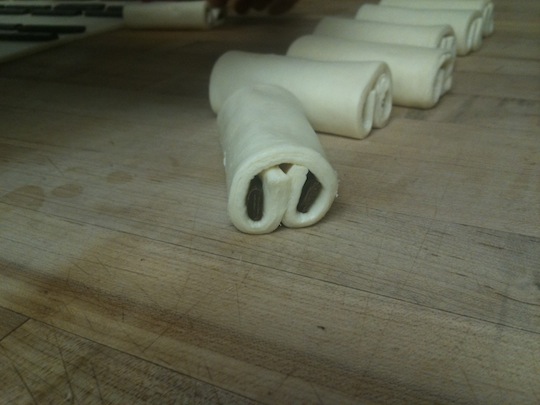 Pain au chocolate will rise and then rolled on a speed rack the fourth floor to be baked.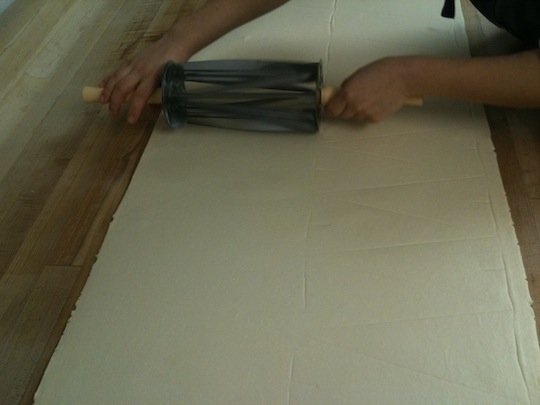 Francoise uses a special croissant cutter to make uniform triangles.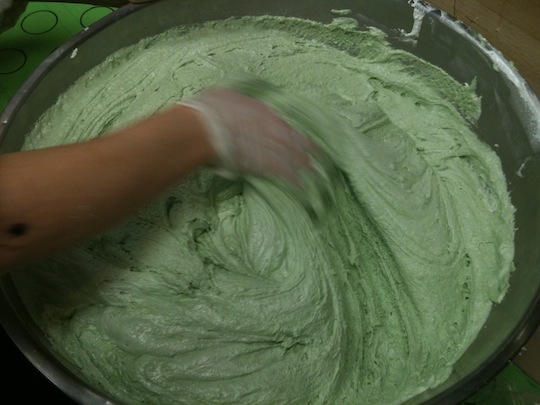 On to macarons! Chef Sebastien uses an Italian meringue for the croissants. Here, mixed with pistachio paste, it is finished by hand to ensure it's got just the right texture; it must settle just so in order to result in a smooth surface.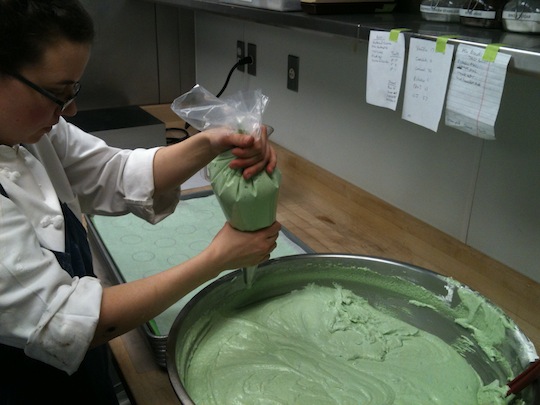 Pastry chef Christine Morrison fills a pastry bag with batter.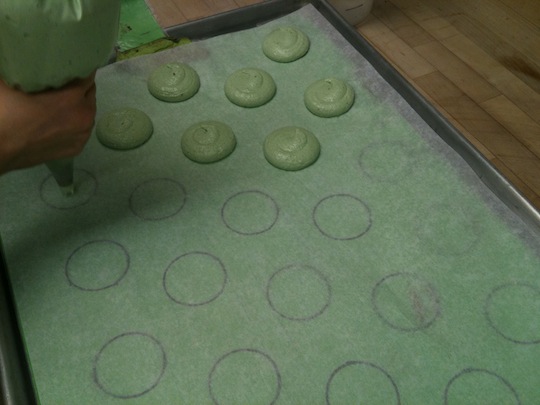 She pipes them onto parchment paper over a template to create uniform discs.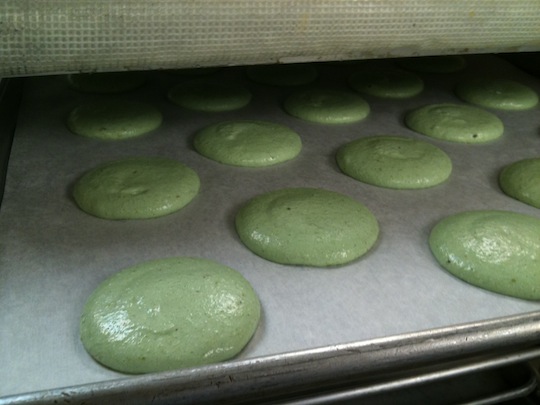 Notice how the little swirls from the pastry tip are relaxing out.  But the dough can't be to relaxed that it spreads too much. Very tricky.  Chef Sebastien says, "They can give you a heart attack."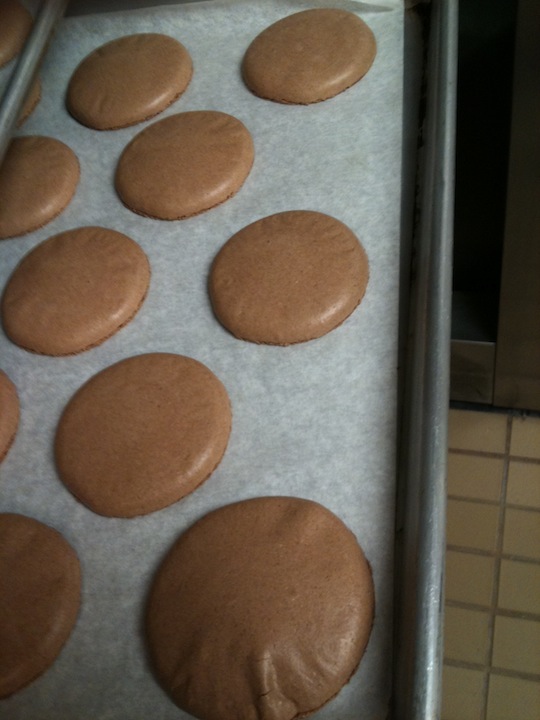 These chocolate macaron shells have just been baked. Notice the wrinkled bottom one. This can't be used and are an example of the precarious nature of the macaron.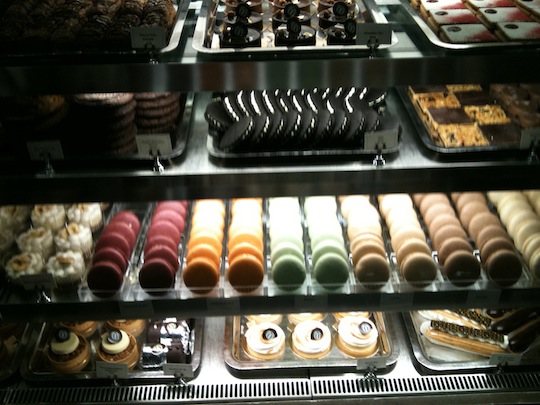 Here they are in their case at Bouchon Bakery in the Time Warner Center.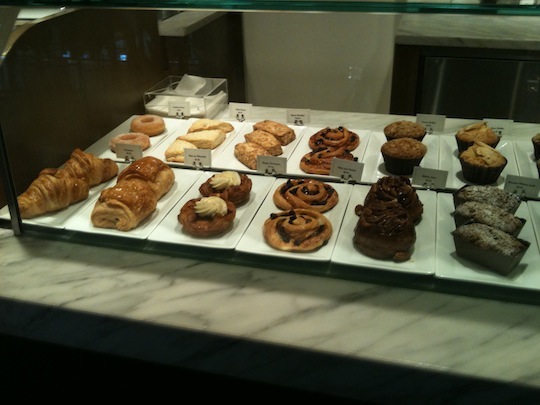 The croissant and the pain au chocolate, front left.
As an antidote to all this pastry and baking, I was in need of some meat, and my friend and app developer, Will Turnage got me out to the Williamsburg neighborhood of Brooklyn to the Meat Hook, a butcher shop inside a great store called The Brooklyn Kitchen.  The Meat Hook has gotten a lot of attention for it's excellent meats, butchering, sausages and other charcuterie delights.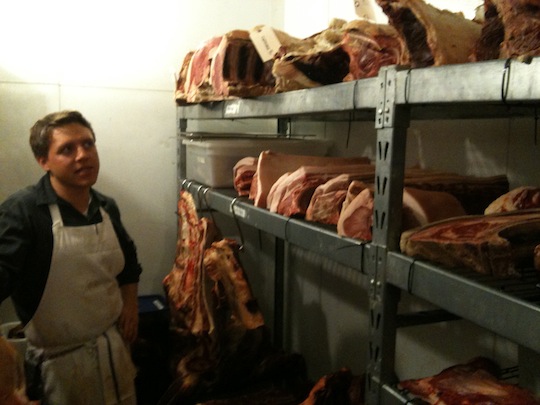 Brent Young showed us their meat room. The beef is from Lee Ranney's Kinderhook Farm in Ghent, NY—100% Grass fed, grass finished.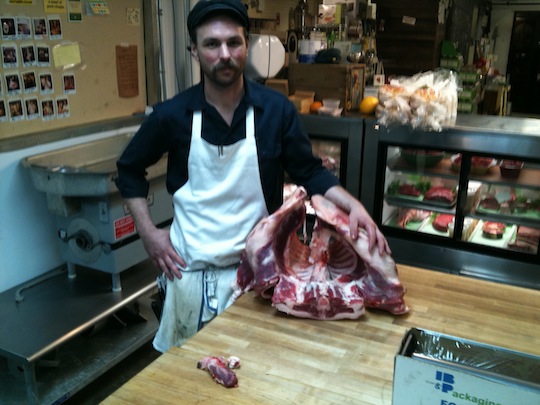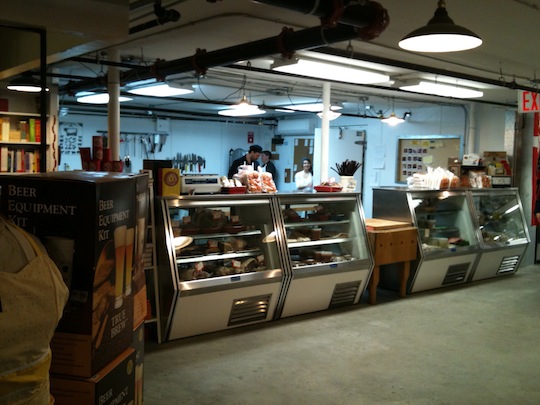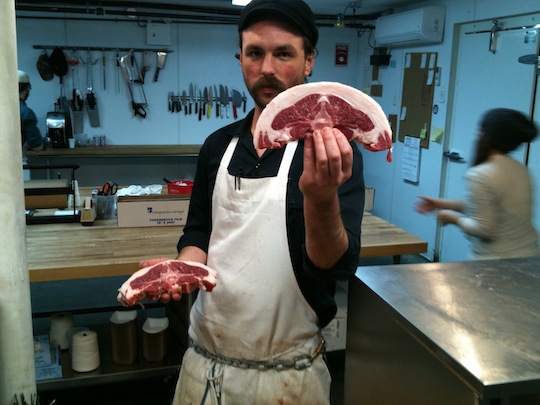 Fellow butcher Ben Turley shows off a double cut lamb chop from the dorset lamb he's with in top photo (from Meiler & Sons farm in Pine Plains, NY); look at that awesome fat!
Thanks Brent, Ben and Harry for the tour (sorry I didn't meet Tom!) . Absolutely love your Brooklyn Kitchen and the excellent Meat Hook! Can I open a franchise in Cleveland?!
Which is where I headed the following day after a delightful meal at Traif, a short walk away.
If you liked this post on New York City, check out these other links:
For more on Macarons, you can have a look at French pastry master, Pierre Hermé's book, or for something a tad more affodable and accessible, Macarons, by Cecile Cannone.
Review my last trip to NYC with New York City Restaurants: The Craft of Service
Phoebe & Cara of Big Girls Small Kitchen share their thoughts of cooking at home in NYC
Visit Thomas Keller's Bouchon Bakery in NYC
© 2011 Michael Ruhlman. Photo © 2011 Donna Turner-Ruhlman. All rights reserved.