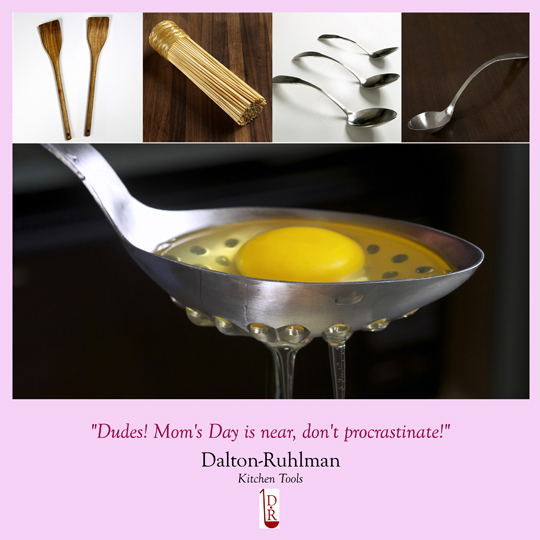 So here's the kind of Mom my wife and collaborator, Donna, is. On Saturday, at 5:30 she had just showered and was getting ready for a 6:30 party when her 17-year-old daughter asks if she, Donna, can take her to get that smart phone upgrade as hers, daughter's, is broken. The teenaged daughter is not the most appreciative member of homo sapiens, remember, and Donna would not be unreasonable to say "I'm not dressed and we're going out soon; this can wait till tomorrow," but instead, she says, "Sure, hon, but we have to hurry."
Here's the kind of wife Donna is. For Mother's Day a few years ago, I bought her a really good wheelbarrow. She was ecstatic, and made googly eyes at me. I felt so lucky. A wheelbarrow!
Mom's Day is important. If your wife is happy and makes you and the kids happy in the kitchen by cooking good food, Mac Dalton and I have put together a special bundle we think all cooking moms will like (no meat grinders and stuffers and smokers). Moms, since you're the one probably reading this, feel free to send this link now to husbands (generally a knuckleheaded member of the species if I'm any indication), who tend to wait till the last minute. The Mom's Day Bundle—2 spankettes (the best wood spoons ever), a badass (aka egg) spoon, a set of offset basting tasting spoons, a bamboo scrubber (no more sponges gunked up with cheese, dough, egg, scorched milk!), and the new offset serving spoon (rests on the pot, won't slide in, holds about 8 ounces)—separately cost $144 (cringe, sorry), but Mac wants both to reduce the bundle to $124 and, further, to give anyone reading this post 20% off to get the cost into double digits (not including shipping, sorry). Get 20% off Mom's Day bundle (or any of my own selection of D-R Essentials) by using this promo code: mom (be sure to hit the "apply" button. Shipping AND frigging taxes still apply but the whole bunch delivered to your doorstep (in USA only) will be less than $120—taxes and shipping vary).
It's Mom's Day! And she'll love it! And you. And these things will last longer than the children we're really celebrating on that day; our goal is that your grandkids will be using most of these things.
For a less expensive gift, don't forget my how-to-think-about-cooking cookbook, Ruhlman's Twenty: 20 Techniques, 100 Recipes, a Cook's Manifesto. It's cheap at Amazon! Or I can sign a personal note to the mom herself, but you've got to tell me her name and order before May 1 so we can be sure to get it to you in time. Click here if you want this, or if your search-engine cookies are turned off, go to my Books page and click on "Buy a signed copy." But please please please tell me who to sign to in the "notes to seller" field!
Or if you're a mischief-maker and want to both make her laugh and piss her off at the same time, get her the Rollie Eggmaster, as sure a sign as any that the human race is nearing an end.
Till then, here's a suggested meal for the loved mom or moms you're celebrating. This is for two people; increase amounts as needed for more.
Mom's Day Salad
I make this when Donna and I want to relax and talk and have a leisurely lunch.
½ pound bacon, lardons or strips cut in pieces
1 pound arugula/spinach (either or both, her choice)
1 shallot, thinly sliced
2 eggs
salt and pepper to taste
1 tablespoon red wine vinegar
½ baguette, toasted with butter
Sauté the bacon slowly till crisp and all the fat has rendered.
Put a pot of water on to boil.
Put the salad into a bowl for tossing.
When the bacon has rendered, add the shallot.
When the shallot is tender, turn off the burner; when the water has come to a boil, turn off that burner as well.
Crack two eggs into the hot water (they're best if you let the thin part of the white drain through a perforated spoon—see Badass photo above).
Spoon the bacon, shallot, and bacon fat (to taste) over the greens, season with salt and pepper, and toss to coat; then sprinkle with vinegar, taste, and add more vinegar if you wish. Divide the salad between two plates.
When the eggs are done (the whites fully cooked, the yolk fluid), lift them from the water, hold a towel below the spoon to drain, then rest one atop each salad.
Serve with toasted baguette.
If you liked this post, check out these other links:
© 2013 Michael Ruhlman. Photo © 2013 Donna Turner Ruhlman. All rights reserved.