Thinking of the miraculous egg this morning and wanted to repost this on mayonnaise, hoping to encourage those who don't ever make it to give it a shot. It's one of those foods that you can't buy—nothing is like homemade mayonnaise.
Originally posted on May 21, 2008
Finishing up the revisions of a manuscript and going over some fat-based sauces has returned me to the mayonnaise. Like the popover, it's the story of a great transformation. Yolk, lemon juice, salt, and oil.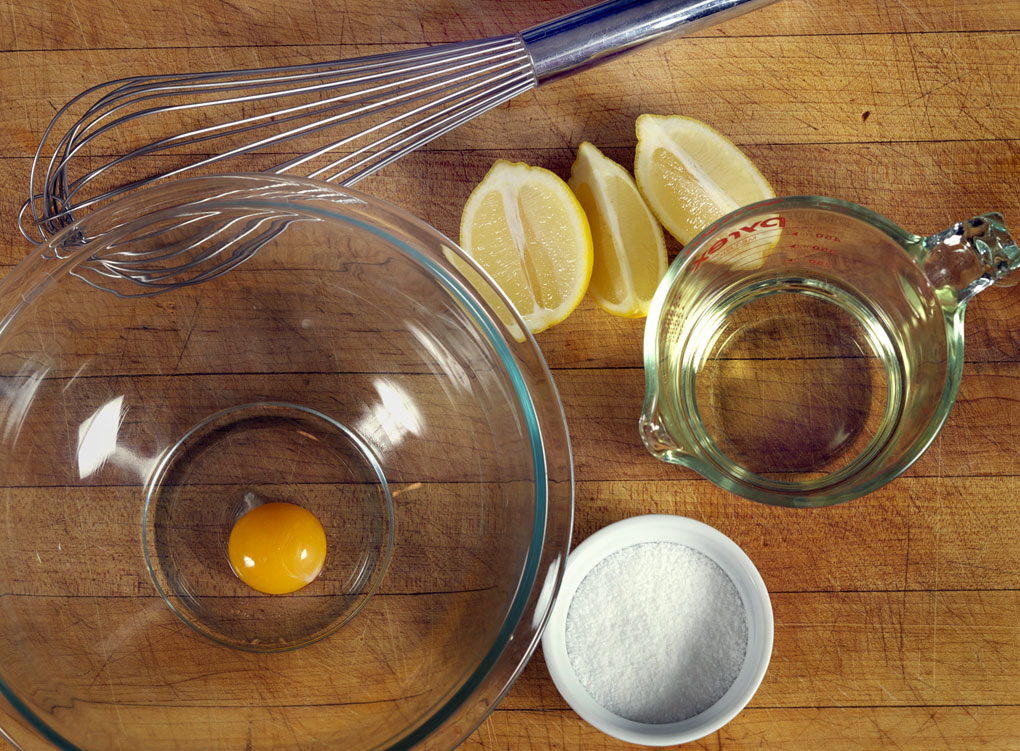 There simply isn't anything like it when you make it yourself—you can't buy this stuff. But I'll bet you have everything you need to make it right now. I'll include a recipe at the end of this post.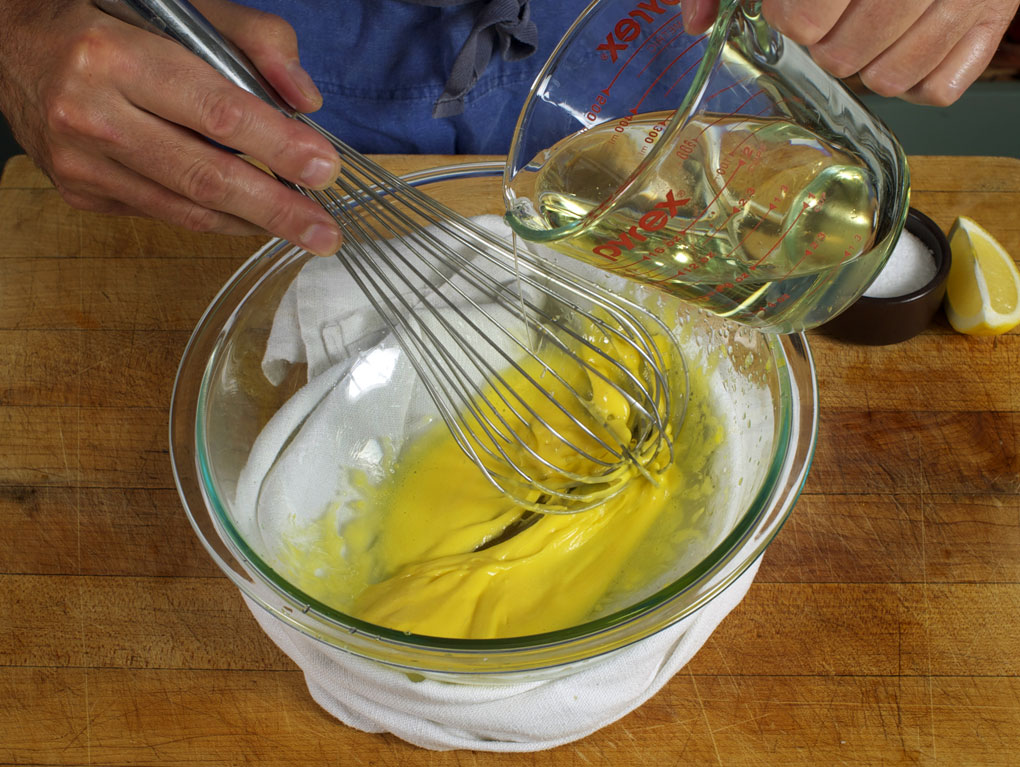 Two things are critical to remember for those who have never made a mayonnaise. You need enough liquid (water/lemon juice) to maintain the emulsion, so don't skimp on this. Second, begin adding the oil very slowly, just a couple drops of oil off the end of a spoon into the yolk while whisking, then another few drops. This establishes the emulsion. Then you can add the oil in a steadier stream.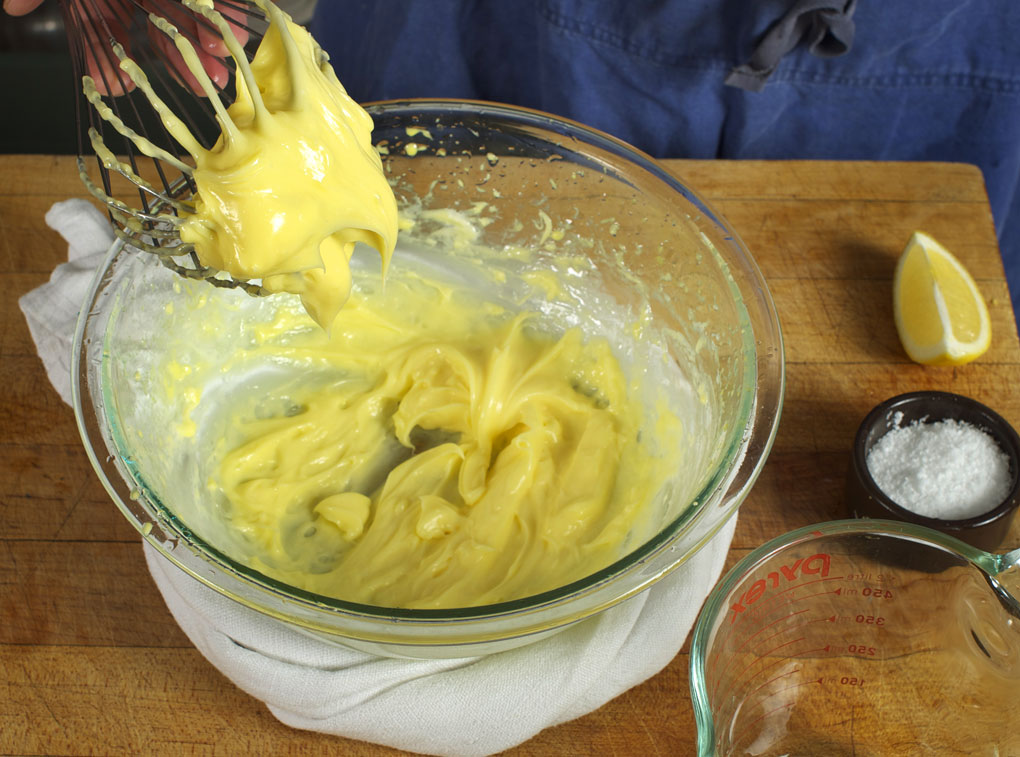 You will have taken a tasteless fluid oil and transformed it into an ethereal sauce through craftsmanship and care. Add a tablespoon of minced shallot macerated in lemon juice for an extraordinary dipping sauce for an artichoke or blanched and shocked cauliflower, or put it on boiled new potatoes. It's magical stuff. Or use it on a BLT—it'll be the best sandwich you've had in a long time.
Here's the recipe adapted from Charcuterie:
Mayonnaise
1 large organic egg yolk
½ teaspoon/5 grams salt
1 teaspoon/5 milliliters water
1 teaspoon/5 milliliters lemon juice (or 2 for a lemony mayo)
1 cup/250 milliliters vegetable oil
Combine the yolk, salt, water, and lemon juice in a 2.5-quart bowl. Fold a hand towel into a ring on the counter and set the bowl in this ring to hold it steady while you whisk. Using a sauce or balloon whip (whisk), stir the ingredients together.
Add the oil slowly while whisking vigorously. It helps to measure out your oil into a cup that pours well in a wire-thin stream; alternatively, you can start your emulsion by drizzling the oil off a spoon, then pouring the oil after the emulsion has begun. Add a few drops of oil as you begin to whisk; when the emulsion becomes creamy, you may increase the speed with which you add the oil to a thin stream. From the beginning the mixture should be thick enough to hold its shape and look luxuriously creamy. Add the oil too quickly and it will break, that is, it will turn soupy. When all the oil is incorporated, add additional lemon juice to taste. If the mayonnaise is too thick, it can be thinned by whisking in a little water.
If it breaks, put a teaspoon of water in a clean bowl and start the process over by drizzling in the broken mayonnaise while whisking.
URGENT UPDATE AND MSG TO BECKS & POSH AND RIPERT: From Shannon at momwantsacure: "Ha!! I just proved Eric Ripert and Becks & Posh WRONG!!!!! Tell them that menstruating women can make a fabulously perfect mayonnaise!"
If you liked this post on homemade mayonnaise, check out these other links:
© 2016 Michael Ruhlman. Photo © 2016 Donna Turner-Ruhlman. All rights reserved