Donna and I had begun 12 days of a work-vacation (what other kind of vacation would we do without kids?) by flying to Rome, then heading immediately north toward the Tuscan town of Barga, where my cousin Missy had planned her marriage (she had a work-marriage, teaching yoga there before the nuptials). We planned to stop off on the way there, and my mom's travel agent had found a little town midway. Our Garmin GPS did not work, and the town was so small my iPhone wasn't picking it up. We made our way to Viterbo, which I knew our town was near, then stopped at McDonalds (to park) and phoned the hotel. We were still 30 kilometers away, the woman said, and when I told her my Garmin GPS was useless, she said something in Italian that obviously translated as "Oy vey."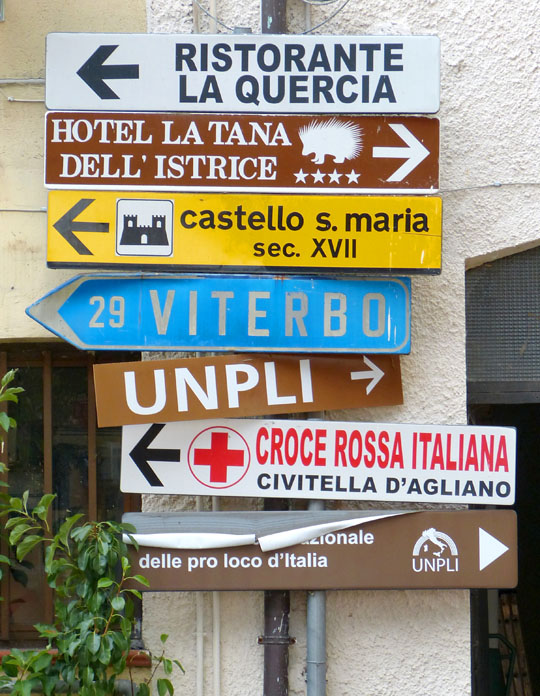 Signage in Italy is an issue. They have millions of signs all pointing in various directions. On our way to Barga the next day, we passed half a dozen signs reading "Barga" and Donna wanted to follow them all, but I kept telling her to go straight, reading my iPhone till she finally said, "That's it," turning right off the main road after the fourth sign. "It says Barga, I'm following it." We ended up turning around anyway and found Barga, only to realize that our hotel was not actually in Barga.
Unnerving, especially that first day after the Cleveland to Newark to Rome flight and arriving at 11 am, renting a car, getting out of Rome, and making our way to the teensy lovely village of Civitella d'Agliano and the Hotel La Tana dell'Istrice, in a square requiring passage through a tunnel so narrow that the proprietress, Alessandra Mottura, said, "I will come and rescue you!"
We had arrived. Alessandra insisted we have an aperitif and some cheese to soothe the travel nerves. It worked!
But what I didn't expect was dinner. After a much-needed nap and a stroll through the hamlet where we paused for a coffee, Alessandra asked if we'd be having dinner at the hotel. As there was no restaurant we could see in town, we said "Of course." Here's the unexpected part. Or part of the unexpected part. As we were the only guests, we'd be having dinner with Alessandra and her husband, Sergio, and their two French interns, working at the hotel for the summer.
An aperitif before dinner, in the quiet square of the medieval hamlet. Perfect zucchini blossoms appeared. Filled with nothing. Often they put an anchovy inside, Alessandra said. In America, I've only had them so stuffed with cheese that you can't enjoy the flower. These were light, crisp, and flavorful. Alessandra said, "It's zucchini season."
Both Alessandra and her equally elegant husband spoke fairly good English (bless them), and we learned that Sergio ran vineyards and made wine and was especially proud of an old and little-known grape, grechetto, which he would share at dinner. (All his wines were superb, but his Latour a Civitella, 100% grechetto, was outstanding.)
That we got there was a surprise. That we made it through the tunnel was a surprise. The zuke blossoms were a surprise; the wine and the new grape were a surprise. We were indeed surprised to be sitting at a table for six with the proprietors of the hotel.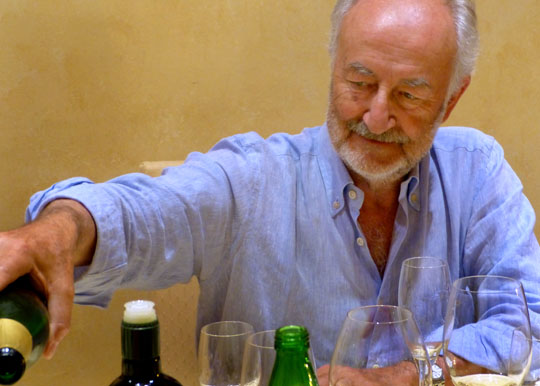 But the biggest surprise was the meal itself. A traditional Italian family-style meal. Panzanella salad—day-old bread soaked in water and wrung out, crumbled and tossed with tomatoes and onions, vinegar, and oil. Alessandra got up to make the zucchini soup (it was zucchini season)—nothing but sautéed baby zucchini, water, and herbs, including fresh mint. Light and flavorful, garnished with the olive oil on the table. Next, a zucchini pasta (it was zucchini season). Then the main course, roasted goose, with potatoes cooked in the goose fat. Alessandra explained they'd given a neighbor some wood earlier in the season and he had brought by a fresh goose today. Dessert, homemade gelato, followed by a sweet sparking wine beneath the canopy in the square outside the hotel, and more easy conversation.
During the meal, I'd thought about how we so often eat: Fill up a plate with several courses, bolt it down, and dinner's done in 20 minutes. No comparison to a couple hours at the table, leisurely talk, plentiful wine, all anchored by the food of incredible simplicity, especially the first two courses featuring day-old bread and tap water, and so delicious and satisfying. Rome, not to mention Cleveland, felt far away.
We fell asleep to the rapid and happy Italian conversation between Sergio and a neighbor echoing in the square (only recently did we learn from vinoroma that he is "one of the biggest and most important [winemakers] in Italy." When we awoke, early, he was gone to the vineyards. Alessandra helped me with directions. We had Barga to find, where another extraordinary meal awaited.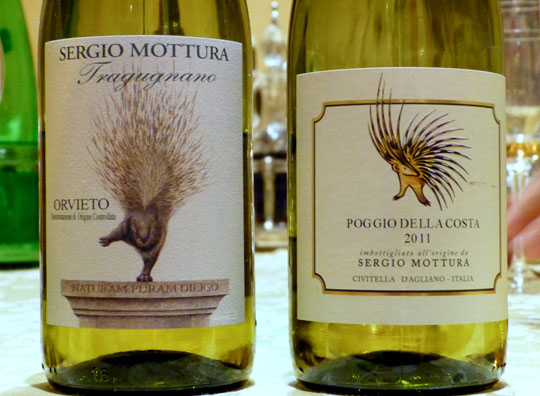 Sergio Mottura, above, pouring, and two of Sergio's wines, with their porcupine (istrice, in Italian, and delicious according to Sergio) label.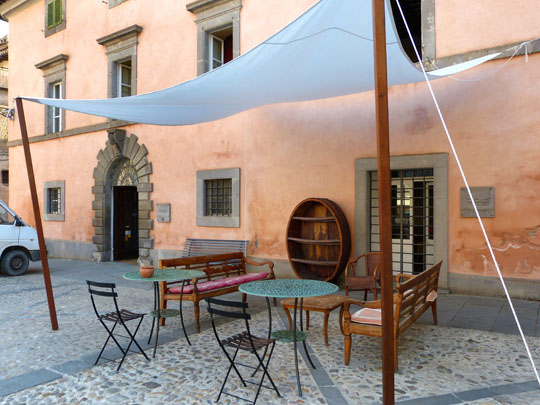 The square outside La Tana dell'Istrice.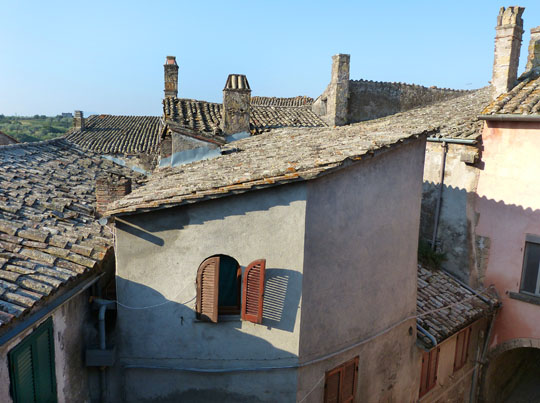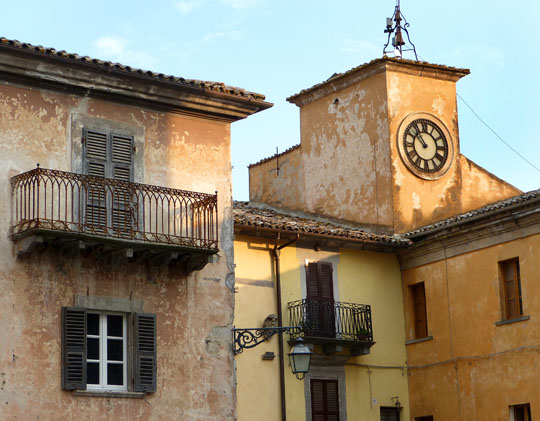 The rooftops and buildings of Civitella d'Agliano.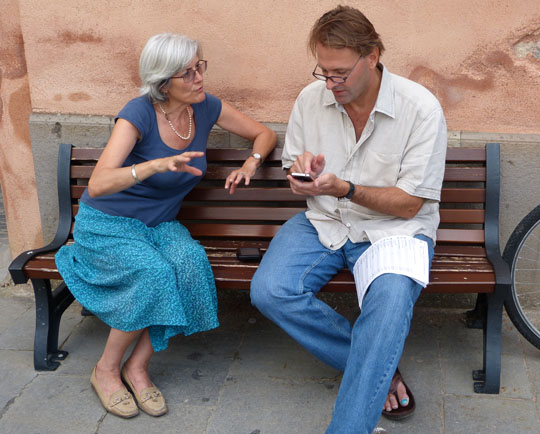 Alessandra helps me plot a course north out of Lazio and into Tuscany.
Zucchini Soup Inspired by Alessandra
1 large shallot, minced
Olive oil for cooking
Zucchini and summer squash, thinly sliced
Water
Salt and pepper
Fresh herbs (basil, mint, chives, whatever you have on hand)
Delicious extra-virgin olive oil as needed
Sauté the shallot in a tablespoon of olive oil over medium-high heat till translucent. Add the zucchini and summer squash and cook until tender. Add enough water so that everyone will have enough soup. Bring the soup to a simmer for 5 minutes. Season with salt and pepper, tasting it till it's perfectly seasoned, and fresh herbs.
Serve, garnished with plenty of delicious olive oil.
Yield: Exactly as many as you're cooking for.
Other links you may like:
© 2012 Michael Ruhlman. Photo © 2012 Donna Turner-Ruhlman. All rights reserved.