Egg promotion is winding down, but what a lot of attention it got! (NPR's Steve Inskeep talked to me about it on Morning Edition. It inspired an egg-centric stroll through Manhattan with NYTimes reporter Alex Witchel. It was covered favorably in Sunday's NYTBR by William Grimes. Debbi Snook covered it for my hometown paper. And the Wall Street Journal ran an excerpt on page one of its weekend section.)
But now that the fun is subsiding, I reflect on where it began: for me with this humble frittata. In fourth grade someone told me or I saw on TV how to make one. And so, home alone with only four channels to entertain me, the video game Pong a blip on the horizon, and hungry, really hungry, I made the above. It was not just the creation itself that was exciting (me! I MADE this!), it was also delicious. And satisfying. I felt good after I ate it, not lethargic or enervated.
This was good food and I've never not cooked since.
And it was the beginning of what would culminate in the new book, Egg. (The company that runs Little, Brown, I would like to add, Hachette Book Group, is waging a public feud with Amazon over the cost of electronic books; in what amounts to several sucker punches, Amazon is actively trying to diminish the sales of Hachette books, and it's hurting authors; why my books Egg and Schmaltz are actually cheaper if you buy them from Barnes & Noble. See this story on Hachette head, Michael Pietsch, from yesterday's NYTimes for more on what's at stake. And why it breaks Malcolm Gladwell's heart.)
But this will end. Eggs will not. They are, after all, the world's most versatile ingredient. And inspiration: look at all the good things that happen when you make a frittata!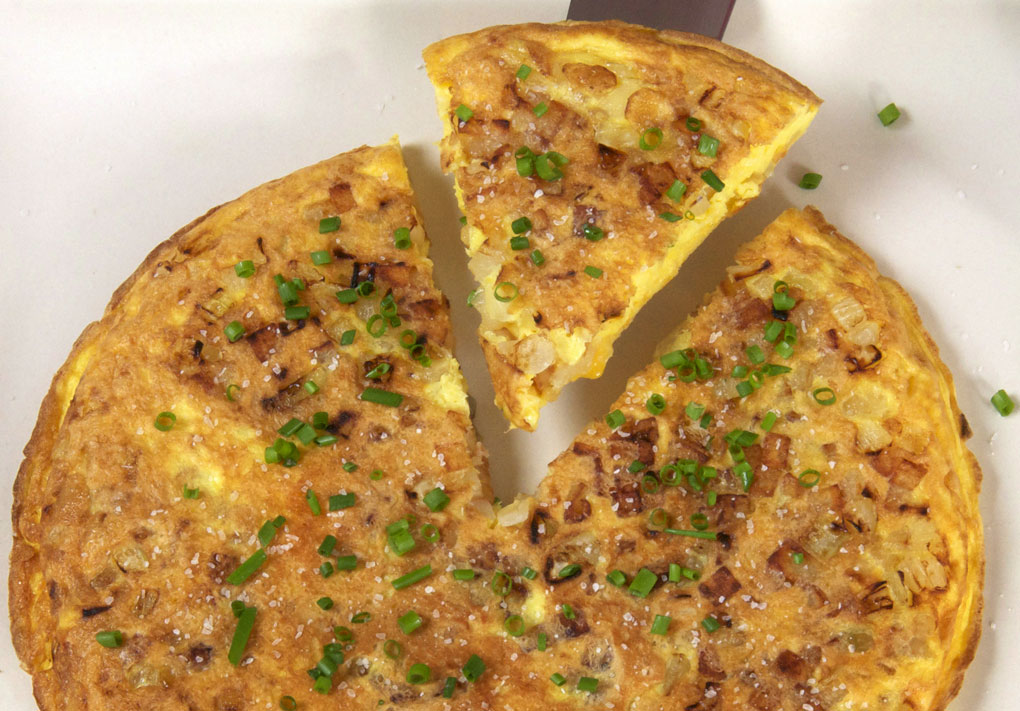 All photos by my ace photographer, Donna Turner Ruhlman.
Potato, Onion, and Cheese Frittata
1 small potato, peeled and cut into small dice (about 1 cup/225 grams)
2 tablespoons extra-virgin olive oil
Salt
½ onion, cut into small dice (about ½ cup/100 grams)
6 eggs, thoroughly blended
½ cup/60 grams shredded cheddar cheese
Freshly ground black pepper
2 avocados, peeled, pitted, and diced (optional)
Preheat the broiler.
In a medium nonstick fry pan, combine the potatoes and olive oil over medium-high heat and stir or toss them in the pan to coat them with oil. Add a three-finger pinch of salt, just to coat the surface. When the potatoes are lightly browned, add the onions, salt to coat the onions, and continue to cook until the onions are tender, stirring or tossing the potato and onion.
Place the eggs in a medium bowl and add the cheese, along with ½ teaspoon salt and several grinds of pepper, and stir to combine and disperse the cheese. Pour the egg mixture over the potatoes and onions and reduce the heat to medium, swirling the pan so that the eggs even out. Cook until the edges are set, a couple of minutes depending on the heat level, checking to make sure that the eggs aren't sticking. Place the pan underneath the broiler until the eggs are just set, a minute or two depending on your broiler. When the top is set, invert the frittata onto a cutting board, cover with the diced avocado, if using, and cut into wedges. Serve.
Serves 4
If you liked this post on mushrooms, check out these other links:
© 2014 Michael Ruhlman. Photo © 2014 Donna Turner Ruhlman. All rights reserved.