If you don't already know Joshua Weissman of Houston, he is the young author of The Slim Palate (also the name of his blog). It's also a Paleo cookbook, but that's beside the point (as far as I'm concerned). And yes, it's a lovely book with intriguing recipes and photographs that floored Donna, especially given that Josh was 17 when he took most of them, and is only 18 now. When I got an email request to blurb the book, I thought little more than "Ugh, OK, send me a PDF, I'll try to have a look." And I did, and it was good, and I did a little more poking around on his site. My turn to be floored. Watch this excellent video to meet Josh and hear his uncommon story—he's an inspiration. This is more than a cookbook—it's an extraordinary example of the power of food to transform our lives. Josh not only generously offered this post and recipe, he'd like to give away a signed copy of his book. Just leave a comment with your favorite cooking technique or method (grill, sauté, braise, etc.) and you're entered. Take it away, Joshua!—M.R.
by Joshua Weissman
I am incredibly honored and excited to have the privilege to post on this website. When I was venturing through my journey in rediscovering food, Mr. Ruhlman was and still is one of the biggest influences on my views and choices on how I choose to look at food. He also made me quite the pork fanatic, so I figured I should share one of my favorite swine recipes.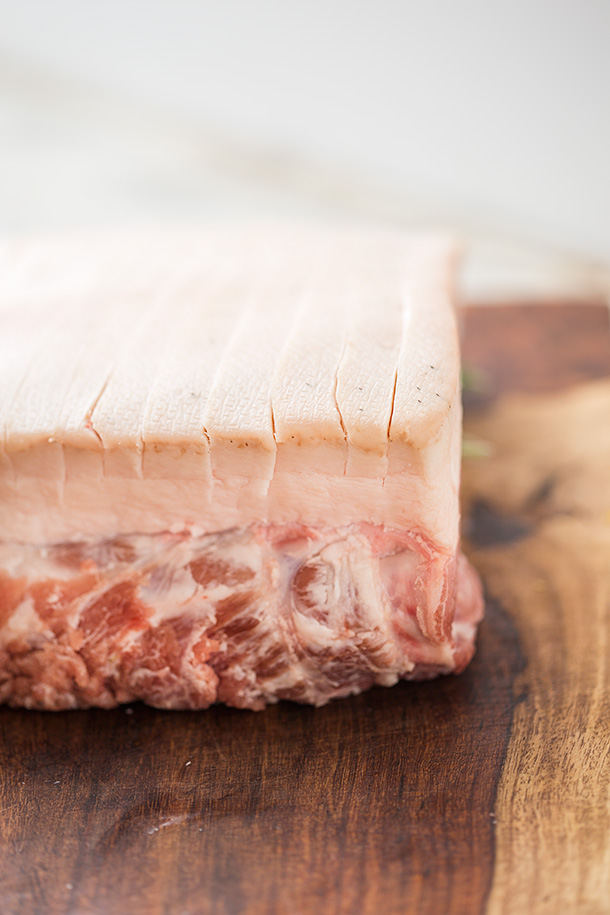 This recipe is adapted from one of my very favorite recipes in my cookbook. When I ended up receiving a pork loin from a local farm, which offered it to me with the skin on, I was ecstatic because I rarely get skin-on cuts like that. As soon as I laid my eyes on it I had a plan to make alluring crispy skin. In adapting the pork loin recipe from the book, I simplified some of the ingredients, added in some others, and reworked the oven temperature and timing to work for a thicker fat cap and skin-on loin. This way you're left with an intoxicatingly crunchy skin with a slightly different flavor from the original but still wonderful recipe in the book. It's almost surprising when you take that first bite of this roast as that explosive crunch rings in your ears when you bite into the crispy skin, which of course is followed by the rich and slightly sweet juices of the pork. Not to mention it's difficult to ignore the wonderful flavor of the pork fat running through the loin that helps flavor the skin.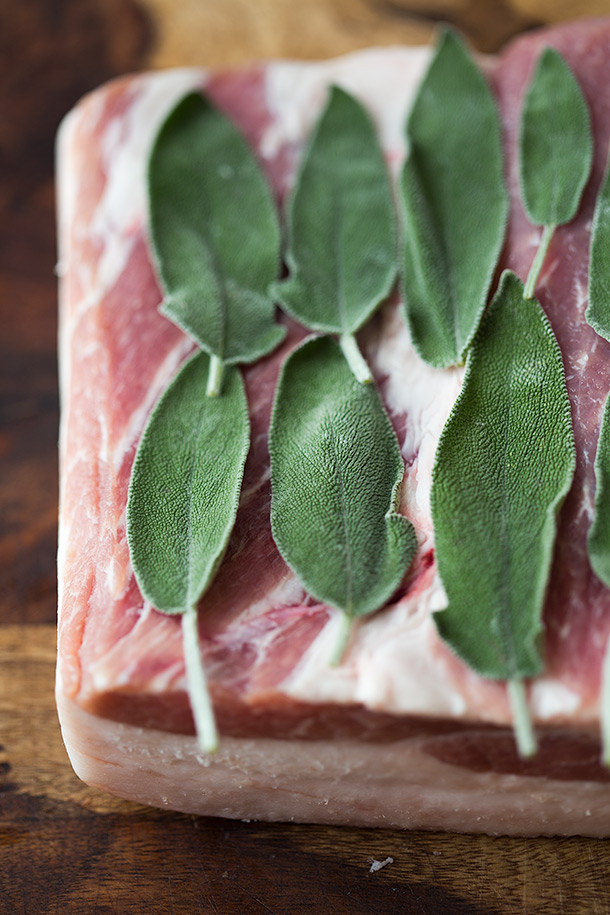 I think that those who truly love food probably also appreciate the beauty behind crispy skin. It's like a reward for your hard work and persistence in preparation. In my experience, the key to crispy pork skin (or any animal skin, for that matter) is to keep it as dry as physically possible before you cook it. The more moisture that you leave in the skin, the more likely it's going to turn out chewy and rather unappetizing. Many people go to great lengths to get pork skin dry, like blow-drying it for hours, but I've found that a diligent dabbing with a paper towel on the skin until it's as dry as you can get it works fairly well. If you really want to be a perfectionist, I've also had great success by dabbing it dry and then leaving it in the fridge uncovered to air-dry overnight. That's not required, but I usually do choose to let it air dry because I'm somewhat of a perfectionist like that. Plus I actually enjoy the process behind cooking, so while I enjoy quick cooking meals I also enjoy meals that are a journey in themselves. But like I said, if you're not that person then you can skip the air-drying in the fridge.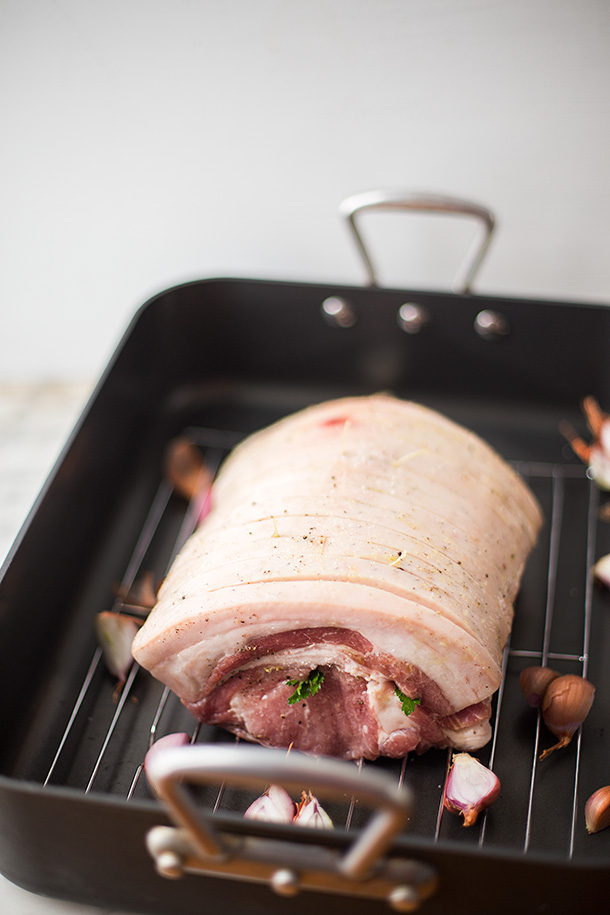 I actually wish more people would take a day off and just make something in the kitchen that takes a bit of patience and labor to make. Eating is not only a daily thing that we have to do in order to survive but it's also an incredible pleasure, so I think it's important to make a fun adventure out of it every once in a while. Listen to the clicking sound of the burner preparing to erupt in flames or enjoy the various and changing aroma of the food as it progresses through different stages of cooking. Slow down and just enjoy the moment and the process of a creation that might just become another hobby for yourself while nourishing your body at the same time.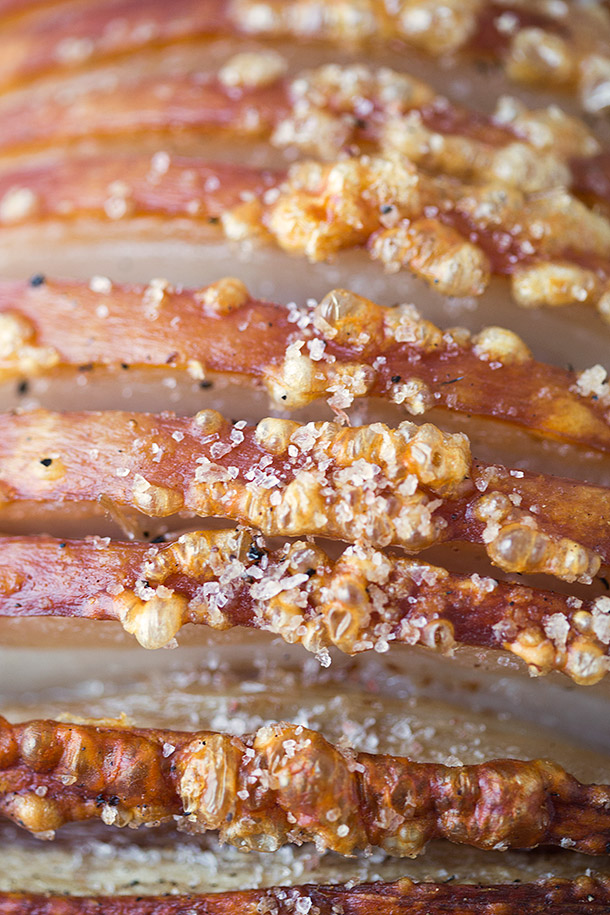 Herbed Crispy Roasted Pork Loin
Recipe adapted from The Slim Palate Paleo Cookbook
5 shallots, unpeeled, cut in halves
2½–4 pound boneless skin-on pork loin

1 lemon

10–15 sage leaves
5 sprigs flat-leaf parsley
1 teaspoon minced marjoram
4 garlic cloves, thinly sliced
Salt and pepper
2 tablespoons avocado oil or high-heat oil of choice
Kitchen string for tying the roast
Preheat the oven to 425°F/218°C and place a wire rack inside a roasting tray. Scatter the shallots around the bottom of the roasting tray.
Pat the pork loin completely dry and do your best to keep the skin as dry as possible. Score the skin of the pork loin in straight lines about halfway down the fat cap but not all the way to the meat. Repeat this at ½-inch intervals all the way across the skin of the pork loin. Flip the pork loin over so the skin is facing down. Starting about 1 inch above the fat cap, cut into the meat of the pork loin lengthwise and open it up like a book until it lies flat, being careful not to cut all the way through the meat.
Zest the entire lemon over both sides. Lay all of the sage leaves over one side of the pork loin, then lay the parsley, marjoram, and garlic on the opposite side. Season with salt and pepper to taste and drizzle ½ tablespoon of the oil over it. Carefully close the pork loin and tie the roast fairly tightly at 1-inch intervals. Pat the skin once more to ensure that it's as dry as possible, then drizzle the remaining 1½ tablespoons oil over the skin. Season the whole roast generously with salt and pepper and mop up any of the seasoning with the sides and bottom of the roast. Season the skin side once more very generously with salt, working the salt into the slits made earlier. (You really want to season the skin quite generously here.)
Place the roast on the wire rack in the roasting tray, skin side up, and put it in the oven for 30 minutes. Reduce the heat to 395°F/200°C until the pork reaches an internal temperature of 140°F/60°C when a thermometer is placed in the deepest part of the meat, 30 to 35 minutes. Increase the temperature to 500°F/260°C and continue roasting until the skin is slightly puffy and crispy, 4 to 6 minutes more.
Let the pork loin rest for 15 to 20 minutes, slice, and serve.
Note 4/7/14: Congrats to Nancy McDermott, of Jackson, NJ, winner of the Slim Palate Cookbook.
Other links you may like:
© 2014 Michael Ruhlman. Photo © 2014 Donna Turner Ruhlman. All rights reserved.