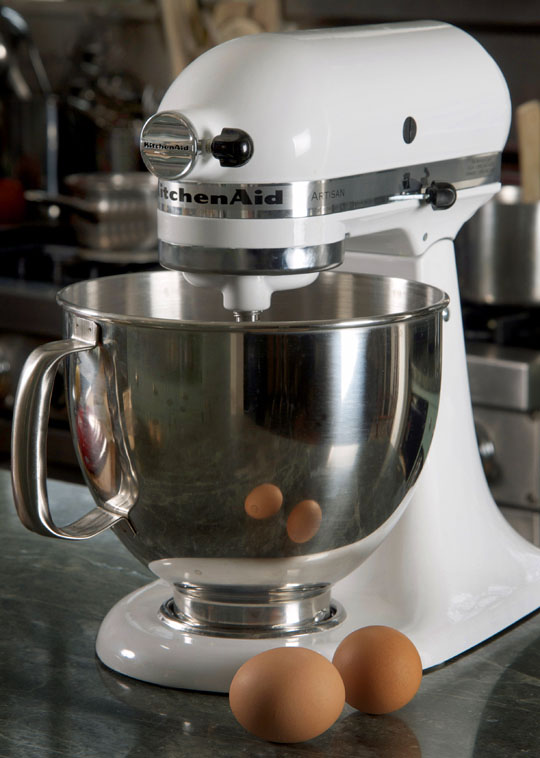 Christmas, 1992, my mom's beau, an avid cook with whom I shared many happy hours in the kitchen, gave me a KitchenAid standing mixer.  It quickly became and remains my most relied upon countertop appliance.  I use it for mixing all kinds of dough, whipping meringue, making big batches of pate a choux, and, when I joined forces with Brian Polcyn to write a book about sausages and other forms of food economy and preservation, to grind meat (via the grinder attachment) and to mix the meat afterward (more this later).  It was one of the best and most useful gifts I've received ever.
Christmas is a time when we indulge the people we love with gifts they wouldn't be able to afford or to justify buying on their own.  For those of you who are pondering a bigger ticket item (in the $100+ range) to give a beloved cook, here are some of the following I recommend.  Everything I list below I own and use all the time, some for more than two decades.
I've told you about the standing mixer (I only recommend a 5-quart bowl or bigger; the 4.5-quart models are limiting), the powerhouse kitchen appliance, far more versatile and useful than a food processor.  But if you're considering a food processor, my choice is this 3-quart model, a little smaller than the standard and easier to use, store and clean.
Another type of mixer is the Vita-Mix, by far the best blender available; makes silky purees, grinds whole grains into flour, great for smoothies, and I've even made a shrimp stuffing for shrimp dumplings in them. They're very expensive, worth it if you can afford it, but if you can't the standing mixer is the better purchase.  If cost is not an issue, they're well worth it.  There's a reason why you see them in virtually every decent restaurant kitchen.
Here's the Vita Mix at Open Sky, an e-commerce site I'm happy to partner with.
Here it is at Amazon ($1.05 cheaper but does not come with my Open Sky love and affection).
An enameled cast-iron Dutch oven from Le Creuset can't be beat for small batch braising and stewing, making stocks, deep frying.  It's a great heavy solid heat conductor and the enamel is a semi-non-stick surface that also browns food beautifully.  I couldn't do without the 7-quart version linked to above but there's a 3.5 quart version for smaller batches.  I would be very unhappy without my enameled cast iron.
I love all All-Clad pots and pans, but this 2-quart sauce pan is my favorite.
Of course, knives are a great gift, and they last forever if you take care of them.  I do not recommend buying an enormous block of knives for anyone.  I recommend buying two good knives, a big one and a little one, then adding more according to your desires.  I recommend this Wusthof set and I also recommend this three-piece set from Lamson & Goodnow (from Open Sky).  Lamson & Goodnow is an American maker of fine cutlery, and either set is a good value if you want an intermediate size.  I own both Wusthof and L&G and have been pleased by the edge the L&G keeps.
My cooking love is charcuterie, the making of pates and sausages, confits and dry-cured meats.  I'd be remiss not to mention this awesome meat grinder.  I use it not only for grinding meats for sausages and pates but also to make fresh hamburger and my own steak tartare (if I'm going to eat rare burgers and raw tartare, I want to grind the whole cuts myself). See it in use in my how to make sausage video.  For more on the subject, see my book, Charcuterie.
Also in the video, and highly recommended for the sausage fanatic in your house, a proper cylindrical stuffer.  This is the one I use, also from Open Sky.
For pates and meatloaf, nothing beats, the enameled cast-iron terrine mold from Le Creuset.
And last but not least, I highly recommend Apple's iPad, which I think has the power to transform the way we cook.  We're not quite there yet, but it's a great information delivery device, so far unparalleled.
Now, off to tend my turkey stock for Thursday's gravy.