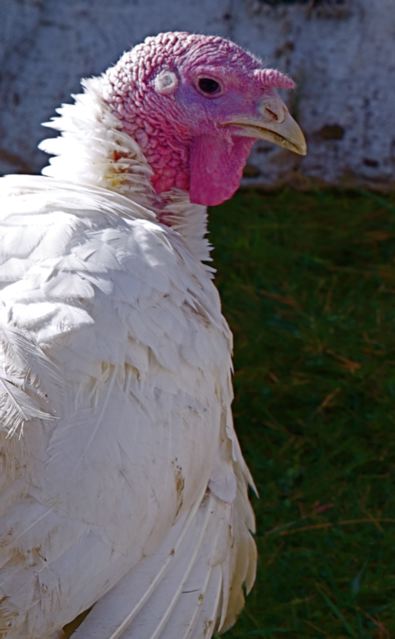 We live in a time of unprecedented interest in, and care for, food and all the issues that surround its growing, harvesting, purveyance, and its cooking.  This interest happened because we were on the brink of losing good food altogether, with farmers disappearing and the masses abandoning the kitchen, handing over our farming to Monsanto and giving our most fundamental and exclusively human act, cooking, over to the ConAgras and McDonalds.  (ConAgra, one of our biggest food processors, is that name a joke on us?! Con, against, Agra, agriculuture—against agriculture! At least they're open about it!)
We only become reflective about something we'd previously taken for granted when it becomes imperiled. I'm not saying that rampant diabetes in teenagers, epidemic obesity, social fragmentation and alienation, nitrogen runoff in our rivers and oceans, oceans increasingly depleted of fish, the spread of lethal food borne bacteria, is all food related  ... wait a minute ... of course that's what I'm saying! It is!
I'm saying it.  If every tribe cooked raw food for itself, all of this would go away.  Not immediately but over a generation or two.  If every tribe suddenly started cooking good food, though—would it even be possible, would there be enough fresh food for 300 million people if no one ate McD's and Doritos and Snackwells and Coke for their meals?  I don't think so.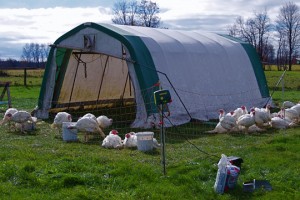 But this is not a day for ranting, it's a day for celebrating what we do have.  Thanksgiving is the great American holiday, our holiday that centers around food.  Ironic of course that the country that lead the way in trashing our food and making fast food a global phenomenon actually has a holiday about celebrating food and bounty.  I'm glad we didn't lose this as well.  It remains a day to cook, to gather, to be grateful for what we have.
Now, today, there truly is something to celebrate.  These turkeys, for one.  I know the husband and wife who raised them.  They live an hour or so east of me.  My daughter is fifteen.  If I'd asked my dad to get a turkey from a farm for thanksgiving when I was her age, he wouldn't have known where to begin (even if he had entertained such a ludicrous idea).  If, when he was writing down TV Dinners and Tang and Space Food Sticks and Quisp cereal on our weekly shopping list, if I'd have said, "Could you get a hog this week as well?"  He'd have looked at me like I was a Martian.
A single generation later, I have three different sources for hand-raised pork or a whole hog.  This is something to celebrate.  The turkeys above, raised by Aaron and Melissa Miller, are a triumph (they're White Hollands, Melissa told me, all but apologizing that they weren't heirlooms, which their client base couldn't afford).  "To change the world, start with one step."  Things are changing.  All you kind folks who stop by this site, all you who comment, who blog about food, all of you who simply cook for your family or encourage someone in your family to cook for you—you are changing things.  It's a slow, incremental change, but it's happening.
So to everyone, enjoy the cooking of the food today, wherever it came from, don't stress about it, put it on the table and gather round it whenever it's ready and be grateful.  This is a day on which to celebrate our family and friends and we do it around the stuff that is both a spiritual and literal nourishment on this uniquely American holiday, centered around the uniquely human act of cooking.
Happy Thanksgiving to all!