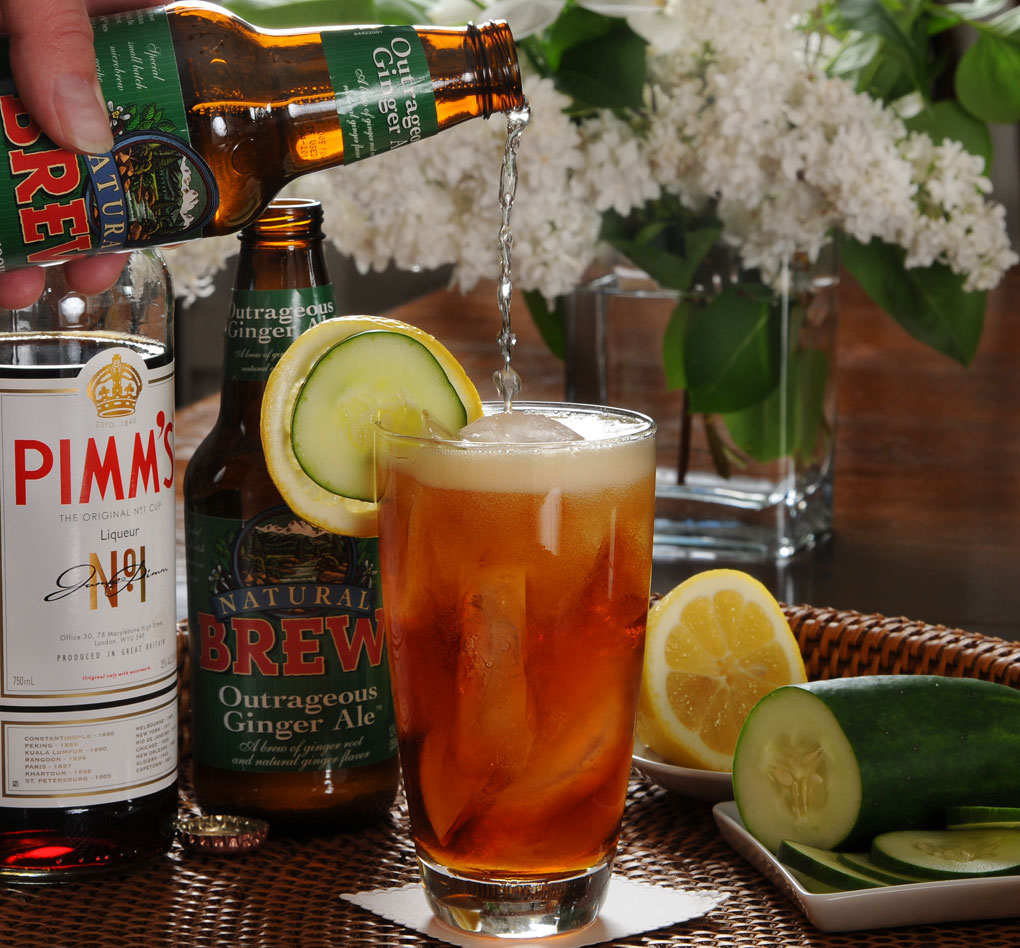 It's 45 goddam degrees as I write this—morning but it's only supposed to go up 6 more degrees by midday, and I am so tired of this cold gloomy weather I've decided to offer one of the great warm-weather libations, the Pimm's Cup. It was downright hot last week, and the lilacs and dogwood are in bloom, so I make today's Friday cocktail a harbinger of the warm weather to come. And for those of you who live where's it's already hot.
Also, I now have a new fave of all Donna's cocktail shots. Nice lighting on that pour, hon! (Photo by Donna Turner Ruhlman.)
My first encounter with Pimm's Cup came once again from my dear old pal Blake. It was even before we were living together, when he was holed up trying to write fiction in a grim little studio in the Washington Hotel at 23rd and Lex.
My mom had come to visit and I wanted to introduce her to my new literary-minded pal. We waited forty-five minutes at Indochine on Lafayette (a restaurant I still enjoy). Blake arrived, red-eyed and rumpled and gushing apologies. (He had already been drinking all day, and fallen asleep, he explained later.)
The waiter arrived, Blake paused, then ordered definitively, "I'll have a Pimm's Cup," and he gave a light thump with his fist. To me this sounded like a girlie drink, especially for a guy who didn't hesitate throw a punch (which he would in fact do, on my behalf, at a bar later that spring, much to my astonishment). In retrospect, his choice of cocktail made sense. A Pimm's Cup is lighter on the alcohol, more of which Blake hardly needed that evening. As I've mentioned, neither of us were our best selves in those days.
The Pimm's Cup arrived, and this is the only other part of the conversation that I remember, and it is why the drink always comes with tinge of embarrassment. My mother inquired about a new girl I'd started seeing, and Blake squinted, trying to recall. He said, "Sally, Sally? Oh, right, a bit vacuous but great in the sack, isn't that what you said, Mike?"
I hung my head and rubbed my brow, averting eyes from my decorous mom, who didn't know who to glare at first.
The evening descended from there. And that is my Pimm's Cup story.
But new decades dawned, Blake became a highly respected award-winning author, I still have a wonderful and generous mother, and I look forward the warm weather and this effervescent light cocktail.
Pimm's is a fifty-proof liqueur with an old history, and I'm glad it remains. It's often served with lemonade. I prefer a high-quality ginger ale, a good squeeze of lemon juice to counter the sweetness, and more for garnish along with cucumber (a surprisingly fine and intriguing element in this beautifully refreshing cocktail, which should be mixed to taste). I like it lighter on the ginger, but it's up to you.
Happy Friday!
Pimm's Cup
3 ounces Pimm's No. 1
4 to 6 ounces ginger ale
Squeeze of fresh lemon juice
Lemon wheel, for garnish
Cucumber, for garnish
Fill a glass with ice. Add Pimm's, and top with ginger ale and a squeeze of lemon. Stir.
Garnish with cucumber slice and lemon wheel and serve.
If you liked this post on the Pimm's Cup, check out these other links:
© 2014 Michael Ruhlman. Photo © 2014 Donna Turner Ruhlman. All rights reserved.