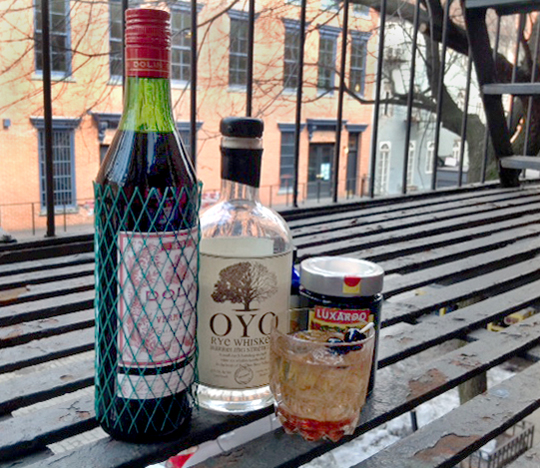 Ohio comes to Manhattan this week for the Friday cocktail hour, which I will enjoy, shivering but happy, on my fire escape in the West Village, with Columbus–based OYO clear rye whiskey, sweet vermouth, bitters, and the indulgent Luxardo maraschino cherries (picked up around the corner at The Meadow (thank you Mark!—check out his book, my favorite salt book, period). The Manhattan, a classic I never stray far from, a family favorite, and well enduring for a reason (this is one of my favorite Friday Cocktail Hour posts). The rye Manhattan is especially good when you have great cherries. I add some syrup from the cherries, here not yet dissolved and sleeping at the bottom of the cocktail; rye is marvelously dry as whiskeys go and so the extra sweetness is perfect for this excellent winter cocktail. Happy Friday, all! Have a great weekend!
OYO Rye Manhattan
2 ounces/60 grams OYO rye whiskey (or any good rye on hand)
1 ounce/30 grams sweet vermouth
5 sturdy shakes bitters (2 grams or so)
1 to 3 Luxardo maraschino cherries (or those candy-like ones in the sundae aisle of your grocery store if that's all you can find)
Combine the liquids in a lowball, then add ice and cherries.
Stir, sip, take a deep breath, and exhale.
Yield: 1
If you liked this post, check out these other links:
© 2014 Michael Ruhlman. Photo © 2014 Donna Turner Ruhlman. All rights reserved.