Lollygagging in the West Village a few weeks ago, Donna and her pal Lee wandered into the Fatty 'Cue, and there found one of the servers experimenting with fat-washed rye. I had that very week been working with a schmaltz-washed rye (whiskey infused with the fat's flavor), so I took it as an omen owing to my wife's unfailing good karma. She fired off some quick shots and I asked Wilmer, above, for the story and the results.  Here with the Friday cocktail, a spicy take on the classic Manhattan that morphed into a kind of Old-Fashioned, thanks to the ingenious Massa Syrup, and Fatty 'Cue's "master fat," combination of fat from various meats, clarified. This drink takes some planning, so if you're drinking along with the Friday Cocktail hour, in lieu of the Old Infatuation, I recommend a classic Manhattan or the Rye-Old Fashioned, linked to below.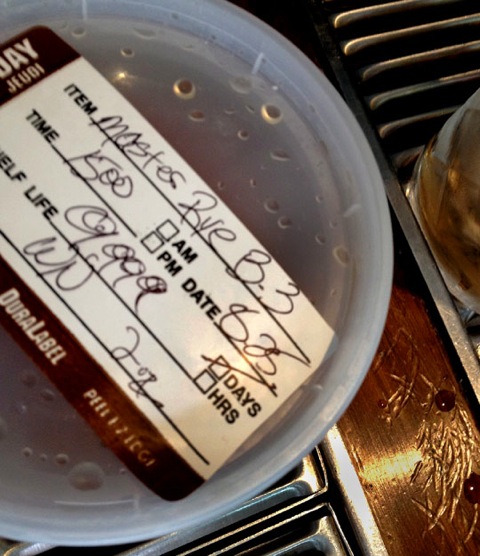 by Wilmer Nolasco
The inspiration for me was to explore the flavor profiles of southeast Asia in a way that was slightly different from what we normally concentrate on at the restaurant.
Upon doing a little research I found a few different dry curry recipes and upon discovering what I thought would work best, I created a syrup that was derived from a Massaman style curry.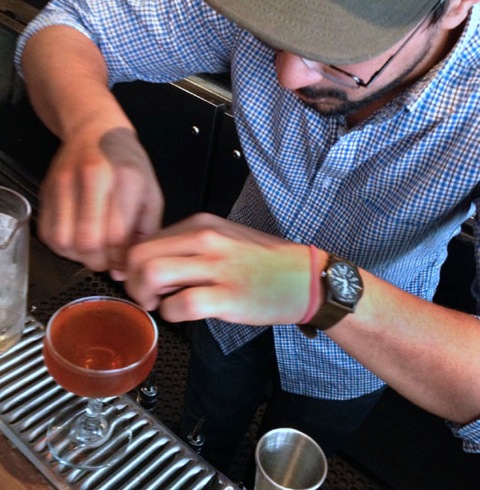 As for the whiskey, the ratio is 3:1—I used 24 ounces of whiskey to 8 ounces of the Master Fat. Let it sit for 48 hours, making sure to agitate it at least 4 times a day. After the 48 hours, stick it in the freezer so the fat  separates from the whiskey and freezes. I remove the fat, pass the whiskey through cheesecloth and it comes out nice and clean and tasty!
When Donna came in to Fatty 'Cue and saw me making the drink, the idea for the drink was a Manhattan. Upon testing more and more and playing around with different variations of the Manhattan cocktail we started to notice a certain spiciness to the drink that we at first thought was coming from the syrup we developed for the drink. We then realized that it was the seasonings we use for the smoked meats (duh!).
Rather than shy away from the spice level and try to mask it with different combinations of vermouths, we decided it was best to highlight that spice by omitting the vermouth altogether and adding Bittermens Hell Fire bitters and accentuating the earthy notes from the syrup with Bittermens 'Tiki bitters.
Oh, and we have a name for the drink! It's called Old Infatuation!
The Old Infatuation
Build in a mixing glass, stir, and strain into a lowball with one ice cube. Some times it'll go into a double rocks with a large-format sphere ice cube, garnish with an expressed lemon twist.
Massa Syrup
½ tablespoon whole black peppercorns
4 cinnamon sticks
6 cardamom pods
2 tablespoons whole coriander seeds
16 whole cloves
5 whole allspice berries
2 cups brown sugar
2 cups water
1 tablespoon ground mace
For the syrup, take all of the components except for the brown sugar, water, and the mace and lightly toast them in a shallow pan until they start to release their essential oils and become aromatic. Transfer the spices to a pot where you'll add the remaining ingredients and cook until you get a gentle rolling boil. When you achieve that, transfer to another container and put into an ice bath.
Let it sit in the ice bath for 2 hours and strain through a cheesecloth or chinois.
If you liked this post, read:
© 2013 Michael Ruhlman. Photo © 2013 Donna Turner Ruhlman. All rights reserved.