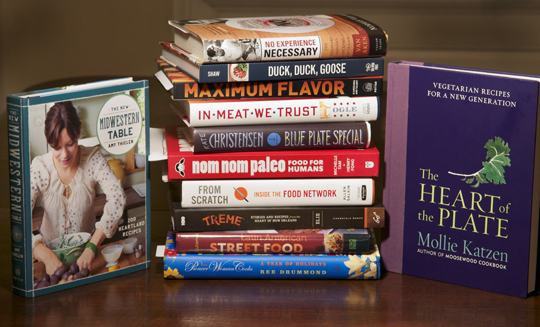 Among the books that caught my eye this season, two of the most lovely are The New Midwestern Table by Amy Thielen and The Heart of the Plate by Mollie Katzen. I'm biased on the Midwestern book, as it's my home turf, but the Minnesotan Thielen, who logged serious years as a cook and chef at some of the best restaurants in Manhattan until she began a family, brings new life to recipes that are so at home in this part of America, dishes featuring our lake fish and our abundant venison, and vibrant takes on pot roasts and meat pies, recipes from simple salads to more elaborate preparations for headcheese and red current jelly. The publisher sent me an extra copy—it will be a GIVEAWAY to a commenter, just name your favorite cookbook (other than mine, were you to be so inclined) in the comments section.
UPDATE: Mary Beth Marion, of Atlanta, GA, won, btw. Her choice Jacques Pepin's Fast Food My Way, with a nod to his excellent memoir, The Apprentice. I highly recommend both, especially the memoir.
I only knew about Katzen's new book because I met this famous author (Moosewood Cookbook, an enduring classic) in the green room at The Leonard Lopate Show. What a delightful woman. She insisted I take the copy she had with her for the show, signing it to me and Donna and praising Donna's pix as she herself did her own photography for this book and knows how hard it is. An all-vegetable cookbook for me? You bet. I'm doing my darnedest to eat less meat and more veg and this book will be my beacon.
I'm a huge memoir fan and this season's chef memoir pick is Norman Van Aken's rollicking No Experience Necessary—unvarnished and true. For a more literary memoir with food on the periphery, the novelist Kate Christensen's Blue Plate Special is superb.
Two other excellent nonfiction works are Maureen Ogle's In Meat We Trust, an exploration of the history of meat in America, how we got to where we are, what it means, and how we should deal with the many complex issues our hunger for meat raises; much of our current system has to do with the post-war rise of cities, she argues, and we can't have it all, for which she's already taking some heat. And Allen Salkin's From Scratch: Inside the Food Network, a journalist's inside exploration of a network that has created many national stars at a pivotal moment in our country's food revolution.
As for more cookbooks:
Maximum Flavor by the ever-curious and provocative team of Aki Kamozawa and Alexander H. Talbot. I've already written about the best mac & cheese book out there, Melt, by Stephanie Stiavetti and Garrett McCord, but it deserves to be mentioned here. For wild things, expert hunter and cook Hank Shaw delivers again with Duck, Duck, Goose.
Nom Nom Paleo by Michelle Tam and Henry Fong is a fabulous Paleo cookbook, especially for beginners, but the diverse recipes are excellent even if you're not a strict Paleo, it's just good food.
I met Lolis Eric Elie, one of the writers for the excellent show Treme at the Miami book fair. He's written a cookbook, Treme, that combines the authentic cuisine of New Orleans, one of the most interesting and delicious regional cuisines of America, and blends it with stories from the show and the characters. The blending of food and story always gets me. I also me the exuberant Sandra A. Gutierrez and bought her Latin American Street Food because I know so little about the subject. She grew up in Guatemala, literally surrounded by Jewish families who cooked with schmaltz, so we had much to talk about. And finally The Pioneer Woman Cooks: A Year of Holidays by Ree Drummond, whose career fascinates me. She hardly needs my blessing, but I've long been a fan of her writing and she continues here with recipes for nine of our cherished holidays.
My girl Friday, Emilia Juocys, is a trained chef and avid cook and wanted to mention some of her faves.
Emilia's Picks
Smoke and Pickles By Edward Lee is my big pick for the season.  I enjoy that he marries his Korean heritage with the traditions of Southern food.  Together they make fun recipes such as braised beef kalbi, Kentucky fried quail, and southern fried rice. Don't worry Chef Lee has a few BBQ dishes, but you can also find recipes for pickles, cocktails, and desserts.  His restaurant, 610 Magnolia in Louisville, Kentucky, is on my list to visit in 2014.  Korean cuisine will come more to the forefront of the food world—it is very exciting, complex in flavors, and stresses communal dining.  Another Korean chef to watch out for is Bill Kim of Chicago who has Urban Belly, Belly Shack and Belly Q.
I had the opportunity to dine at Eleven Madison Park when it came to Alinea on the dinner tour called The 21st Century Limited.  Dining with Chef Humm and his staff in Chicago was quite the experience and fell in line with his first book Eleven Madison Park: The Cookbook.  What I like the most about their new book I Love New York: Ingredients and Recipes by Daniel Humm and Will Guidara is that it covers the rich culinary history of the New York region featuring the local produce, farmers, and artisans there.  New York State has a rich in culinary heritage. The book covers recipes and stories, and ingredients raging from apples to clams to walnuts. Its is a book you can't put down.
While in NYC, I visited the culinary bookstore Kitchen Arts & Letters and I came across this beautiful cookbook, Le Livre Blanc by Anne-Sophie Pic.  In these current times when male chefs are highlighted for their contribution to the culinary world it is great to see that Chef Pic has released a book of her own showing her skills.  Chef Pic runs Pic a Michelin three-star restaurant in France, and she is the only female chef to have that honor.  This is a serious recipe book with beautiful photos.  She takes her family's traditional recipes and modernizes them.
There's plenty to choose from, and you can't go wrong with any of these. Happy holidays!
© 2013 Michael Ruhlman. Photo © 2013 Donna Turner Ruhlman. All rights reserved.