After my assistant, Emilia Juocys, returned from a food-related trip to California, I asked her how it was. I'd heard about Eat Retreat but didn't have a clear sense of what it was. I said, "Why don't you write a post about it."Though what she sent me was considerably more personal than I'd anticipated, it also underscored what we all recognize: the power of food to connect us to one another. —M.R.
By Emilia Juocys
With all of the changes I have experienced in the last 12 months I needed to do something different and meet some new people, especially in the culinary world. Chicago had been great to me but I left in the fall to return home because I was getting divorced after nine years of marriage. Never expected it, but life happens, people change, and the only way to get better is to look forward and move on. Excelsior! Now that I am back in the Detroit area meeting up with old and new friends, I am reestablishing who I am and where I am in my career.
Meeting new contacts would be critical. I had been following a group called Eat Retreat for the past two years. Eat Retreat, according to cofounder Kathryn Tomajan, is "a weekend workshop dedicated to good food and innovative thinking. Created for leaders in the food community, the objective of this invite-only event is to inspire, rejuvenate, and celebrate a shared joy of food. Eat Retreat is designed as a hands-on, experiential weekend with an intimate group of food innovators. Learning and sharing takes place formally through workshops and informally around the campfire. It's summer camp meets the farmers' market!"
I took a chance and applied for this annual food networking opportunity, to be held this year on the West Coast in the Anderson Valley a couple hours north of San Francisco. I was nervous, on the fence about going until Will Turnage emailed me. Will, who built the Ratio and Bread Baking Basics apps, is an Eat Retreat alum, highly suggested that I go. I gave it a night's rest then emailed the organizers asking to be considered, and was surprised to be accepted.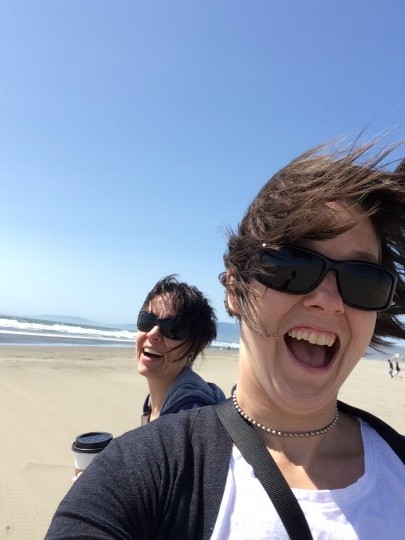 Plane ticket in hand, then, mid May, I jetted off to San Fran to spend a few days with blogger Stephanie Stiavetti, whom I'd met through Michael. Steph (that's her behind me on the beach) turned out to be something of a lost sister to me. We have similar styles, personality, passion for food, even the same haircuts. Together we conquered many types of tacos, liquid nitrogen ice cream, SPQR, tried catching pigeons, AM yoga, and more. Plus, lots of food business talk, girl secrets. I stayed with Stephanie for two nights (thanks Steph!) before I met up with the Eat Retreat folks. Stephanie helped to show me that I have the will and talent to achieve my goals.

I took the train back to the airport to meet my ride Jonathan, from Milford, NJ—a Facebook that lead to a carpool. We talked about food, how he switched careers from engineering to farming, the role of non-modified grains in our diet, making cheese, chefs he works with in NYC, and trying not getting lost. At one point we stopped for fresh cherries and apricots on the side of the road, just like my family used to do when i was a child. I'd just met Jonathan, but I felt we'd known each other for a long time. We arrived in the small town of Yorkville in the Anderson Valley, at the the Eat Retreat campsite. We unloaded the car, carried our bags to our assigned cabins, and then the fun began.
As lost as I felt, I had to trust my believe that food can bring forty strangers together and that I would be ok. It was an out-of-this-world bunch: Michael Antonorsi (Chuao Chocolatier), Jeffrey de Picciotto (Momofuku Culinary Lab), IACP-award-nominated photographer Leslie Lindell, and Danfa Kory (INNA Jam). I hit it off immediately with the other Midwest attendee Tricia, from Columbus, Ohio, who is the cohost of No Chefs Allowed on Heritage Radio; Mario from Vallejo, California, who is a badass butcher and general manager at The Local Butcher Shop; and Lesley, who hails from Texas but now lives and works in Brooklyn as a freelance food writer and stylist.
Throughout the weekend we all spoke about our careers, goals, food, drink, life, everything, to each other, a critical nature of a group retreat. We were divided into groups, each group responsible for making breakfast, lunch, or dinner for the other campers using donated by local farmers and artisans, so everything was in season and very fresh.
The first morning of the retreat groups were sent to experience the food world in the Anderson Valley. Participants got to choose to visit Philo Ridge Vineyards, Germain Robin Distillery, lamb slaughter at Philo Apple Farm, or the Mendocino Grain Project. I selected the winery because I wanted to experience California wine. It was just like in high school when we would go on little trips then reassembled back in school and gossip about what we saw, learned, and tasted.
The learning, experiencing, and eating did not stop there. Mini-seminars took place all day, on the many topics that the attendees were knowledgeable about. There were session on improving your food photography with your iPhone, baking sheet pies, the importance of bees, olive oil tasting class, beer tasting class, butchery, making your own alcohol essences, building wood fire ovens, nibbing chocolate, and uses of cricket flour. Of course there was eating and beveraging all day. And yes, we had campfires and s'mores.
Watching everyone share their love of what they do helped me to justify my drive and passion for what I do and imagine. People need to hear is "Yes, it is a great idea" or "Have you considered this?" or "What you are doing makes sense, take the chance." These are also affirmations I need to hear. This is what I discovered at the retreat—that I can and that I am ready to.
Eat Retreat was more then just a weekend of eating in the beautiful Anderson Valley. It was an opportunity to be surrounded by men and women who have a passion for life and for what they do. I heard the honesty in their stories. What motivates them to be who they are, how they came to the city or the country, and how food makes them who they are. No two were the same.
People in the culinary world speak a special language; and we are all connected through food. It's not just chefs, and farmers, food enthusiasts and cookbook writers and television personalities who work with food. The food world is vast and getting vaster, as artists, storytellers, butchers, writers, chocolatiers, photographers, filmmakers, nonprofit leaders, food entrepreneurs, enter the food fray. Each of them leave their own mark in the world, but together we are a powerful force in helping to determine what we eat now, and what we will eat in the future.
© 2014 Michael Ruhlman. Photo © 2014 Donna Turner Ruhlman. All rights reserved.