I spent a couple days in New York last week meeting with two very good publishers, one of whom, a veteran and very smart editor, asked whether I'd thought about how busy people can actually integrate real cooking and real food into their daily lives. He wasn't talking about the crispy pig I had at Maialino hours later. That, as you can see, is real food and real good. (Two standbys for me in NYC, where I go just to feel good, because NYC makes me all jittery and my eyes go out of sync like that Mad-eye guy in Harry Potter but not in a useful way: Bar Boulud and any one of Danny Meyer's restaurants. It's not just the food, it's the service [and yes, I paid full price, even left my VISA the check fold, and they were kind enough to mail it on! It's a measure of my respect for them that I didn't even bother to put a hold on my card]. They put you at ease. And it's not just because it's me, it's because that's their business—service—and they know it.)
But I said to this veteran editor, who lives and works in books and probably doesn't cook a lot but wants to be able to put a decent meal on the table when called upon even if the day has been crunched, "Yeah, I think about it all the time, because it's important, and it's not easy." Especially in Manhattan, but they're an unusual case—most people live like me—that is, not in LA or NYC.
Mainly it's a matter of planning ahead, just like anything else. If you're not a plumber and the toilet's leaking, you don't just go in there and wing it. It takes some planning and some work. But in the kitchen, after you do it once, it just gets easier and easier. You need a few techniques, five or ten, maybe twenty if you're ambitious, and the ability to make a list of stuff to buy ahead of time. That's it.
But this editor was obviously on to something. People like him do want to know.
Having hours to kill at Newark, waiting for my direct United Airlines flight to CLE, I read most of Peter Kaminsky's fine book published this week called Culinary Intelligence.
Peter, a fellow jack-of-all-trades—fly-fisher, cook, ghostwriter, television producer, author, etc.—eats as part of his occupation and found himself, in later middle age, getting plump, and not liking it. In the book he talks about being smart about food, thinking sensibly about cooking and eating. Getting middle-aged and plump myself, it was my kind of book (the subtitle says it all). And for parents who want to raise food-thoughtful kids who eat real food, there's this, from the publisher I met with before I met with the aforementioned: French Kids Eat Everything.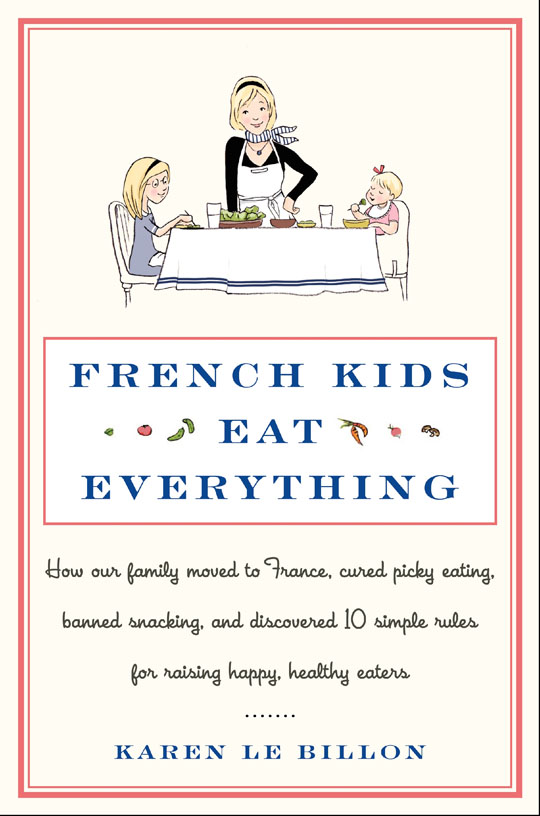 Well, when it comes to matters of sexuality and food, DKS aberrations excluded, the French know how to live. Again, the subtitle says it all. It's not a cookbook, it's a thoughtful book.
Thoughtful readers, I'd love to hear from you. What are your strategies for integrating real food and real cooking into your lives? Donna and I live and work at home, so we've got it easy. I'd love to hear from couples of families where the partners both work outside the home. How do you do it? In fact, I'm so interested in this subject, if I get more than 50 comments, I'll choose one at random and send you a signed copy of Ruhlman's Twenty (or any book of mine you'd like). Seriously, this is really important to me. (Update: 50 comments have been surpassed so one lucky commenter is going to get that signed copy of the book. Comments must be posted by 8 a.m. tomorrow, 5/4, and only U.S. readers are eligible, sorry!)
So glad to be out of NYC. But all of it—Meyer and Boulud, two smart publishers, two smart authors, a country hungry to make good, delicious choices—it makes me hopeful. Just nobody make me go to Skyline Chili in Lyndhurst with Bourdain again, please.
If you liked this post on April in NYC, check out these other links:
My posts on the Breslin's Pig Foot from April Bloomfield.
Donna's lunch at Thomas Keller's Per Se.
NYC Food Truck Association has info on many delicious mobile meals in the Big Apple.
Danny Meyer's Shake Shack is a great place to have a burger and a custard.
© 2012 Michael Ruhlman. Photo © 2012 Donna Turner-Ruhlman. All rights reserved.