I've always loved B&W photographs because they seem to say, "I am timeless, I need no pretty colors to attract—I am edgy."
With the age of digital also came the not having to choose between B&W and color film. This is truly a great thing, but you can't just push the "remove color" button to convert your digital color into a B&W and many people do. If you do that you'll end up with a very flat looking photo—here's an example form Michael's book, Ratio: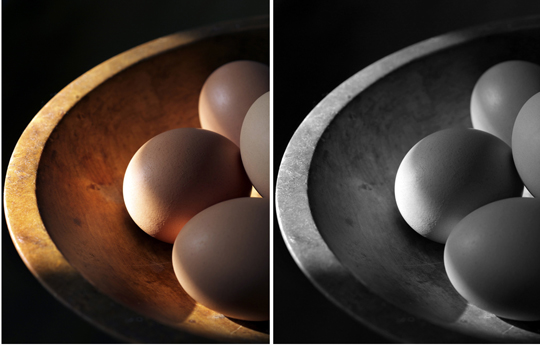 Do you see the difference? If you ever did any B&W printing in the darkroom you would for sure. I did 2 things— increased the contrast being careful not to push the highlights too far so they look hot and I also burned in the rim of the bowl because I lost some detail I wanted back.
This example is a subtle one—but to me the changes make it a more beautiful B&W.