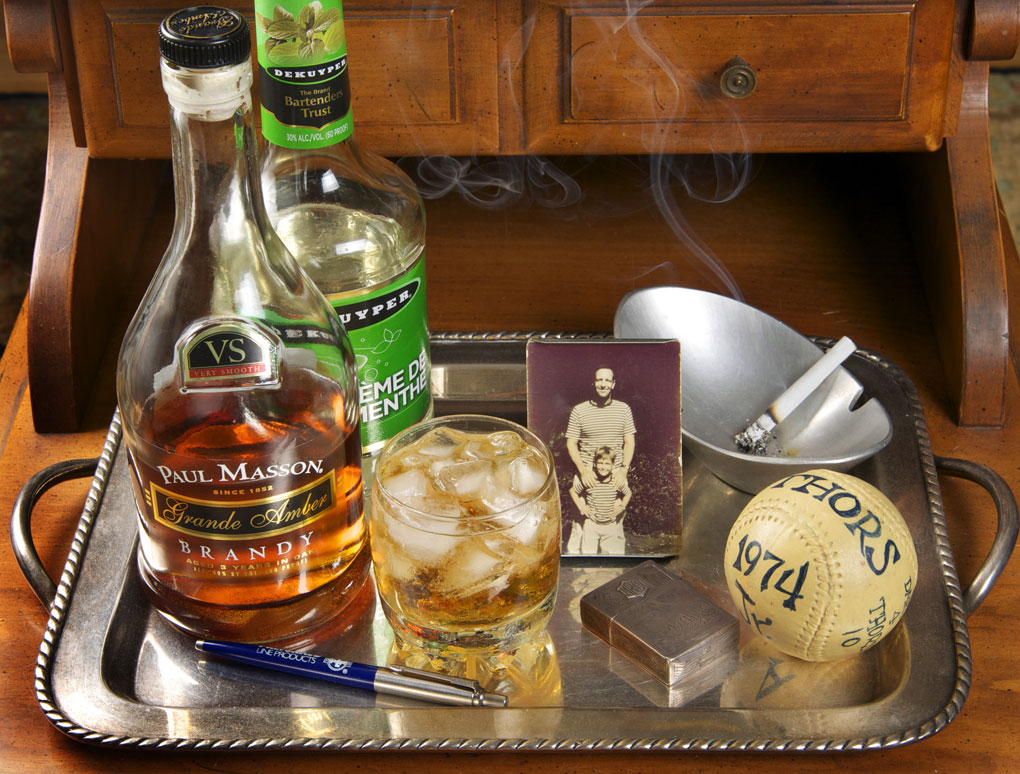 Friday Cocktail Hour today is devoted to the memory of my dad, who hated to see guests leave and always asked if they'd stay for a nightcap, saying, "Can I make you a Stinger?"
The Stinger, a cocktail that dates to the early 20th century is a combination of brandy and crème de menthe, indeed a refreshing cocktail after a meal. Rip would have used an inexpensive brandy for this mixed drink and he always served them over crushed ice (we owned an actual crusher that sat on the back kitchen counter next to the toaster oven and the Mr. Coffee). But it's also a drink, according to The Philadelphia Story (one of my favorite movies), that is a great hair-of-the-dog solution. This I've never tried, but surely in the future shall.
My father died of lung cancer in 2008 and I miss him every day. That's me and him above, when he was a 30-year-old copywriter for the firm Lang, Fisher, and Stashower in Cleveland. The cigarettes that did him in were Luckies (a more tragically ironic name I can't imagine). He used a Zippo and loved the ashtray above for the way it held his cigarettes. On still Sunday evenings his enormous smoke rings, which enchanted me, seemed to grow as big as hula hoops as they drifted toward Mike Wallace on the television screen (Dad never missed 60 minutes or a Browns game if he could help it). He always carried the pen his brother's company handed out because he never knew when an idea might strike. And he coached my little league team, The Thors, to a championship victory. But what was even cooler was that even after I outgrew the league, he kept coaching because he loved the kids.
I need to write a book about the cool things my dad did that he didn't even realize were cool.
Like offer Stingers because he wanted his friends to stay just a little longer. I still remember the first time he asked if Donna (her photo above) would like one. Having never had one, she said, "Sure."
To Rip and our dear friend Connie Zacher seated beside her, Donna asked, "Why is it called a Stinger?"
Connie lifted her eyebrows and said, "You'll find out."
Happy Father's Day to all fathers, especially to those sons who are missing theirs this weekend.
The Stinger
2 ounces brandy
1 ounce crème de menthe
Pour the ingredients into an old-fashioned glass over crushed ice.
Stir with index finger.
If you liked this post on the Stinger, check out these other links:
© 2014 Michael Ruhlman. Photo © 2014 Donna Turner Ruhlman. All rights reserved.