Kate Christensen is exactly the kind of woman I would spend all my time trying to bed if I weren't already married to The Most Wonderful Woman in the World. She's hot, with the most beguiling eyes, and expressions, I've encountered (we once shared a stage at the Key West Literary Seminar); she's smart as lightening, and she writes fabulous books. Readers of this site, if you haven't read Epicure's Lament, put it next on your list, followed by The Great Man, which inspired the below recipe. That's right: a fictional scene generated this most delicious North African–style chicken stew, a version of which I made for Donna on Saturday. It's also a lesson in the way recipes ought to be written and followed.
Christensen's most recent book, a memoir, Blue Plate Special, began as a series of blog posts after which the author got carried away (the best of reasons to do anything). It's the story of her life, with food bits tacked on here and there, and while it's true she loves to cook and to eat, Blue Plate Special is really the story of a girl, born in 1962 to West Coast hippie intellectuals (and not happy ones at that—the violence of her father, and the resulting complex love-hate-fear theme runs throughout), who makes her bumbling way through life just as we all do—childhood dangers skirted, sometimes barely, early struggles through college and miserable jobs, marriage, affairs, travel, writing.
Life is fraught, often joyful, often terrible, and it certainly does not arrive in the neat package of a cohesive narrative. That is the artist's job, to order the chaos, with hopes of finding at least some understanding in what, without art, without narrative, would be unendurable meaninglessness. Christensen is just such a soul, as exemplified by the writing and storytelling in this excellent memoir, in which the following recipe appears.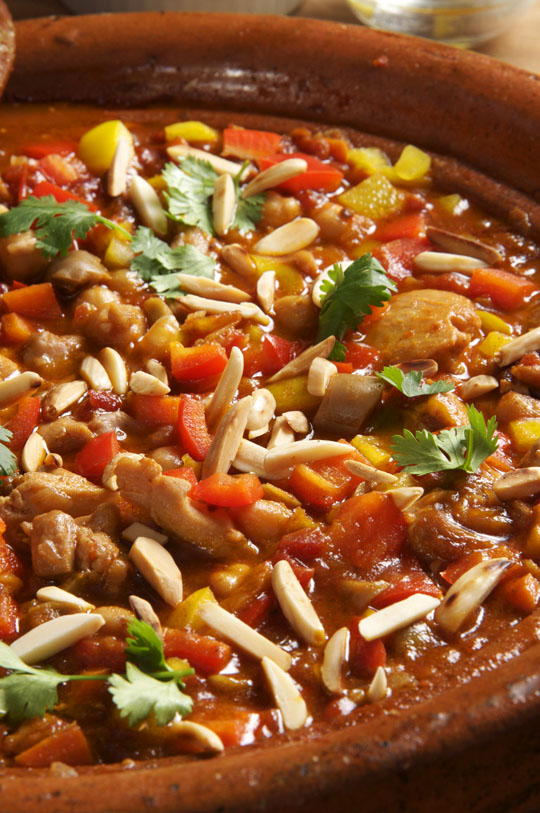 Chicken Tagine
I invented this recipe by describing it on the fly in the first chapter of my novel, The Great Man, in which a seventy-four-year-old woman half seduces a forty-year-old man with food, and then I made it in order to test my imaginative culinary instincts. There is no modest way to say this: the apricots melt into the broth and sweeten it deeply, the olives give it brine, and the almonds and cilantro and lemon bring it to life. And it contains cinnamon; it is, in a word, delicious.
On low heat, sauté a chopped red onion and 5–6 minced garlic cloves in lots of butter (or ghee) or oil. Add coriander and cumin, about a tablespoon—yes, I said tablespoon, of each (feel free to use already ground; I like using a mortar and pestle, but some people don't)—a teaspoon of cinnamon, half a lemon's worth of grated zest, a generous pinch each of saffron and cayenne, a teaspoon of paprika, 2 bay leaves, and a thumb-sized lump of grated fresh ginger. Keep heat low, stir constantly, and make sure nothing burns or sticks; add more ghee or oil if necessary.
When it's all cooked into a commingled fragrant brown spice puddle, add a red and a yellow pepper, diced; a large carrot or 2 medium carrots, peeled and chopped small; a generous handful of cracked green olives; a handful of dried Turkish apricots, chopped small; one 15–16 ounce can of well-rinsed chickpeas; a cup of Pomì diced tomatoes; and a cup of hearty chicken broth. Bring to a gentle boil, then right down to a simmer, and cover.
Cut up 5 skinless, boneless chicken thighs and 3 breasts, more than 2 pounds of chicken in all, into big bite-size pieces—the kind you have to cut in half to really eat—and grill them in a cast-iron skillet in ghee or oil till they're brown just on the outside and still raw inside, then add them to the stew and stir everything together and gently simmer it, covered, for 4 ½ hours. Add more chicken broth as necessary.
Sauté and slightly brown 1 package or 2 cups couscous—or, if you're gluten intolerant, quinoa—in 2 tablespoons butter, then cook according to the directions on the packet. Serve with harissa or shug, along with bowls of chopped toasted almonds, lemon slices, and chopped fresh cilantro.
Thanks, Kate, keep on writing and cooking!
If you liked this post, take a look at these links:
© 2013 Michael Ruhlman. Photo © 2013 Donna Turner Ruhlman. All rights reserved.