Flew out to southern California last week to be with one of Donna's oldest and dearest, almost entirely beaching it, but found time for one great restaurant meal and one day exploring little Saigon south of LA with the extraordinary White On Rice Couple, Todd Porter and Diane Cu.
Diane, born in Vietnam two years before the family fled in 1975, and Todd, a native of Oregon, are photographers, videographers, writers, cooks and gardeners.  I met them in Ixtapa last January and was immediately impressed with their energy and work, but I didn't quite appreciate how fine these two souls were until they invited me and Donna and the kids into their home, gave us a tour of their truly remarkable garden, then took us on a culinary tour of Little Saigon, including a bahn mi tasting, a visit to the jerky king, an amazing fruit market and a massive Asian grocery store.
This all took the better part of the day, we departed and what did they do next?  Prepare dinner for 10, and bring it to our house on Newport Beach.  James really wanted to make fried spring rolls, so that we did.  Todd put together app-sized bahn mi filled with caramel braised pork belly.
The feature dish of the evening was the fresh spring roll, which I'd never really understood before.  Todd and Diane  brought two nifty little gas table top grills and we cooked thinly sliced beef, marinated with garlic and minced lemongrass on them, and mushrooms and eggplant, then wrapped them up with tons of fresh herbs in rice paper.  A fabulous festive way to cook and eat.
One of the most intriguing things I learned from Diane, in a day filled with learning, was her fish dipping sauce.  So herewith, an outline for fresh spring rolls, and a recipe from Diane for her Nuoc Cham, followed by more pix from the trip.
Diane's Nuoc Cham (Vietnamese Dipping Sauce)
⅔ cup of fish sauce*
⅓ cup of water
3 cloves of garlic, finely minced or crushed
1-2 red chilies, minced
1 tablespoons of sugar
2 heaping tablespoons of fresh lime juice or more to taste (about 1 lime, depending on how juicy it is)
Combine all ingredients well. Allow sugar to completely dissolve before serving.
Chill in fridge for up to 1 month.
*Diane notes that the most commonly available brand of fish sauce is Three Crabs. Three crabs is a little sweeter, thus more adaptable straight out of the bottle.  Diane's personal preference is the Flying Lion, which is less sweet, more pungent.
She goes on: "The recipe for the fish dipping sauce is definitely to taste. Any Viet Southerner would argue the ratio (ha!) of the Northern proportions. And vice versa.
"Southern palates tend to be much sweeter, thus tendency to make a sweeter fish sauce dip Southern flavors also tend to be more bold, spicy and sweet.
"Northern palates are more mellow, balanced and normally don't like sweet food, thus their fish sauce dips are less sweet.
"The addition of vinegar to fish sauce dip is also an option, but not really common.
"Prepare Nuoc Cham to taste based on your spicy, salty, sweet preference. Viet readers are passionate and will always argue their family proportions as being correct!"
White-On-Rice-Inspired Fresh Vietnamese Spring Rolls
Thinly sliced beef (flank, top round, short rib—figure 4 to 6 ounces/120-180 grams per person), marinated with smashed garlic, shallot, soy and finely minced lemongrass if you can find it
Shiitake mushrooms
Baby eggplant
Red leaf, butter or other soft sweet lettuce
Plenty of herbs such as thai basil, chives, perilla mint, thai coriander, mint
Cucumber cut into 3-inch wedges
Rice paper
Diane's Nuoc Cham
Grill the beef, mushrooms and eggplant.  (Todd said you can buy the little grills for under $20 at camping stores; avoid buying at gourmet stores where they're over priced.)  At the table, dip the rice paper in water, just till it's flexible (it will continue to hydrate; Diane noted that a common problem people have with these is that they soak them for too long).  Wrap some beef, eggplant, mushroom, lettuce, cuke and plenty tons of herbs in the rice paper and dip in Diane's Nuoc Cham.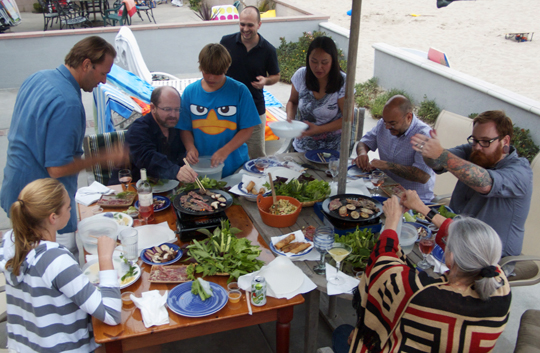 Starting at the top, that's Todd, Diane, fellow blogger Matt Armendariz, Adam Pearson (both of whom we met in Ixtapa), Kathy Parsons, my daughter Addison, moi, Russ Parsons, and son James.  What a festive, interactive meal it was. Thank you Diane and Todd!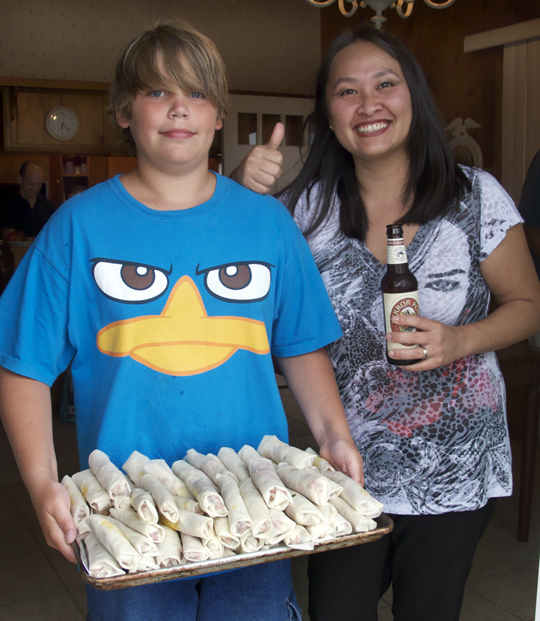 Think making and rolling spring rolls to fry is a chore?  Not when Diane's around.  She and James made these happen in twenty minutes, filled with pork, glass noodles and a couple kinds of fungus. Diane says these put Chinese egg rolls to shame (what with all their cabbage filling—hers were primarily meat).  Plenty to go around and plenty to freeze for later.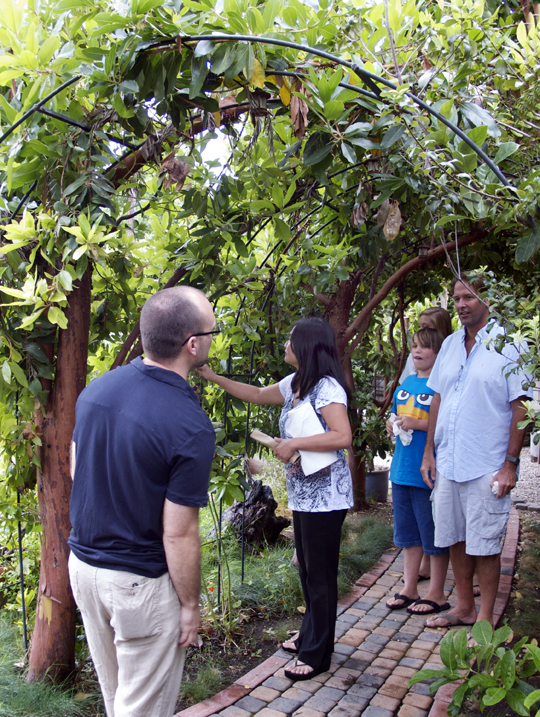 Todd and Diane have created a kind of garden/arbor of fruit, vegetables and herbs behind their Costa Mesa home.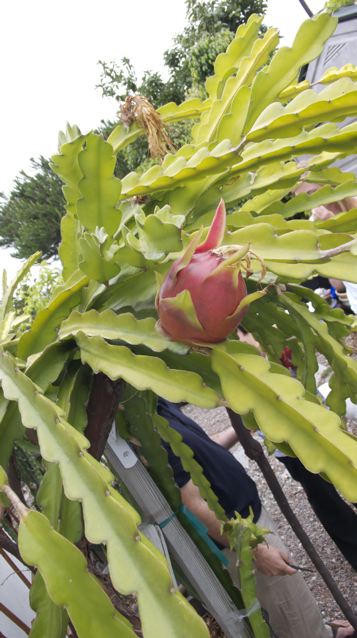 Dragon fruit on the vine.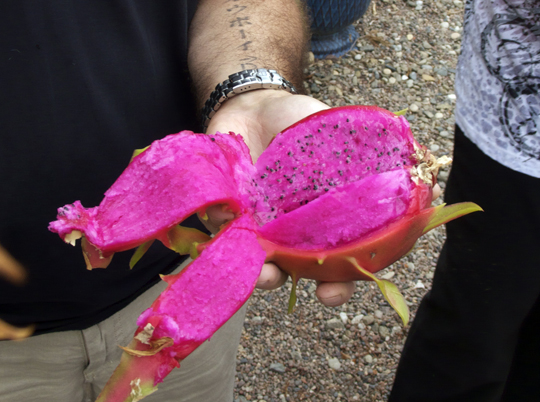 Dragon fruit open to its brilliant, sweet, juicy flesh.
Dragon fruit, a halved cured lime, and a blood orange.  I don't know where I got the idea that I didn't like blood oranges, because this one was delicious. Todd would later that evening be mixing splendid blood orange margaritas.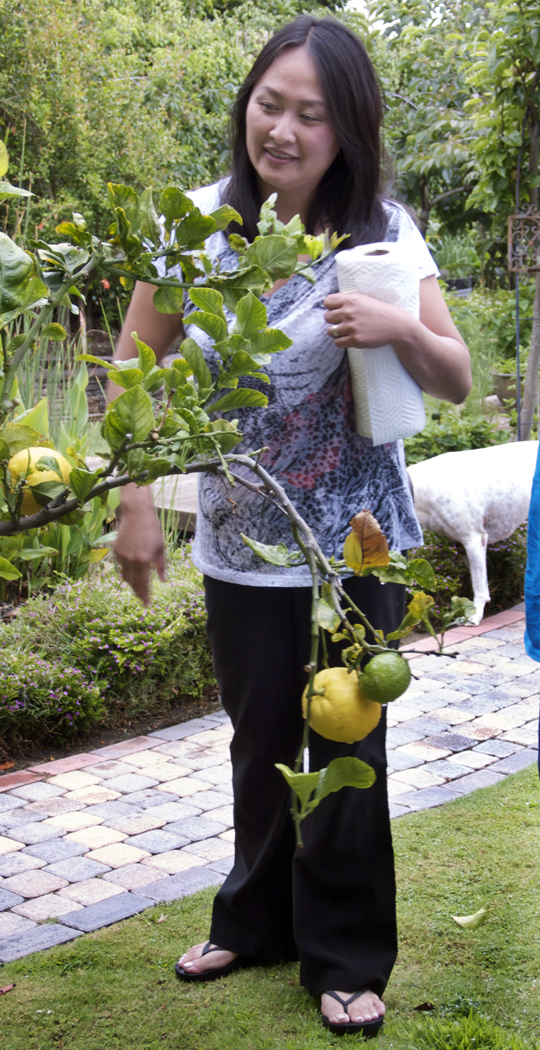 Diane carries a roll of paper towel with her when she gives tours of her and Todd's garden—because the tour is filled with tastings of fruit so ripe and delicious, her guests find themselves continuously and happily dripping with nectar and juice.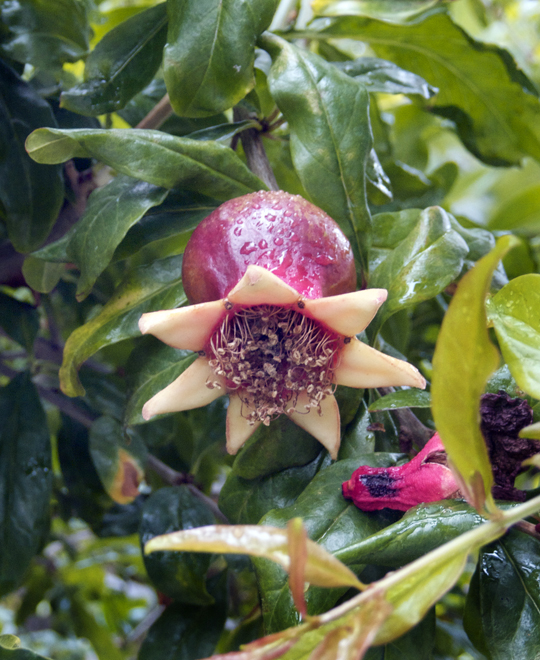 I'd never seen a pomegranite on its tree before.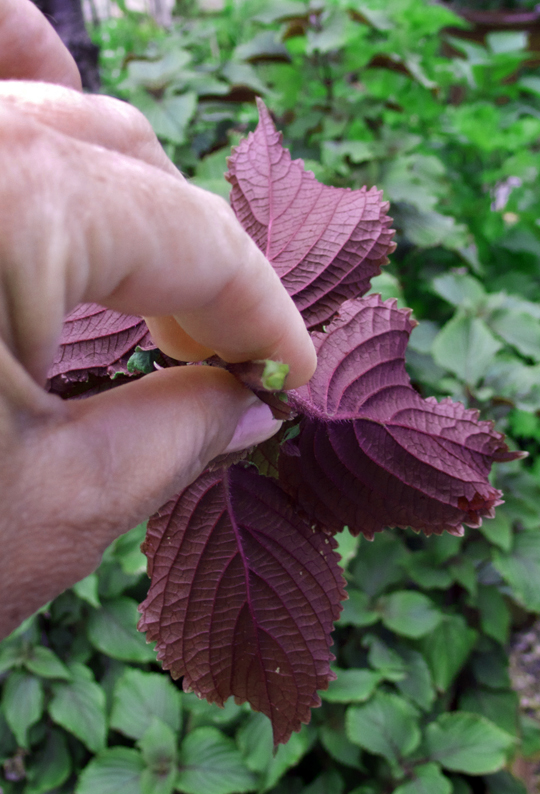 This is the perilla that I found so beguiling in the fresh spring rolls.  Green on top, purple underneath, it's in the mint family—you can tell this, Todd explained, by its square stem, which all mints share.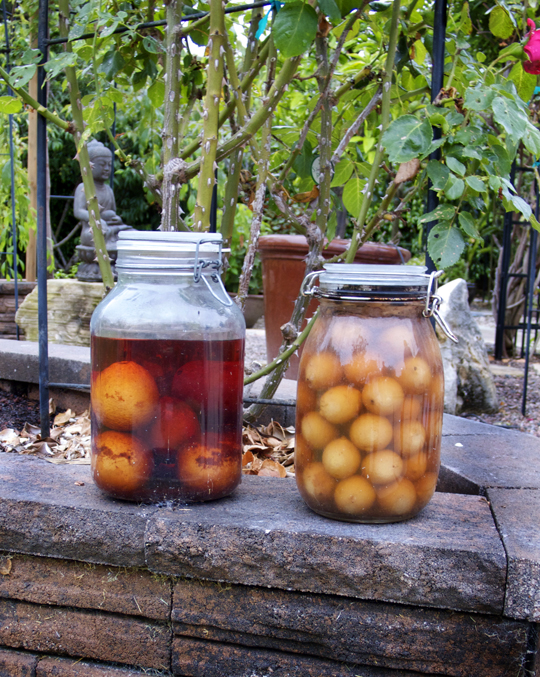 Todd and Diane cure limes in an intensely salty brine.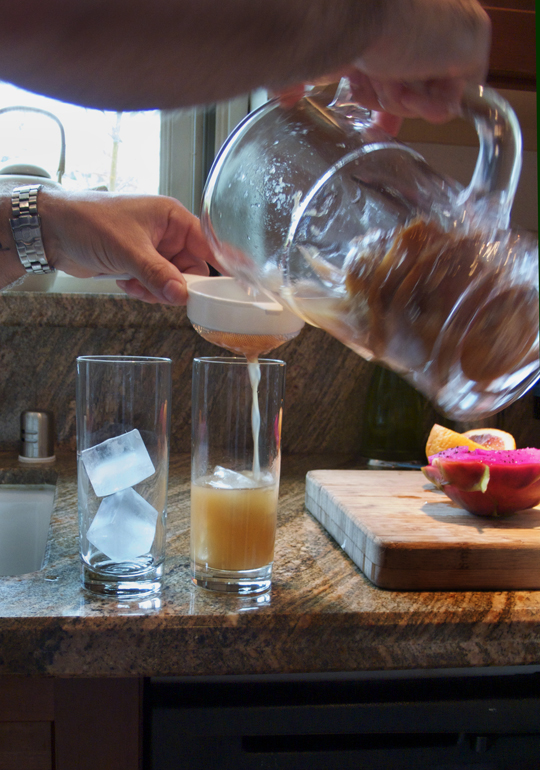 Todd cut a couple cured limes open, juiced them, strained the juice over ice and added soda water for delicious, refreshing drink.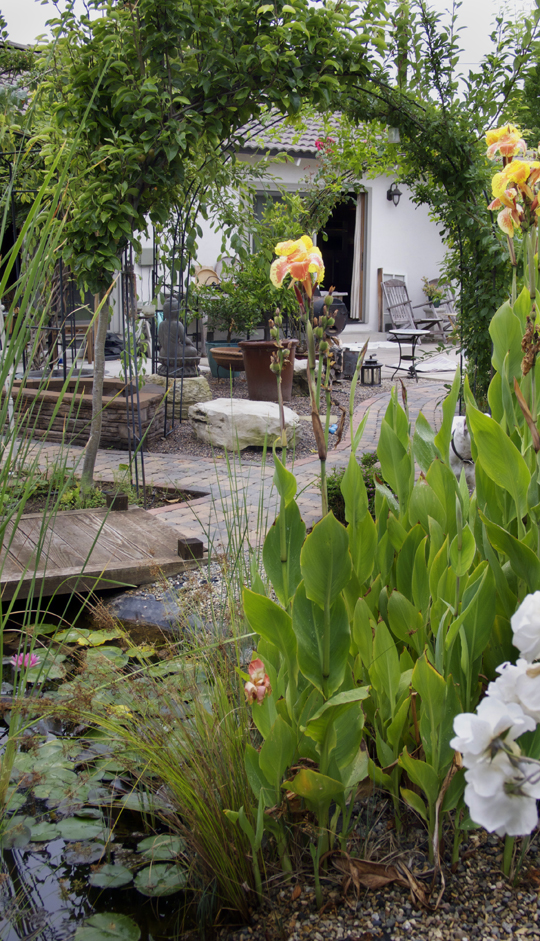 I didn't want to leave!
But leave we must.  Books to write!  Pix to take!  Surf to catch!